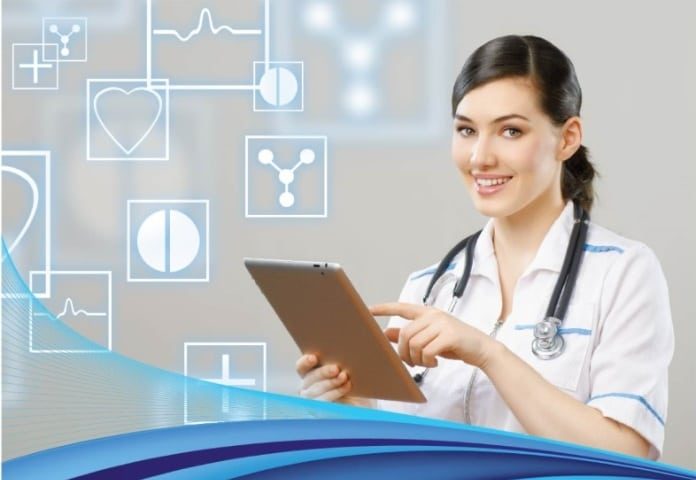 According to a recent IDC Health Insights report, the focus for healthcare IT in 2013 will be on enabling inpiduals to take ownership of their health and wellness. This is especially important for mature economies in Asia Pacific, such as Singapore and Hong Kong, where an ageing population and the shortage of skilled healthcare staff top the challenges in healthcare service provision.
Rising income and affluence are also increasing demand for better healthcare in many Asian cities, further driving the urgency to upgrade the provision of healthcare services to the population. Against this backdrop, healthcare organizations in Asia Pacific are increasingly adopting IT and mobility solutions in their operations.
Today, many healthcare providers have already embraced electronic medical records and automated work processes to drive productivity and address manpower shortages.
Governments are also providing incentives for healthcare organizations to adopt technology to improve efficiency, quality of care, patient safety and achieve an integrated approach in healthcare.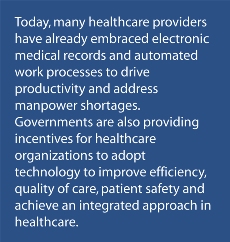 For example, Singapore is on-track to digitizing patient information through its nation-wide e-health record system, while Hong Kong is implementing a patient portal on which healthcare workers can reliably and securely access patient information on-the-go.
In short, technology in healthcare is increasingly gaining attention as an important means to enhance the quality of patient services, while raising the productivity and efficiency of healthcare workers. Eric Lim, Director, Solutions Sales, Healthcare, Asia Pacific, Motorola Solutions, shares his views on what CIOs in healthcare should look out for in 2013.

PATIENT CARE
The need to deliver a better patient experience at the point of care has driven the adoption of solutions that allow healthcare providers to seamlessly and securely access patient information and other clinical data from mobile computers, tablets and other mobile devices. In 2013, mobility will play a greater role in the area of patient care. Healthcare workers need to be able to reliably and securely access patient information while on the move, notify co-workers to collaborate and send text messages to boost communication.
Previously, healthcare practitioners had to be physically located at a centralized station to view a patient's vital signs and the status of medical equipment in his or her room. However, with a wireless mobile computer, these can now be done anywhere within the healthcare facility. Nurses can concentrate on delivering higher quality patient care by eliminating the time spent constantly moving between nursing station and patient's bed to perform critical tasks.
Healthcare professionals can also be empowered with mobility tools for improved efficiency and outcome. Handy mobile devices with inbuilt barcode readers can capture vital information with greater accuracy and speed. Secondary and home care for patients with chronic illnesses is also easily managed today, with remote monitoring and video communication.
Today, many healthcare providers have already embraced electronic medical records and automated work processes to drive productivity and address manpower shortages. Governments are also providing incentives for healthcare organizations to adopt technology to improve efficiency,quality of care, patient safety and achieve an integrated approach in healthcare.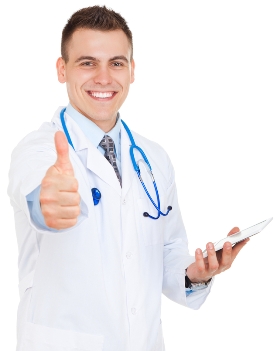 WORKFORCE EFFICIENCY
In 2013, automation is expected to be even more central to healthcare operations. Workforce management solutions, such as Motorola Solutions' Mobile Workforce Management tool, will increasingly be deployed to drive efficiencies across communities of task-based workforce including nurses,administrators and porters, among others. At the same time, manual processes, such as scheduling and admissions, will be increasingly automated to reduce the chance of human error.
Automation also helps to accurately identify patients when they are admitted or discharged; as well as ensuring that the correct medication or treatment is given to the right patient at the right time and in the right dosage.
Overall, the emphasis in 2013 will be on a business alignment between cost and technology in helping healthcare organizations drive increased productivity, while reducing human
errors.

IT OPERATIONS
The challenges that healthcare operators face today do not look to be letting up in the coming years. These challenges will instead intensify as we hit the 'silver tsunami'. Healthcare providers who wish to succeed in 2013 must invest in technology solutions that boost workforce productivity, enhance patient care, increase operational efficiency and optimize IT operations.
With the uptake of technology comes, at times, the complexity of managing the technology tools. As such, 2013 will see CIOs in healthcare organizations looking for solutions to centrally manage and control the day-to-day management of the many devices and peripherals used in the healthcare facility.
In addition, increasing loads on IT infrastructure mean that healthcare CIOs need to upgrade their IT infrastructures to meet the demands for a seamless flow of data and information across both the wired and wireless environments. Furthermore, with patients and clinicians bringing their own devices to the healthcare facility, the challenge will be one of managing the security issues that a perse set of mobile devices can bring.
In the year ahead, CIOs are expected to focus on crafting policies aimed at preparing the organization for Bring Your Own Device (BYOD). The increased use of technology will also demand that CIOs keep devices updated with the right firmware, settings and applications, as well as proactively spot and address issues before they impact users. Solutions for monitoring various metrics related to the devices are thus expected to see increased adoption among healthcare organizations.
Mobility, device management and automation are set to become key deciders in the rewriting of the future of healthcare. Wireless ubiquity enabled enterprise mobility potentially offers a resolution to challenges in the healthcare sector by extending care beyond face-to-face interaction between healthcare practitioners and patients. This means increased patient safety and more attentive care, as real-time information can be shared anywhere within and outside of the facility.
In 2013, Motorola Solutions expects health providers to further drive greater connectivity, asset and patient tracking, use of advanced devices and rich application management – enabling inpiduals to be able to more effectively manage their health and wellness.If you wish to speak to a Motorola Solutions spokesperson on this event or for further elaboration on trends in healthcare technologies,please contact Lara D'Souza at +65 6602 4524 or email lara.dsouza@yingcomms.com.

Writen by Eric Lim
Director – Healthcare Solutions Sales,Asia Pacific, Motorola Solutions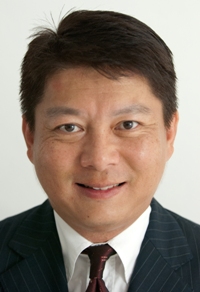 Eric Lim is the Director for Healthcare solutions sales in Asia Pacific for Motorola Solutions. His priorities include driving thought leadership for mobility technologies in healthcare, creating demand within the healthcare community, developing and collaborating with the channels partners, developing new solutions in alignment with market trends and sharing domain knowledge internally within the company. Eric has a good appreciation of various sub-sets within the larger healthcare solutions area including mobility solutions.
Prior to Motorola Solutions, he was Vice President, Sales at Napier Healthcare Solutions, a software and services provider for Healthcare IT Solutions. He was responsible for driving Healthcare Software Solutions and Services sales in the region.
With a career in the Information Technology sector that spans over 25 years, Eric has held a number of senior positions in sales, professional services, product management and software development. He has also worked with other major brands, including IBM where he worked for 8 years in various roles in the software pision, including leading the regional professional services group for their Lotus Pision for South Asia. TIBCO Software, Yahoo, webMethods and Software AG. In 2008, Eric was appointed Regional Vice President and Managing Director for the Asia Operations of Progress Software.
Eric currently sits on the Executive Committee of HL7 Singapore, and leads their Communications sub-committee and is also a member of HIMSS.
Eric was awarded a British High Commission Foreign &Commonwealth Post Graduate Scholarship, and holds a Master of Science Degree specialising in Artificial Intelligence from the University of Essex, United Kindom.