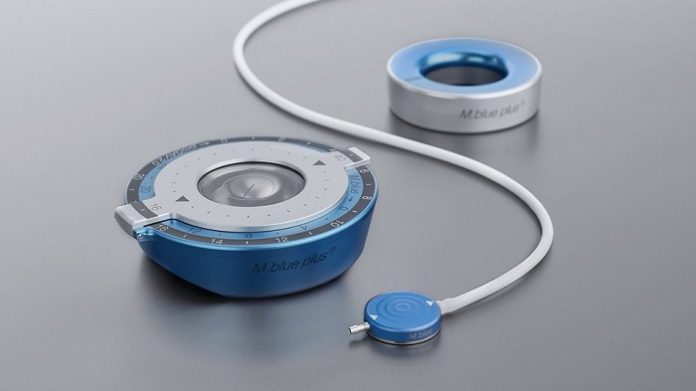 Aesculap Inc., in partnership with The Christoph Miethke GmbH & Co. KG, is pleased to announce the launch of the M.blue valve, the latest generation of Hydrocephalus valve technology. Its unique gravitational technology is integrated with a fixed differential pressure unit in one valve, allowing for a simple, position-dependent solution.
The M.blue valve is the only adjustable gravitational valve in the market with an integrated fixed pressure differential valve. It provides customization of the opening pressure during the most active time of the day, i.e., the upright body position. The integration of the fixed pressure differential valve addresses the posture changes.
"We are very pleased to be able to continue to provide healthcare teams with new and innovative solutions," said Chuck DiNardo, President of Aesculap Inc. "With our strong partnership with MIETHKE comes an impactful collaborative effort to bring better Hydrocephalus solutions to patients, such as the new M.blue valve."
"The patient is our priority and we will continue to invest in research and development to create better solutions. Our focus on Hydrocephalus valves creates an expertise and openness to future developments that allows us to serve in a way that will improve the lives that we touch," said Christoph Miethke, CEO and Founder of MIETHKE, the manufacturer of Hydrocephalus valves for Aesculap Inc. is located in Potsdam, Germany.
According to the Hydrocephalus Association, it is estimated that over 1,000,000 people in the United States currently live with Hydrocephalus.1 Shunt therapy is the most common way to treat Hydrocephalus, which is caused by excessive cerebrospinal fluid in the brain, causing build up and pressure that can lead to symptoms such as chronic headaches, vomiting, abnormal head enlargement and could lead to death. However, despite the shunts' life-saving purpose, implantation has been riddled with high failure rates, causing multiple revisions and surgeries for an individual with the condition.
Using gravitational systems have demonstrated good clinical outcomes in patients and reduced revisions compared to other valves. "This newest addition to the valve portfolio continues our tradition of offering uncompromised pressure adaptation through our gravitational systems," said Odra Anderson, Product Manager for Aesculap, Inc. The M.blue valve is the smallest adjustable gravitational valve in the U.S. market. Its soft touch mechanism allows for comfortable adjustment. The design features an "active-lock mechanism" that protects from unintentional reprogramming7, not only after an MRI but also from everyday magnets such as smartphones8, toys9,10, tablets11, headphones12, nurse badges and hearing devices. Its design is robust and durable, made with highly bio-compatible titanium,16,17 oxidized to display a shade of blue.