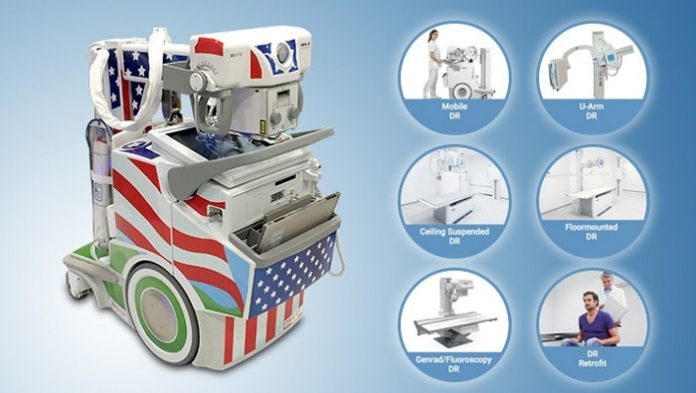 Agfa HealthCare announces that it will join Hitachi Healthcare Americas at the American Academy of Orthopedic Surgeons (AAOS) annual meeting in New Orleans, Louisiana (USA), from March 6-10, 2018.
The strategic partners will be available to discuss their full offer: a complete, joint portfolio that includes direct radiography (DR), computerized tomography (CT), magnetic resonance imaging (MRI) and ultrasound (US) modalities.
"The great partnership we have with Hitachi Healthcare Americas allows us to offer a complete imaging modality portfolio of DR, CT, MRI and Ultrasound to healthcare providers who value image quality and outstanding workflow," comments Ueli Laupper, Vice President Marketing, DR Business Unit Manager, North America.
DR: Workflow efficiency and enhanced collaboration
Agfa HealthCare's comprehensive DR portfolio allows any healthcare enterprise to experience the benefits of DR, regardless of its size or budget. It includes solutions such as:the mobile, wireless DX-D 100+ with FreeView technology for powerful imaging on the move;the DX-D 300 with U-arm, a compact, affordable solution for a wide range of exams;the rugged, floor mounted DR 400 which offers a table with a 705 pound patient capacity, outstanding workflow and image quality for facilities that cannot install a ceiling-suspended system;the high-productivity, ceiling-suspended DR 600 with ZeroForce technology, which streamlines workflow and enhances the experience of both patients and caregivers;the multi-purpose DR 800*, which delivers general radiography, fluoroscopy and advanced clinical applications, with a single investment.
Agfa HealthCare also continues to expand its DR Retrofit portfolio, allowing imaging departments to maximize their existing X-ray investments by upgrading them to DR.
Agfa HealthCare's DR solutions offer a choice of fixed, tethered and wireless detectors with Cesium Iodide (CsI) or Gadolinium Oxy-Sulphide (GOS) technology. CsI also offers the potential for dose reduction.1
All Agfa HealthCare DR solutions come with MUSICA, which now processes both Genrad and dynamic images. X-team technology enables instant messaging and clinical dialogue, for greater collaboration and consultation between radiologists, clinicians, radiographers and other patient caregivers.
Visitors can discover the complete Agfa HealthCare DR portfolio, at the Hitachi Healthcare Americas AAOS 2018 booth #3222 in New Orleans, Louisiana (USA), March 6-10, 2018.
About Agfa
Gevaert Group is one of the world's leading companies in imaging and information technology. Agfa develops manufactures and markets analogue and digital systems for the printing industry (Agfa Graphics), for the healthcare sector (Agfa HealthCare), and for specific industrial applications (Agfa Materials). Agfa is headquartered in Mortsel, Belgium. The company is present in 40 countries and has agents in another 100 countries around the globe.
About Agfa HealthCare
Agfa HealthCare, present in one hospital out of two, is a leading provider of eHealth & Digital Imaging solutions. Care organizations in over 100 countries rely on Agfa HealthCare to optimize their efficiency and improve patient care.For more information on Agfa HealthCare, please visit www.agfahealthcare.com