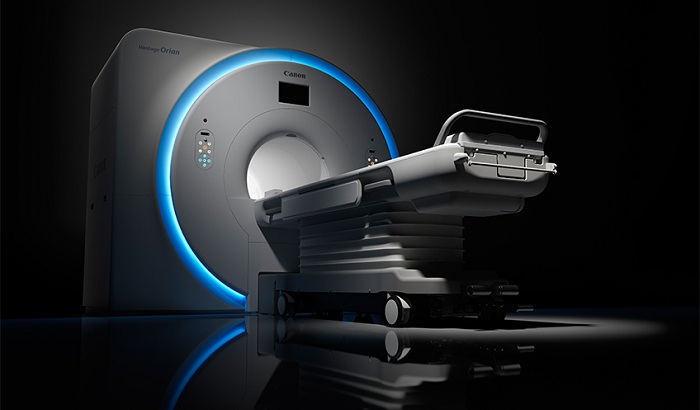 Canon Medical Systems Corporation (Headquarters Otawara, Tochigi Prefecture, Japan; President and CEO: Toshio Takiguchi) has agreed to establish a framework with R-Pharm Holding (a part of R-Pharm Group, headquarters: Moscow, Russia; Chairman and President Alexey Repik), a leader of Russian healthcare market, to promote sales of diagnostic imaging systems manufactured by Canon Medical Systems, and to localize Canon's medical equipment production at R-Pharm's facilities in Russia.
Canon Medical Systems has the top market position in Japan and a strong market position globally in diagnostic imaging systems such as CT, MRI, and ultrasound. The company provides medical equipment and services to over 150 countries around the world.
In 2015, in cooperation with I.M. Sechenov First Moscow State Medical University and A.L. Myasnikov Institute of Clinical Cardiology, Canon Medical Systems participated in the project to establish the Russia-Japan Cardiac Imaging Training Center. Using cutting-edge Japanese medical systems, the Center's training program for Russian physicians will help to improve cardiovascular diagnosis and treatment techniques. Through its participation in the project, Canon Medical Systems is contributing to the further expansion of healthcare in Russia.
R-Pharm Group is one of the leaders of the Russian healthcare market. It employs more than 3,000 highly qualified professionals. The company operates throughout the Russian Federation, CIS member states, USA, Germany, Japan and other countries. R-Pharm specializes in research and development, manufacturing and commercialization of high-tech medicines, laboratory supplies and medical equipment.
"I am grateful to reach this agreement of strategic partnership with R-Pharm." said Toshio Takiguchi, president and CEO, Canon Medical Systems. " We hope this collaboration between R-Pharm and Canon Medical Systems will contribute to further expansion of healthcare in Russia, as well as to Japan-Russia economic cooperation."
"Agreement with Canon Medical Systems is another example of strong business ties between Russian and Japan. Our cooperation will bring new sophisticated technologies to the Russian market, increase the efficiency of country's healthcare", said R-Pharm's chairman of the board Alexey Repik.
Based on its agreement with R-Pharm Group, Canon Medical Systems aims to contribute to higher-quality, more efficient healthcare in Russia through sales of diagnostic imaging systems manufactured by Canon Medical Systems, and through localization of medical equipment production at R-Pharm Group's facilities in Russia.
About Canon Medical Systems Corporation
Canon Medical offers a full range of diagnostic medical imaging solutions including CT, X-Ray, Ultrasound and MR, across the globe. In line with our continued Made for Life philosophy, patients are at the heart of everything we do. Our mission is to provide medical professionals with solutions that support their efforts in contributing to the health and wellbeing of patients worldwide. Our goal is to deliver optimum health opportunities for patients through uncompromised performance, comfort and safety features.
At Canon Medical, we work hand in hand with our partners – our medical, academic and research community. We build relationships based on transparency, trust and respect. Together as one, we strive to create industry-leading solutions that deliver an enriched quality of life. For more information, visit the Canon Medical website: https://global.medical.canon/