Carestream Health is demonstrating new imaging analytics tools that are being added to its Clinical Collaboration Platform (video) at the upcoming SIIM conference (Booth #402). These new capabilities are designed to equip healthcare providers to deliver preventative care.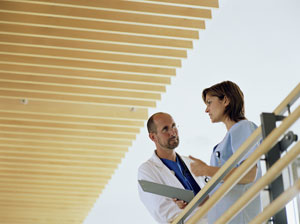 Rapid advancements in imaging analytics include algorithms that can analyze data within existing radiographic images to detect distinct patterns associated with a specific pathology.
Clinical Collaboration PlatformFor example, bone density can be calculated by applying an algorithm to any CT image that contains bone to assess a patient's risk of fracture. The algorithm generates a number that is used to determine if a patient has abnormal bone density so physicians can prescribe calcium supplements or other preventative measures.
"This example demonstrates a growing movement toward preventative care that can have a dramatic impact on improving early detection for many conditions while simultaneously reducing the number of imaging studies required to diagnose many diseases or conditions," said Cristine Kao, Carestream's Global Director for Healthcare Information Solutions. "Often imaging analytics is thought of as an end result much like a monitoring dashboard, but analytics must be applied at every step of the process for each stakeholder in the clinical pathway to fully optimize value."
Carestream is partnering with Zebra Medical Vision to add imaging analytics software to its Clinical Collaboration Platform that can calculate liver density from a CT chest or abdomen study to detect a fatty liver; identify emphysema by detecting levels of trapped air in the lungs from a non-contrast CT chest study; and determine levels of coronary calcium from non-contrast CT chest studies in addition to assessing bone density. Imaging analytics results indicate that patients with fatty liver and excess coronary calcium are three to five times more likely to have a serious cardiac condition.
"Companies around the world are engaged in research to produce new algorithms that cover specific body parts and pathologies. In the coming years radiologists will be equipped with thousands of predictive algorithms for automatically detecting the patterns of common diseases and eventually rare diseases as well," Kao explains.
Other emerging technologies are designed to enhance accuracy in radiology reports. "Natural language processing can be used to correlate the diagnosis in a report to the corresponding image to detect body part or gender mismatches and issue real-time alerts so the content can be corrected immediately," Kao reports. "Semantic search capabilities can analyze text and break it down into concepts that can be used to gather data for clinical references, research, business intelligence or population management."
Carestream's Clinical Collaboration Platform provides monitoring and analysis for business/operational planning; system performance; clinical decision support; quality metrics; critical results; regulatory compliance; and participation in national registries and peer review.
Carestream will give a presentation at SIIM entitled "Strategies to Help Radiologists Create Value in the Eyes of Patients and Referring Physicians" from 11:00 a.m. to 12:00 p.m. on Friday, June 2, in Hall B of the Exhibit Hall Theater. The presentation will explain how radiologists can enhance communication and collaboration with referring physicians and the benefits of interactive multimedia reports that deliver rapid access to key findings. Carestream also enables communication of radiology images and information with patients from an EMR-based patient portal.