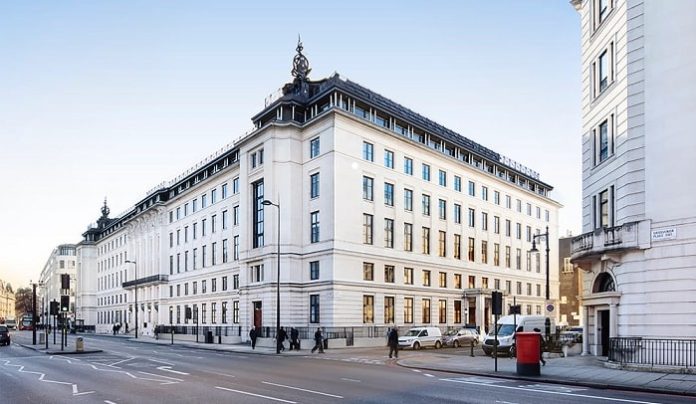 Cleveland Clinic London is attending Arab Health 2020 to provide an update on their state-of-the-art facilities opening soon in London – its first in Europe.
Tommaso Falcone, MD, Chief of Staff, Chief Academic Officer and Medical Director at Cleveland Clinic London, will talk about delivering one of the most technologically advanced private hospitals in the UK, and a new model of care for London.
Ranked in the top two hospitals in the world*, Cleveland Clinic will open its first medical outpatient building at 24 Portland Place, near Harley Street, which is expected to begin seeing patients in November 2020 for outpatient appointments and diagnostics, and general practice appointments.
It marks a major milestone in Cleveland Clinic London's development and further demonstrates its commitment to London and the UK healthcare market in advance of Cleveland Clinic London Hospital opening in Spring 2021.
The new hospital at 33 Grosvenor Place – an eight-story, 324,000-square-foot building – is currently under construction. The hospital will offer an exceptional quality of care through its doctor-led model, which is unique in London private healthcare. It will also provide new jobs and employment opportunities for a variety of clinical and non-clinical employees.
Tommaso Falcone said: "Cleveland Clinic London will be one of the most technologically advanced hospitals in the UK. We will combine the best of Cleveland Clinic in the US with London's top-quality talent and research, to innovate and provide a doctor-led model of care that will offer exceptional clinical quality and patient safety."
Cleveland Clinic London will have 185 inpatient beds; eight operating rooms; a full imaging suite; endoscopy and catheterization labs; day case rooms for surgery; and a full neurological suite with rehabilitation. The facility will offer specialty services focusing on general surgery, cardiology, orthopaedics and neurology.
Cleveland Clinic is also prioritising the reduction of the building's environmental impact once operational. The building will produce its own heat and power, significantly minimising carbon emissions from air and water heating. The cutting-edge of hospital design will create an environment that reflects the needs of patients and the future of healthcare in the UK, while ensuring that the building has minimal environmental impact.
The hospital will be Cleveland Clinic's first facility in Europe, adding another international location to a health system that includes a 165-acre main campus near downtown Cleveland, 11 regional hospitals throughout Northeast Ohio, multiple facilities in Florida, a facility in Las Vegas, Nev., and hospitals in Toronto, Canada; and Abu Dhabi, UAE.
More info about Harley Street Medical Area
The Howard de Walden Estate is the guardian of the Harley Street Medical Area and has been supporting and nurturing medical excellence in this historic part of London for 200 years. The Harley Street Medical Area is a collective of hospitals, clinics and specialists who deliver outstanding patient care through pioneering treatments and cutting-edge technologies. With over 5000 medical specialists and over 250 clinics working within 92 acres of Marylebone, central London, the Harley Street Medical Area brings together a community of medical professionals, providing access to the best medical treatments and services in the world.
About Cleveland Clinic
Cleveland Clinic is a nonprofit multispecialty academic medical center that integrates clinical and hospital care with research and education. Located in Cleveland, Ohio, it was founded in 1921 by four renowned physicians with a vision of providing outstanding patient care based upon the principles of cooperation, compassion and innovation. Cleveland Clinic has pioneered many medical breakthroughs, including coronary artery bypass surgery and the first face transplant in the United States. U.S. News & World Report consistently names Cleveland Clinic as one of the nation's best hospitals in its annual "America's Best Hospitals" survey. Among Cleveland Clinic's 66,000 employees are more than 4,200 salaried physicians and researchers and 16,600 nurses, representing 140 medical specialties and subspecialties. Cleveland Clinic's health system includes a 165-acre main campus near downtown Cleveland, 11 regional hospitals in northeast Ohio, more than 180 northern Ohio outpatient locations – including 18 full-service family health centers and three health and wellness centers – and locations in southeast Florida; Las Vegas, Nev.; Toronto, Canada; Abu Dhabi, UAE; and London, England. In 2018, there were 7.9 million total outpatient visits, 238,000 hospital admissions and observations, and 220,000 surgical cases throughout Cleveland Clinic's health system. Patients came for treatment from every state and 185 countries. Visit us at clevelandclinic.org. Follow us at twitter.com/CCforMedia and twitter.com/ClevelandClinic. News and resources available at newsroom.clevelandclinic.org.