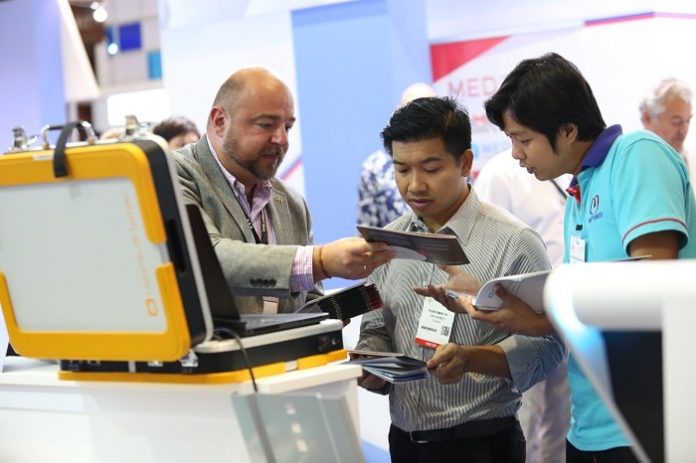 The 9th edition of MEDICAL FAIR THAILAND makes its move to a new and bigger location at BITEC, Bangkok, from 11 to 13 September. The biennial exhibition will bring together 1,000 exhibitors from 60 countries including 21 national pavilions including for the first time representation from Brazil, Denmark, Hong Kong and Indonesia.
Over three days, more than 10,000 medical and healthcare innovations from around the world serving the hospital, diagnostic, pharmaceutical, and rehabilitation equipment sectors will take centre stage at MEDICAL FAIR THAILAND 2019.
As Thailand's largest international medical and healthcare exhibition of its kind, MEDICAL FAIR THAILAND is organized by Messe Düsseldorf Asia, and is the ideal sourcing and procurement platform for the industry. Complementing the internationality of the exhibition and the strong sourcing opportunities is the knowledge-sharing and thought leadership focus of the exhibition. This year's line-up includes events such as the 4th ARTeC conference, WT Wearables Technologies Conference 2019 ASIA, and more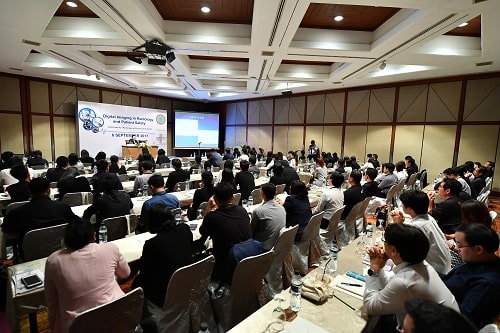 What's new: Community Care Pavilion and Start-up Park
Community Care Pavilion
With the ageing population in Southeast Asia expected to make up 15 per cent of its total population by 2035, in Thailand it is estimated the number of individuals aged over 60 will increase to 25 per cent by 2040 and 37 per cent by 2050 – this has given rise to a growing demand for complex and technology-intensive medical interventions and solutions. Making its debut at MEDICAL FAIR THAILAND 2019 is the Community Care Pavilion with companies featuring remote healthcare monitoring solutions, geriatric care, rehabilitation products and assistive devices.
Expect to meet companies from Hong Kong, China, Japan, Taiwan, Singapore and USA, who will showcase products such as: the innovative air mattresses for wound care, an automatic turning bed that can reposition patients, thus reducing care burden of caregivers, a smart diaper solution that helps monitor and gives real-time data and alerts to the caregiver, as well as a fully digitalised innovative healthcare communication system that can help increase efficiency, and many more other products.
The Start-Up Park is a dedicated showcase for innovative and late stage mature healthcare start-ups to meet industry influencers, angel investors, entrepreneurs to incubators and accelerators. Trade visitors can expect to meet Start-Ups from Singapore, Japan, South Korea, Hong Kong, Taiwan and more.
Some of the innovations on show include the Marburg Bone Bank system which is used for the thermal disinfection for bone grafting, an AI software system that helps reduce diagnosis time for sleeping disorders, a one-stop e-platform to locate and book appointments with medical and healthcare professionals and a mobile healthcare app that helps monitor eating habits and help diabetics calculate calories.
Complementing the Start-up Park is the Start-up Podium® – a comprehensive programme that includes a series of fireside chats and panel discussions with industry leaders and experts in their field; topics include Remote Diabetes Monitoring Application, Challenges Facing MedTech companies: A Regional Perspective, Women in Medtech and Life sciences, to the Role of management graduates in healthcare Start-Ups.
Commenting on the relevance of the Start-Up Park at the exhibition, Dr Kakanand Srungboonmee, from the Centre of Data Mining and Biomedical Informatics, Faculty of Medical Technology, Mahidol University, in Bangkok, said: "It is important to have an event like the Start-Up Park as we need investors who understand the challenges faced by life sciences and medical/ health start-ups.
General investors are used to faster development times and seeing quicker returns on their investments in other industry sectors, so when they see the challenges faced by the life sciences and medical/ health sectors such as the longer time needed for development and clinical trials, stricter standards and more restrictive marketing regulations, they are reluctant to invest."
Industry-led conferences and concurrent events
 4th Advanced Rehab Technology Conference (ARTeC): 11 & 12 September
Jointly organized by The Royal College of Physiatrists of Thailand, Thai Rehabilitation Medicine Association and Messe Düsseldorf Asia, this edition will focus on the theme – The combination of Ultrasonography and Electrodiagnosis: An innovative approach to neuromuscular disorders. The two day conference includes renowned industry-thought leaders from Canada, USA and Thailand, and will offer insights into specialist topics such as Ultrasound evaluation of Peripheral Nerve and Focal Neuropathies, Normal Neuromuscular Ultrasound, and many more.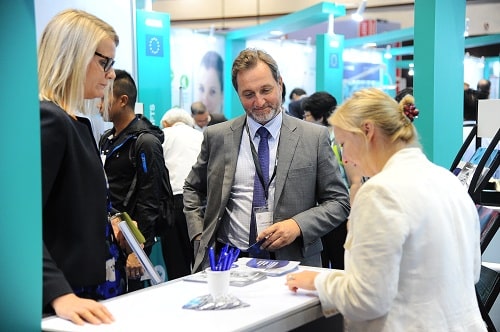 WT Wearable Technologies Conference 2019 ASIA: 11 September
The 35th edition of this conference will provide networking opportunities and insight into how wearables are digitalising the healthcare industry, as well as uncover a new era of fitness wearables and the latest enabling technologies in this extravagant line-up that discusses everything from latest generation rechargeable microcells, adaptive analytics, to infrastructure for precision medicine and connected healthcare platforms.
 Nursing and Health Literacy for Non-Communicable Disease (NCD) Management: 12 & 13 September
With chronic diseases – particularly NCDs being a problem to health and at the same time, threatening the health care system; nursing professionals will have a greater role and involvement in helping to solve NCDs – helping to promote and prevent NCDs at healthcare facilities and also as advocates to promote healthcare. The two-day conference organized by the Thai Nurses Association will cover topics such as Policy and Strategy on Prevention and Control of NCDs, Service delivery of health care system for NCDs: The Challenges of an ageing Population, Concept and Experience using alternative medicine in NCD practice, and more.
As the region's largest international medical and healthcare exhibition, MEDICAL FAIR THAILAND 2019 is a must-visit business platform and will continue to set the stage for the industry, as it shares in the expertise of MEDICA – the world's No.1 medical exhibition and MEDICAlliance, the global portfolio of medical exhibitions under the Messe Düsseldorf group in Germany.
For more information on MEDICAL FAIR THAILAND 2019 and to register your visit, go to: www.medicalfair-thailand.com