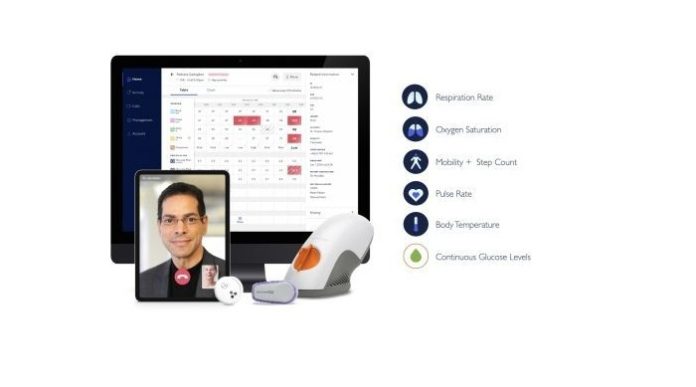 Current Health announced it has partnered with Dexcom to add continuous glucose monitoring (CGM) capabilities to Current Health's AI-powered remote patient monitoring (RPM) platform. By continuously monitoring patients' glucose levels – largely considered the fifth vital sign – the Current Health platform will empower health systems to secure actionable and comprehensive insights into overall patient health, resulting in improved patient outcomes and decreased healthcare costs.
With an estimated 463 million people across the globe – or one out of every 11 adults – suffering from diabetes, health systems need insight into patients' whole health – including glucose levels – to best manage at-risk patients. Given people with diabetes are particularly vulnerable to a variety of illnesses, including cardiovascular disease, nerve damage and Alzheimer's disease – not to mention COVID-19 – health care providers need to be able to continuously monitor glucose levels to ensure they can proactively address issues associated with diabetes and provide the best possible care.
As the global leader in continuous glucose monitoring, Dexcom was the natural choice for Current Health when exploring the addition of glucose monitoring to its platform. The integration will be an optional add-on for patients using the Current Health wearable, offered first to patients with diabetes. The integration will become widely available later this year.
"By incorporating Dexcom's world-class glucose monitoring capabilities into the Current Health platform, we are now able to offer a complete view of our patients' health indicators, no matter where that patient is located," said Chris McCann, co-founder and CEO of Current Health. "Through our platform, healthcare providers can easily determine whether a patient needs immediate in-person care, or if they can be better managed from their homes. This is a decision that is especially critical given COVID-19 containment efforts."
"Our focus has always been on delivering the best care to people with diabetes through continuous glucose monitoring," said Matt Dolan, senior vice president and general manager of new markets at Dexcom. "By integrating our leading CGM system into Current Health's RPM platform, we can expand the clinical utility of our technology and also offer a more comprehensive view into a patient's whole health. These factors together mean that more patients will get the best care possible."
About Current Health
Current Health provides the leading FDA-cleared, artificial intelligence (AI)-powered remote patient monitoring platform to help healthcare providers reduce risk, cost and readmissions while improving outcomes. Current Health combines a continuous, ICU-accurate wearable vital signs sensor, connectivity with other devices, symptom chatbot and video visits into a single platform. Powered by advanced analytics, Current Health's platform offers healthcare providers the real-time insights they need to make proactive and informed decisions about patient care. As a result, providers can improve patient outcomes and experiences, while reducing the cost of healthcare delivery.
About Dexcom, Inc.
Dexcom, Inc. empowers people to take control of diabetes through innovative continuous glucose monitoring (CGM) systems. Headquartered in San Diego, California, Dexcom has emerged as a leader of diabetes care technology. By listening to the needs of users, caregivers, and providers, Dexcom simplifies and improves diabetes management around the world.