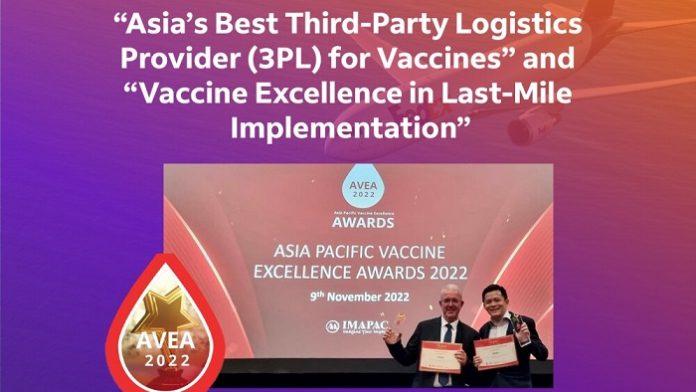 FedEx Express (FedEx), a subsidiary of FedEx Corp. and one of the world's largest express transportation companies, has received two prestigious awards for its logistics support to the healthcare sector at the Asia Pacific Vaccine Excellence Awards 2022. The company was named 'Asia's Best Third-Party Logistics Provider (3PL) for Vaccines' for the second consecutive year and was also named the winner in 'Vaccine Excellence in Last-Mile Implementation'.
FedEx was recognized based on its leading role in distributing vaccines across the globe and protecting end to end shipment integrity. With an unparalleled network, innovative technologies and expanded cold-chain storage facilities, FedEx continues to work closely with healthcare customers to ensure proper conditions are met to transport critical shipments like these whenever and wherever needed.
The Asia Pacific Vaccine Excellence Awards 2022, organized by IMAPAC, celebrates outstanding achievements of biopharmaceutical organizations, supply chain experts, and the newest technology solutions deployed in Asia for the development and distribution of vaccines. Entries and nominations are evaluated and shortlisted by a judging panel with the award winner in each category determined by public voting results from the bioprocessing community.
"We are incredibly proud of the continued recognition we receive for our healthcare logistics services. These awards are testament to our specialist teams, robust global networks, advanced cold chain technologies and experience in healthcare delivery," said Kawal Preet, president, Asia Pacific, Middle East, and Africa (AMEA) Region, FedEx Express. "With close to 30% of the world population still unvaccinated against COVID-19, we remain committed to working closely with governments and healthcare organizations to close the gap, helping more underserved communities in our region receive access to life-saving vaccines as they continue fighting against the pandemic."
FedEx has shipped vaccines for decades including flu vaccines each season and has responded to pandemics such as H1N1 in 2009 in addition to COVID-19. By mobilizing its global networks, healthcare expertise, best-in-class cold chain solutions and real-time temperature monitoring technology, the company has been an integral part of the global vaccine supply chain delivering COVID-19 vaccines and supplies to more than 50 countries and territories around the world. The company is also involved with the movement of active pharmaceutical ingredients and therapeutics that play an important role in the fight against COVID-19. Additionally, FedEx has delivered relief to communities throughout AMEA since the onset of the pandemic, including donating three charter flights of oxygen concentrators and other medical supplies to India.