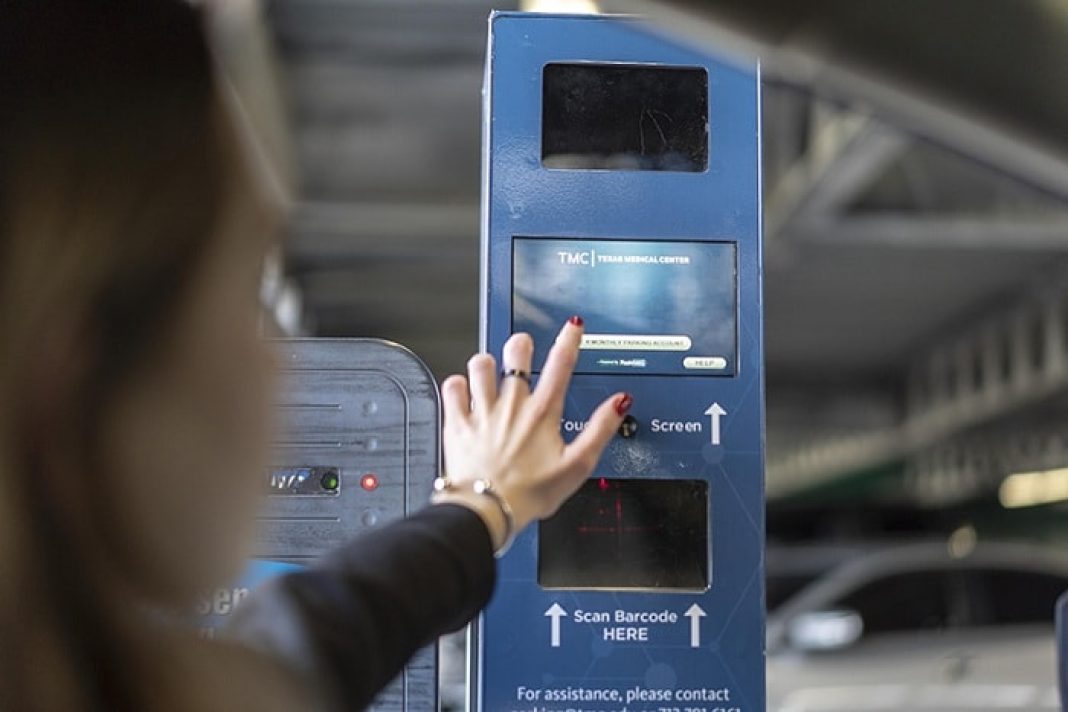 FlashParking, in partnership with LAZ Parking, announces the completion of a 200-lane Parking Access and Revenue Control System (PARCS) installation at Texas Medical Center (TMC)—the world's largest medical complex—in just 44 days.
The system, operated by LAZ Parking, employs FlashParking's industry-leading cloud-based parking and mobility solutions to control 30,000 parking spaces across 19 garages and 20 surface lots. FlashParking's proprietary technologies simplify parking, reduce congestion, and improve traffic flow, ensuring efficient movement for emergency vehicles and enhancing the experience for the more than 10 million patients, visitors, staff, and students who annually visit TMC.
The project was installed with minimal operational disruption in just 44 days. Working closely in conjunction with LAZ Parking, FlashParking's operations team deployed 200 entry/exit kiosks, 47 pay-on-foot kiosks, and 30 cash recycling machines – as well as upgrading the existing fiber network—staying ahead of schedule and on budget throughout the project.
"The Texas Medical Center is synonymous with world-class, innovative care and research, so it was imperative for us to partner with providers that would deliver equally innovative solutions to address our parking and mobility needs," said Shawn W. Cloonan, COO of Texas Medical Center. "We chose FlashParking and LAZ Parking to not only help us modernize our facilities and deliver a best-in-class parking experience for our patients, visitors, and employees but also to help TMC better respond to the evolving mobility ecosystem."
"At the largest paid parking facility in North America, we've again proven how quickly we can integrate industry-leading parking technology and provide top-tier services to forward-thinking parking operators," said Juan Rodriguez, CEO of FlashParking. "Our shared vision with LAZ Parking and TMC is an ecosystem of future-ready mobility solutions that will evolve with technologies like driverless cars, ride-share services, and frictionless access to better serve the TMC community."
Utilizing real-time data from FlashParking's cloud-based platform, LAZ Parking can control its revenue and parking operations from virtually anywhere. A 61% drop in support calls since installation is a testament to the improved user experience. Thousands of users now access parking facilities via FlashParking's frictionless FlashBeacon Bluetooth technology.
"After securing our contract with the prestigious Texas Medical Center, we knew we had to forge a bold partnership worthy of TMC's sterling reputation," said Steve Gresh, Head of Innovation and Technology of LAZ Parking. "Together with FlashParking, we have implemented an industry-leading parking system to usher TMC's facilities into the future."
<strong>About FlashParking
</strong>FlashParking is a leader in parking and mobility solutions that address some of the most complex transportation problems facing urban societies. FlashParking's rapid growth is driven by a future-ready philosophy that manifests itself in a smart ecosystem of solutions, products, and integrations that work together to improve mobility. With over 1,000 deployments on its cloud-based network, FlashParking's powerful real-time data services provide efficient, secure transactions and business intelligence for organizations of all sizes and industry spectrums. For more information, please visit <a href="https://www.flashparking.com/">www.flashparking.com</a>.
<strong>About LAZ Parking
</strong>LAZ Parking, founded in Hartford, CT in 1981, is one of the largest and fastest growing parking companies in the United States, operating over a million parking spaces across the country in 3,000 locations. With over 38 years of experience providing parking management and transportation and mobility services, LAZ works seamlessly across a variety of segments including hospitality and valet, office buildings, medical, airport and transportation, campus, government and municipal, retail, events, residential building and shuttle services. Additional information can be found at <a href="https://www.lazparking.com/">www.lazparking.com</a>.
<strong>About Texas Medical Center</strong>
Texas Medical Center (TMC) is the largest medical city in the world. The medical center campus is comprised of more than 1400 acres, and houses 21 hospitals, four medical schools, six nursing schools, and over 100,000 medical professionals dedicated to advancing clinical care for over 10 million patients each year. For more information, please visit <a href="https://www.tmc.edu/">tmc.edu</a>.