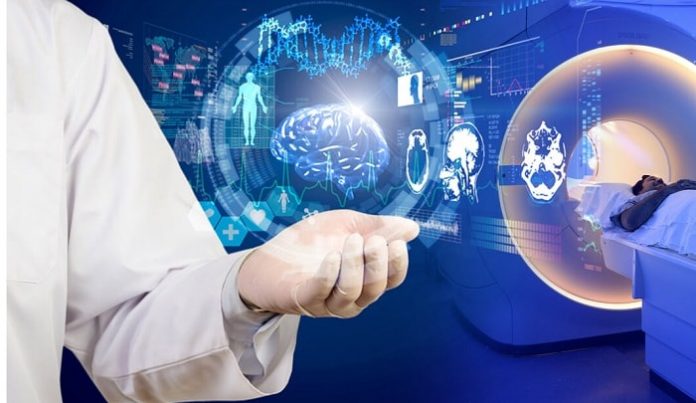 FUJIFILM Medical Systems U.S.A., Inc. and FUJIFILM SonoSite, Inc., will showcase their Enterprise Imaging and Informatics solutions at the Healthcare Information and Management Systems Society's (HIMSS) Global Conference and Exhibition at the Orange County Convention Center, in Orlando, FL from Feb 12–14, 2019.
Fujifilm's comprehensive Synapse® Enterprise Imaging portfolio will be available for demonstration in booth #4159. New this year, SonoSite Synchronicity™, Fujifilm's informatics workflow solution designed specifically for point-of-care ultrasound, will also be on display.
"Fujifilm's Enterprise Imaging portfolio is engineered to provide a complete picture of each patient's health so that physicians across the care continuum can make more informed decisions," says Johann Fernando, Ph.D., Chief Operating Officer of FUJIFILM Medical Systems U.S.A., Inc. "Clinicians need to see the whole patient in order to treat the whole patient, and we look forward to exhibiting our portfolio of innovations designed to meet this need at HIMSS 2019."
Synapse Enterprise Imaging
Fujifilm's comprehensive portfolio showcases technologies designed to establish the ideal Enterprise Imaging strategy. HIMSS attendees will have the opportunity to explore all offerings and validate the ultimate decision to partner with a company dedicated to collaboration on behalf of patient care. Fujifilm's portfolio of Synapse Enterprise Imaging solutions is comprised of Synapse PACS, VNA, Cardiology, 3D, Enterprise Viewer, Cloud Services, and Information Systems, and all will be available for demonstration within booth #4159.
Explore the Potential of Artificial Intelligence
HIMSS attendees are also invited to see first-hand how Fujifilm's artificial intelligence platform—powered by server-side informatics technology—can help advance patient care, improve workflows, and drive new research forward.
Under the REiLI brand, Fujifilm is working with academic institutions, Synapse customers and company partners to develop AI technologies powered by the company's deep learning technology and strong image processing heritage. Through these capabilities, Fujifilm strongly supports today's diagnostic imaging workflow.
Applications currently in development include, but are not limited to: Region Recognition, an AI technology to accurately recognize and consistently extract organ regions, regardless of deviations in shape, presence or absence of disease, and imaging conditions; Computer Aided Detection, an AI technology to reduce the time of image interpretation and support radiologists' clinical decision making; Workflow Support, using AI technology to realize optimal study prioritization, alert communications of AI findings, and report population automation.
New Workflow Solution for Point-of-Care Ultrasound
Visitors to Fujifilm's booth will also have the opportunity to see SonoSite Synchronicity software in action. Launched in late 2018 and designed specifically for point-of-care ultrasound, this robust solution helps healthcare organizations optimize workflows, maximize financial return, improve quality assurance efficiency, and streamline credentialing processes.
Adhering to Protected Health Information (PHI) guidelines, the solution helps organizations achieve higher security confidence through Active Directory authentication. Additional features include built-in, customizable worksheets, intuitive dashboards, and the ability to access the tool from a computer, tablet or mobile device. A simplified reporting process ensures all exams are compliant with billing requirements, helping to maximize an organizations' bottom line.
Easily installed and scalable, SonoSite Synchronicity software was engineered to meet every organization's unique requirements for standardization, consistency, and compliance across entire medical networks.
"Two decades ago, Fujifilm SonoSite introduced point-of-care ultrasound (POCUS) to the healthcare market and established a proud legacy. Over the years, close collaboration with customers has pointed to the need for a comprehensive workflow solution focused specifically on the dynamic point-of-care environment—this was the genesis of SonoSite Synchronicity," says Rich Fabian, President and Chief Operating Officer of FUJIFILM SonoSite, Inc. "With Fujifilm SonoSite's state-of-the-art workflow solution, customers can now trust in a secure, single-vendor approach."