FUJIFILM SonoSite has been named the most adopted and most considered brand of point-of-care (POC) ultrasound system in the USA by independent healthcare informatics agency KLAS Research. This year's KLAS report – Ultrasound Imaging 2017 – conducted surveys and interviews with thousands of healthcare professionals across the country, and found that FUJIFILM SonoSite systems were the instrument of choice for current POC applications, and most likely to be chosen to fulfil future needs.
Each year, KLAS performs in-depth research into the technologies and services being used in healthcare institutions large and small across the US, gathering data from clinical staff, financial and IT professionals, and senior management. These unbiased, vendor-neutral reports help healthcare professionals to make informed purchasing decisions and drive the development of healthcare services. Although POC ultrasound is not the main focus of the Ultrasound Imaging 2017 report, the SonoSite brand came up repeatedly when discussing traditional ultrasound systems used by radiology departments, and was the clear market leader in this area.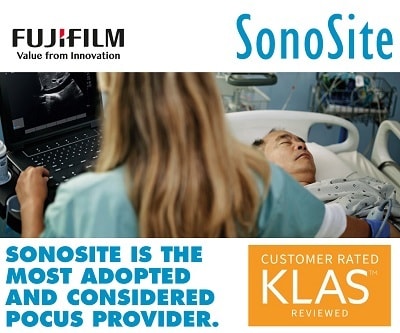 The report also contained an anonymous explanation from an Executive Director of Imaging: "The doctors want to buy SonoSite, and a couple of our hospitals have been successful in getting the SonoSite systems. The doctors feel that SonoSite has much better equipment for anaesthesia, line placement and nerve blocks. The SonoSite products also have better imaging and are easier to use, because there are not so many steps to go through." For more information, visit www.klasresearch.com
SonoSite and the SonoSite logo are trademarks and registered trademarks of FUJIFILM SonoSite, Inc. in various jurisdictions. FUJIFILM is a trademark and registered trademark of FUJIFILM Corporation in various jurisdictions. All other trademarks are the property of their respective owners. Copyright (c) 2017 FUJIFILM SonoSite, Inc. All rights reserved. Subject to change.
About FUJIFILM SonoSite, Inc.
SonoSite helped pioneer the concept of portable, point-of-care ultrasound, and it continues to be a world-leading manufacturer and innovator of bedside ultrasound systems as well as an industry leader in ultra high-frequency micro-ultrasound technology. Headquartered near Seattle, the company is represented by 26 subsidiaries and a global distribution network in over 100 countries. SonoSite's portable, compact systems are expanding the use of ultrasound across the clinical spectrum by cost-effectively bringing high-performance ultrasound to the point of patient care. For more information, go to: www.sonosite.com.
FUJIFILM Holdings Corporation, Tokyo, Japan, brings continuous innovation and leading-edge products to a broad spectrum of industries, including electronic imaging, digital printing equipment, medical systems, life sciences, graphic arts, flat panel display materials, and office products, based on a vast portfolio of digital, optical, fine chemical and thin film coating technologies. Fujifilm is committed to environmental stewardship and good corporate citizenship. For more information, please visit www.fujifilmholdings.com.