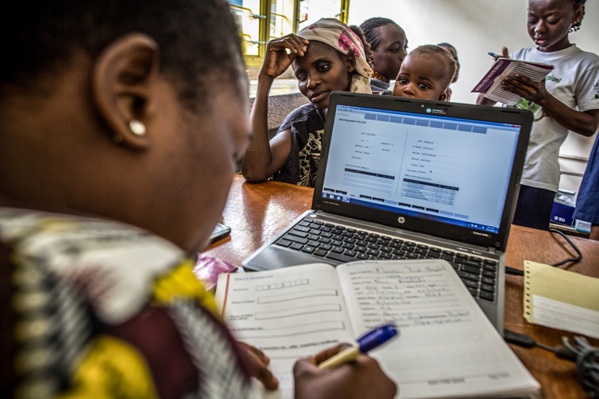 Gavi, the Vaccine Alliance and leading health technology company,Royal Philips announced that they have signed a letter of intent to jointly develop scalable digital transformation plans aimed at improving the quality of immunisation data and its collection in primary and community healthcare. Their joint goal is to help Gavi supported countries improve the planning, coverage and impact of immunisation programmes. The partnership was announced at the Global Partnership for Sustainable Development Data event in New York.
Routine immunisation has played a key role in more than halving the annual number of child deaths since 1990. Nevertheless, around 1.5 million children under the age of five still die every year from vaccine-preventable diseases. Gavi and Philips have a shared vision that robust health IT infrastructures and the digital transformation of immunisation data are key to more resilient health systems. Through the use of new health IT solutions for the development of improved data collection, and new models for better planning, Gavi and Philips will offer interested countries their complementary expertise to help maximise immunisation coverage and effectiveness by identifying children who are missing out on vaccination programmes.
"By working with Philips we plan to protect more children by improving the quality of immunisation data," said Gavi CEO Dr. Seth Berkley. "Weak data leads to poor planning, often meaning that children, whether they live in urban slums or remote rural outposts, miss out on vaccines multiple times because health workers simply don't know where to find them. I am pleased that Philips will bring its experience in connected healthcare informatics to help us tackle this problem."
"We are convinced that partnerships, such as this one with Gavi, are paramount to realising the goal of universal health coverage for all, especially among children," said Jeroen Tas, CEO, Connected Care and Health Informatics at Philips. "Thanks to the digital revolution, we can now start doing what was previously unthinkable: enable access to care, improve patient outcomes and lower healthcare costs. Our vision for the partnership is that we will put our strengths in connected health, data analytics and population health management to further good use, by helping Gavi and the countries it supports to confidently identify and effectively immunise children, no matter where they live."
Working in partnership with interested Ministries of Health, Gavi and Philips will bring together a multidisciplinary team of clinicians, researchers, designers and digital experts to collaborate on developing a shared vision and plan, tailored to local needs. Philips will leverage its HealthSuite Labs methodology to co-design, prototype and apply new technologies to improve service outreach and enable accurate bottom-up forecasting of immunisation needs. In addition, Philips and Gavi aim to develop data-driven feedback mechanisms to help improve decision making and identify the children that would benefit from vaccination.
The partnership announced today with Philips is another example of how Gavi aims to step up its data strengthening activities and further address some of the fundamental weaknesses in data collection systems in Gavi countries across the globe. It also supports Philips' aim to improve the lives of three billion people a year by 2025 by making the world healthier and more sustainable through innovation, as well as the company's commitment to the universally agreed United Nation's Sustainable Development Goals, especially those aimed at ensuring healthy lives and promoting well-being for all at all ages, and encouraging sustainable consumption and production patterns.
About Gavi, the Vaccine Alliance
Gavi, the Vaccine Alliance is a public-private partnership committed to saving children's lives and protecting people's health by increasing equitable use of vaccines in lower-income countries. The Vaccine Alliance brings together developing country and donor governments, the World Health Organization, UNICEF, the World Bank, the vaccine industry, technical agencies, civil society, the Bill & Melinda Gates Foundation and other private sector partners. Gavi uses innovative finance mechanisms, including co-financing by recipient countries, to secure sustainable funding and adequate supply of quality vaccines. Since 2000, Gavi has contributed to the immunisation of an additional 500 million children and the prevention of approximately 7 million future deaths. Learn more at www.gavi.org .
Gavi, the Vaccine Alliance is funded by governments (Australia, Brazil, Canada, Denmark, France, Germany, India, Ireland, Italy, Japan, the Kingdom of Saudi Arabia, Luxembourg, the Netherlands, Norway, the People's Republic of China, Republic of Korea, Russia, South Africa, Spain, the State of Qatar, the Sultanate of Oman, Sweden, United Kingdom, and United States), the European Commission, Alwaleed Philanthropies, the OPEC Fund for International Development (OFID), the Bill & Melinda Gates Foundation, His Highness Sheikh Mohamed bin Zayed Al Nahyan and Majid Al Futtaim, as well as private and corporate partners (Absolute Return for Kids, Anglo American plc., the A&A Foundation, The Children's Investment Fund Foundation, Comic Relief, the ELMA Vaccines and Immunization Foundation, The International Federation of Pharmaceutical Wholesalers (IFPW), the Gulf Youth Alliance, JP Morgan, "la Caixa" Foundation, LDS Charities, Lions Clubs International Foundation, UPS and Vodafone.
About Royal Philips
Royal Philips is a leading health technology company focused on improving people's health and enabling better outcomes across the health continuum from healthy living and prevention, to diagnosis, treatment and home care. Philips leverages advanced technology and deep clinical and consumer insights to deliver integrated solutions. The company, headquartered in the Netherlands, is a leader in diagnostic imaging, image-guided therapy, patient monitoring and health informatics, as well as in consumer health and home care. Philips' health technology portfolio generated 2015 sales of EUR 16.8 billion and employs approximately 69,000 employees with sales and services in more than 100 countries. News about Philips can be found at www.philips.com/newscenter.
Media contact
Rob Kelly
Tel: +41 22 909 29 78
Mob: +41 79 745 20 31
Email:rkelly@gavi.org