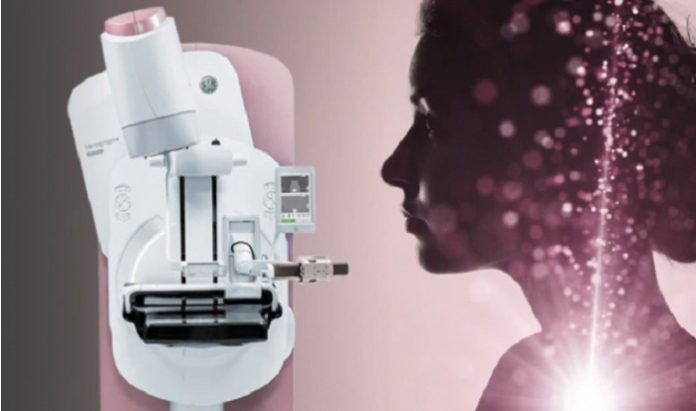 GE Healthcare announced the installation of Serena Bright™ in five hospitals and radiology centers around the United States. Serena Bright™ is the industry's first contrast-guided biopsy solution, helping empower clinicians and patients in their fight against breast cancer. The technology, which received U.S. Food and Drug Administration 510(k) clearance in May 2020, allows patients to have their breast biopsy exams with contrast guidance using the same mammography equipment, in the same room, and with the same staff as the screening or diagnostic mammogram.
Among others, Serena Bright™ has been installed at Thomas Jefferson University Hospital (Philadelphia, Pa.), Boca Raton Regional Hospital (Boca Raton, Fla.), HCA Blake Medical Center in (Bradenton, Fla.) and Lake Medical Imaging & Breast Center (The Villages, Fla.). Health systems worldwide are implementing the Serena Bright technology in their efforts against breast cancer, with hundreds of patients already seeing results from installations across the globe.
Serena Bright™ provides reliable and accurate results that lead to a clear path of action, usually without further testing. In the past, clinicians have typically needed to use other imaging guidance, such as MRI, for biopsy procedures for lesions found with contrast-enhanced mammography and not seen on ultrasound. Following an abnormal mammogram, it can take several weeks to get an MRI biopsy.[1] Now as the backlog of cancer screenings caused by COVID-19 persists, delays in diagnosis are leading to some presentations at more advanced stages and poorer clinical outcomes, with one study pointing to a potential increase of 33,890 excessive cancer deaths in the U.S. alone.
Serena Bright™ may help decrease these delays, allowing follow-up biopsy procedures to be done in a matter of days, rather than waiting several weeks for an MRI biopsy. When compared to MRI-biopsy guided therapy, the potential benefits of Contrast-Enhanced biopsy include shortened procedure time and improved overall patient experience.
"Especially in today's world, as we start to regain a sense of normalcy post-pandemic, accurately identifying and confirming the extent of disease for patients is essential to getting them on the right path to a cure," Dr. Jason Shames, Associate Director of Research, Division of Breast Imaging, Co-Director, Breast Imaging Fellowship at Thomas Jefferson University Hospital, said. "With Serena and Serena Bright, we are now able to provide our patients and treatment teams with more confident locoregional staging results in a more accelerated, cost effective way."
Critical to this technology's application is GE Healthcare's SenoBright™ HD Contrast-Enhanced Spectral Mammography (CESM), a diagnostic breast exam with iodine-based contrast that provides high sensitivity for more accurate breast cancer diagnosis.[5] By highlighting areas of unusual blood flow to localize lesions that need to be biopsied, CESM biopsy – Serena Bright™ – provides excellent image quality to help improve clinical confidence.
"Now more than ever, we need to give patients answers as fast as possible while also ensuring their comfort. We are proud to bring Serena Bright to our customers during this time when clarity and results are needed more rapidly," said Agnes Berzsenyi, President and CEO of Women's Health and X-Ray at GE Healthcare. "We're optimistic about the potential for this technology to significantly improve breast cancer outcomes for women."
About GE Healthcare:
GE Healthcare is the $18 billion healthcare business of GE. As a leading global medical technology and digital solutions innovator, GE Healthcare enables clinicians to make faster, more informed decisions through intelligent devices, data analytics, applications and services, supported by its Edison intelligence platform. With over 100 years of healthcare industry experience and around 50,000 employees globally, the company operates at the center of an ecosystem working toward precision health, digitizing healthcare, helping drive productivity and improve outcomes for patients, providers, health systems and researchers around the world.