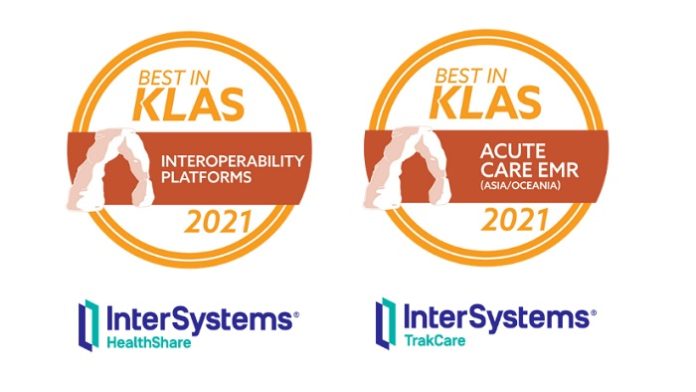 InterSystems, a global leader in information technology platforms for health, business and government applications, announced that KLAS Research has named the InterSystems TrakCare® unified healthcare information system as the 2021 Best in KLAS award winner in the Asia/Oceania Region for Acute Care EMR, and InterSystems HealthShare® Unified Care Record as a Best in KLAS award winner for Interoperability Platforms.
"Each year, thousands of healthcare professionals across the globe take the time to share their voice with KLAS," said Adam Gale, President of KLAS Research. They know that sharing their perspective helps vendors to improve and helps their peers make better decisions. These conversations are a constant reminder to me of how necessary accurate, honest and impartial reporting is in the healthcare industry. The Best in KLAS report and the awards it contains set the standard of excellence for software and services firms. Vendors who win the title of "Best in KLAS" should celebrate and remember that providers now accept only the best from their products and services. The Best in KLAS award serves as a signal to provider and payer organisations that they should expect excellence from the winning vendors."
KLAS Research polls healthcare providers each year to best understand the impact technology vendors have on the healthcare industry and honestly, accurately and impartially report on those findings. The Best in KLAS awards are presented to vendors viewed as leaders in the space and those that help healthcare professionals deliver better patient care. The "2021 Best in KLAS Global Software Services" report is based on satisfaction ratings gathered in 2020 from thousands of healthcare providers in two areas: Acute Care Electronic Medical Records (EMRs) and Interoperability Platforms.
TrakCare has been recognised seven times with a Best in KLAS Global (Non-US) award in the Patient Administration System and Acute Care EMR categories. This is the fourth year TrakCare has been recognised with the Global Acute Care EMR award for the Asia/Oceania Region, and it was additionally rated as a top solution in Latin America. TrakCare is trusted by leading healthcare providers in 27 countries around the globe and allows healthcare providers to deliver safer, more efficient and better coordinated care.
HealthShare Unified Care Record ensure providers, payers, consumers, social care and wellness services, researchers, and solution developers have the tools to overcome the challenges of decentralised data by creating a shared, comprehensive and unified care record. Its agility empowers healthcare organisations to adapt quickly amidst the volatility of the COVID-19 pandemic.
"We are always pleased to gain recognition – but ones from our customers such as Best in KLAS mean the most," said Don Woodlock, vice president of Healthcare Solutions at InterSystems. "We have continually adapted our technology to help our customers meet the novel challenges they face, and we are grateful that our customer focus and commitment to excellence ring true."
About InterSystems
Established in 1978, InterSystems is the leading provider of technology for extremely critical data in the healthcare, finance, and manufacturing and supply chain sectors. Its cloud-first data platforms solve interoperability, speed and scalability problems for large organisations around the globe. InterSystems also develops and supports unique managed services for hospital EMRs, unified care records for communities and nations, and laboratory information management systems. InterSystems is committed to excellence through its award-winning, 24×7 support for customers and partners in more than 80 countries. Privately held and headquartered in Cambridge, Massachusetts, InterSystems has 25 offices worldwide.
About KLAS
KLAS is a data-driven company on a mission to improve the world's healthcare by enabling provider and payer voices to be heard and counted. Working with thousands of healthcare professionals, KLAS collects insights on software, services and medical equipment to deliver reports, trending data and statistical overviews. KLAS data is accurate, honest and impartial. The research directly reflects the voice of healthcare professionals and acts as a catalyst for improving vendor performance.