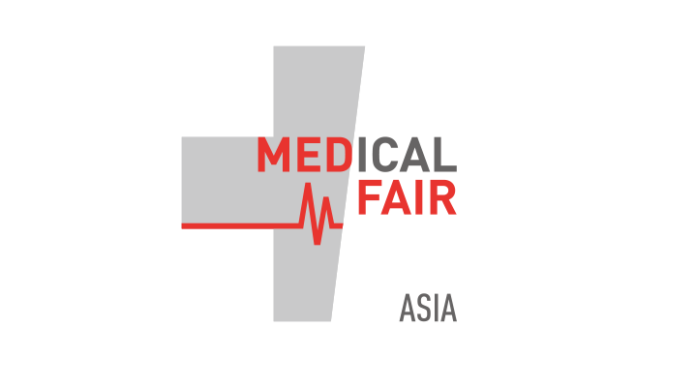 The first week of the inaugural MEDICAL FAIR ASIA digital edition got off to a promising start when it was launched last week, with some 18,000 online interactions in the first two days. The 10-day online exhibition with specially curated daily content has attracted over 7,000 registered attendees from all over the world, and more are expected to engage on the platform over the coming days as registration remains open for the full duration of the exhibition.
As one of Singapore's most established exhibitions in the medical and healthcare space since 1997, in the first full digital iteration, sourcing and procurement opportunities remain at the heart of the exhibition with its user-friendly platform which has seen participation from 345 exhibitors from 38 countries and regions –  with 1,200 meetings scheduled and over 1,500 online connections made to-date.
In a series of video welcome messages featured on the online platform, Second Minister Dr Tan See Leng commented on the timely and highly relevant staging of the exhibition against the backdrop of the pandemic, and that as a platform it not only facilitates but also grows connections and thought-leadership in the industry. Re-imagining events to remain relevant and competitive as customers' needs evolve is essential, and "this event is another good example how Singapore has worked with like-minded parties to pioneer how virtual MICE events could be successfully and safely held in response to our challenging and changing environment," he said.
At the Exhibition Hall, is where companies can showcase their latest innovations and solutions and connect with trade visitors through videos, online chat and live presentations. The Exhibition Hall includes 12 international group pavilions from Canada, France, Germany, Hong Kong, Japan and South Korea, and two themed pavilions featuring specific products and solutions under the banners of – Community Care Zone and Pandemic Management Solutions. An EU group pavilion consisting 56 European healthcare companies can also be seen in the Exhibition Hall, under the auspices of the EU Business Avenues programme, who are looking to explore collaborations with local and regional partners
Taking place at the Conference Hall, MEDICAL FAIR ASIA has also expanded its content this edition to include Medical Festival Asia, a joint collaboration with medical concierge service and platform – GlobalHealth Asia-Pacific, with a signature event; Healthcare and Medical Tourism Summit. Featuring a stellar line-up of international speakers that include leading virologist – Professor Peter Piot, award-winning cancer specialist – Professor Shafi Ahmed, and from the Bill and Melinda Gates Foundation, Stefan Nachuk. On the Singapore front, distinguished speakers include Dr Ravi Bikram Shesthra, General Manager & Senior Director, Global Healthcare IT, Canon Medical Systems Corporation, Dr Timothy Low, a member of the Board of Directors, Farrer Park Hospital, and Teo Cher Hwa, Director, National Health Innovation Centre.
Making its return at the exhibition for the third consecutive year at the MEDICAL FAIR ASIA series (which alternates between Singapore and Bangkok), is the Start-up Podium – a discussion platform for next-gen start-ups, entrepreneurs and major players in the forefront of commercialisation. Bringing players of the start-up ecosystem together to share ideas and enable innovations to be discussed and materialised, the line-up includes speakers from A*STAR, KPMG, K&B Group Kohler Co, Mehta Hospitals, AstraZeneca, and Mahidol University to name a few.
With over 120 speakers across more than 60 sessions, the Conference Hall has been a signature feature at the online edition, attracting an international and diverse profile of attendees across various sectors, at the live and on-demand sessions covering trending healthcare topics and issues.
Top highlights lined-up the next few days:
Exhibition Hall
Pandemic Management Solutions – More than 100 companies are showcasing relevant products, equipment and solutions for pandemic management; from antiviral and antimicrobial technology, telemedicine platforms, sterilising and disinfecting solutions, to surgical suction units.
Community Care zone – This zone highlights some 15 companies focused on rehabilitative equipment, mobility devices using robotic technology, geriatric medicine and more.
Product demonstrations and technical presentations by exhibitors – topics include; wound care, disinfection technology, medical packaging, rehabilitation solutions and more, from: Novotec Healthcare, Fukuda Sangyo, Lok Corporation, Idrogenet-Gloreha, Claripi Inc, Nanolux, Jack Chia Industries, Biowest, and Articares.
Conference Hall
Start-Up Podium® topics scheduled include:
–   Product Development in Healthcare | Personalised Medicine | Women in MedTech and Life Sciences Start-Ups | Improvising Healthcare during and after the Pandemic | Opportunities and Challenges facing MedTech Companies: A Southeast Asian Perspective | How the Pandemic Changed the use of Blockchain, AI & Cloud in Healthcare | MedTech Opportunities and Challenges: A Regional Perspective | Opportunities in Augmented Reality & Virtual Reality
Medical Festival Asia – Healthcare and Medical Tourism Summit, with three core themes; Business of Healthcare, Digital Transformation and Healthcare Innovation, and Private Equity & Start-up Disruption. Speakers coming up this week include:
–   Professor Shafi Ahmed, award-winning cancer surgeon, Royal London Hospital
–   Dr Prem Pillay, Neuro Spine and Pain Centre, Singapore
–   Professor Thomas Mackie, Board Chairman & Co-founder, Leo Cancer Centre, USA
–   Professor Basky Thilaganathan, Consultant and Director, Fetal Medicine, St. Georeg's University Hospitals, NHS Foundation Trust, London
–   Stefan Nachuk, Deputy Director, Health System Design, Bill & Melinda Gates Foundation, in a Fireside Chat on the Evolution of National Health Insurance Policies in Asia
Access to the exhibition is free, for more information, go to www.medicalfair-asia.com. MEDICAL FAIR ASIA 2020 Digital Edition ends this Friday, 18 December 2020.