Accuray Incorporated announced that Miami Cancer Institute, a part of Baptist Health South Florida, is now treating patients using the new, uniquely "smart" Radixact™ Treatment Delivery System, fully integrated with the new Accuray Precision™ Treatment Planning System and iDMS™ Data Management System.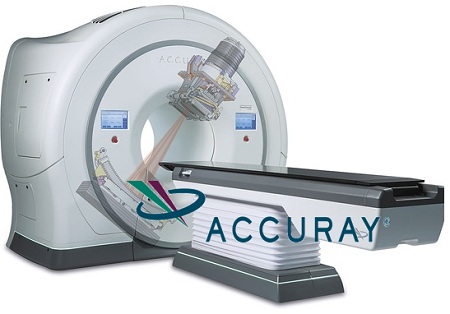 Miami Cancer Institute selected the Radixact platform for its new, state-of-the-art treatment center because it offers leading edge, advanced treatment faster and expands access for more patients, while providing the foundation for anticipated clinical capabilities in the future.
"Miami Cancer Institute has achieved an important milestone with these first patient treatments. We are making meaningful progress toward our goal to offer advanced, comprehensive radiation therapy to our patients," said Minesh P. Mehta, M.D., Deputy Director and Chief of Radiation Oncology at Miami Cancer Institute. "We set an aggressive schedule for the treatments on the first day and were able to successfully treat all patients, in less time than planned. Our team was extremely impressed with this performance, which demonstrated to us that the Radixact System is a viable mainstream radiation therapy option capable of providing advanced treatments to a high volume of patients."
The Radixact System is designed to be a highly reliable radiation therapy device which offers clinicians the opportunity to improve the cancer treatment experience throughout a patient's treatment journey, including when retreatment is necessary.
The Radixact System features a more powerful linear accelerator, low-dose fan beam MVCT imaging and unique helical delivery technology, facilitating highly conformal and homogenous dose distributions to any target volume, while sparing normal healthy tissue, during each treatment fraction.
The next generation treatment delivery software, control systems, service tools, and hardware components significantly increase the ease and speed and efficiency with which clinical teams can provide radiation treatments.
A fully-integrated, simplified adaptive treatment planning solution informs precise treatment planning and mid-course decision-making, enabling the clinical team to adapt therapy to changes in tumor size, shape and location as well as subtle changes in the location of organs and other healthy tissue.
"We congratulate the Miami Cancer Institute radiation oncology team on treating their first patients using the Radixact System," said Joshua H. Levine, president and CEO of Accuray. "Their experience, along with that of the other early Radixact adopters, are already proving the system to be significantly faster than the previous platform. That speed, combined with enhanced functionality in important areas such as adaptive treatment planning and retreatment, will enable our customers to more efficiently and effectively deliver precise radiation treatments to more patients." For further information on the Radixact System, visit
www.accuray.com
.
About Accuray
Accuray Incorporated is a radiation oncology company that develops, manufactures and sells precise, innovative tumor treatment solutions that set the standard of care with the aim of helping patients live longer, better lives. The company's leading-edge technologies deliver the full range of radiation therapy and radiosurgery treatments. For more information, please visit
www.accuray.com
.
Beth Kaplan
Public Relations Director
Office: +1 408 789 4426
bkaplan@accuray.com
Sherry Feldberg
MSLGROUP
Office: +1 781 684 6223
accuray@mslgroup.com