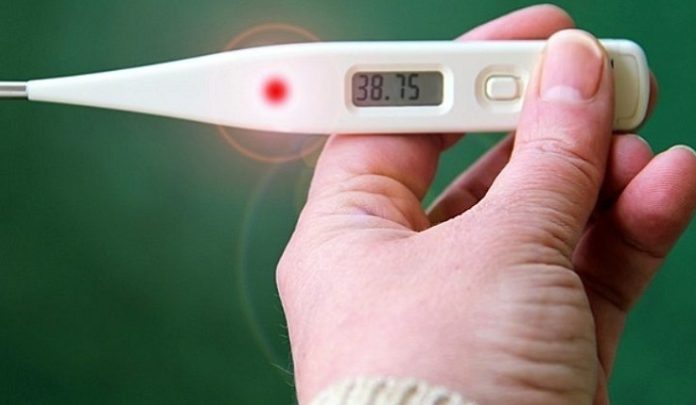 Nemaura Medical Inc. , a medical technology company focused on developing micro-systems- based wearable diagnostic devices and currently commercializing sugarBEAT®, its non-invasive and flexible continuous glucose monitor ("CGM"), announced plans for a new product line by seeking to immediately repurpose sugarBEAT® as a CTM since its inbuilt temperature sensor is capable of continuously tracking body temperature through the skin. Nemaura is considering various options to expedite the launch of a CTM, including potential partnerships and direct to consumer sales.
CTM's have been recognised as potentially having a key role to play in battling COVID-19, with Google's Verily announcing plans to develop a small body worn temperature patch that transmits data to a phone application to provide timely notification of fever and support earlier diagnosis and treatment of viral infections like the flu or coronavirus1.Nemaura's body worn skin patch designed to monitor glucose levels on the skin at 5 minute intervals also contains a thermistor which measures skin temperature as an integral part of the device, and we believe that the device could easily be repurposed for this standalone function. The CGM device is CE approved in Europe and in commercial production in the UK.
"We see a significant commercial opportunity to utilise our BEAT® platform technology specifically for CTM purposes with data being automatically sent by low energy Bluetooth to a mobile phone app from which it can then be reviewed by the user and/or sent to a family member or caregiver. We believe that there are parallels between family members and caregivers remotely monitoring glucose fluctuations in a person, and monitoring fever caused by viral infections, providing a means of remote tracking and intervention. In the current climate we see this as an opportunity to contribute to general wellbeing and patient management" stated Dr. Faz Chowdhury, Nemaura's CEO.
Several diseases including COVID-19 are characterised by fever (an increase in body temperature) meaning that temperature monitoring can be a vital tool in the detection of such conditions and consequently a potential means of containing the spread of the disease through early self-isolation. Measuring body temperature on a continuous basis may also be used to track the course of a disease and so allow physicians to analyse the effectiveness of treatments and thus pro-actively adapt to improve outcomes.
Dr. Chowdhury further stated "body temperature can vary depending on the age of the person, their level of (recent) physical activity, the time the measurement is taken and importantly where on the body the temperature is taken. For this reason, I believe that the ability to track the temperature continuously over time and measure the rate at which it is rising or falling would be a superior form of monitoring a person than sporadic measurements taken using a more traditional thermometer."
We believe that multiple other future uses are foreseen for a CTM including tracking ovulation to improve the chances of conception and for predicting  / preventing diabetes related foot complications such as ulcers which can eventually lead to amputation if not detected early enough, whereby poor blood circulation can be rapidly detected by continuous temperature monitoring of the affected region. Further details are provided in a publication on the company's website: View Continuous Temperature Monitoring PDF Nemaura is establishing the regulatory framework for launching the CTM in a number of worldwide territories, including initial immediate use to provide qualitative indications without disease diagnosis.
About Nemaura Medical, Inc.:
Nemaura Medical Inc. (NMRD) is a medical technology company developing micro-systems-based wearable diagnostic devices and currently commercializing sugarBEAT™, and proBEAT™. sugarBEAT® is a Class IIb CE marked non-invasive and flexible continuous glucose monitor (CGM) providing actionable insights derived from real time glucose measurements and daily glucose trend data, which may help people with diabetes and pre-diabetes to better manage, reverse and prevent the onset of diabetes. People with diabetes who take insulin can also adjunctively use sugarBEAT® for insulin dosage purposes when calibrated by a finger stick reading. proBEAT™ comprises a prescription free non-invasive glucose monitor and a digital healthcare subscription service planned to be launched in the US as a general wellness product.