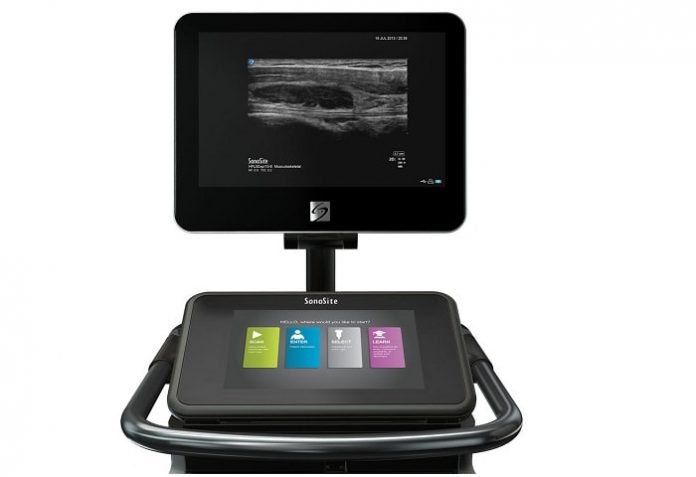 A FUJIFILM SonoSite SII point-of-care ultrasound system recently played a key role in an innovative procedure allowing thyroid surgery without the use of general anaesthetic. Dr. Rüdiger Eichholz, a consultant anaesthetist working for private practice medizi. in Stuttgart, explained: "We were approached with an unusual case; a young woman in need of thyroid surgery, but unwilling to have a general anaesthetic due to a childhood medical trauma. We looked at the possibility of performing an ultrasound-guided block of the cervical nerves pathway – a technique commonly used for carotid endarterectomies – but there are a number of additional concerns using this nerve block bilaterally for thyroid surgery."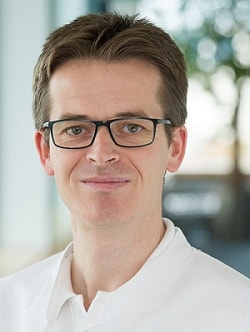 "The primary consideration was to use the smallest volume of anaesthetic possible that would still cover as much of the surgical site as possible; increasing the local anaesthetic dose can lead to high risk complications with acute shortness of breath, due to unintended blocks of the recurrent laryngeal nerves or diaphragmatic paresis secondary to phrenic nerve blocks. It can also lead to swallowing difficulties or blockade of the cervical sympathetic trunk. Point-of-care ultrasound needle guidance was an obvious solution to help us overcome these issues, as it would allow precise delivery of smaller doses to avoid anaesthetic 'spread', and very good image quality was essential, due to the proximity of the various anatomical structures in the neck. The SonoSite SII was ideal for this application, combining excellent image quality with an intuitive touchscreen interface that makes it easy to optimise image settings. This made it very easy to visualise the needle and nerve structures."
"On this occasion, the patient did not want any other form of pain relief for the small areas of the surgical site that were not expected to be covered by the cervical plexus block. In the meantime we have successfully followed this approach for other cases, combining the nerve block with a short-acting analgesic. This means that patients are fully alert during or immediately after surgery, without any pain, offering much faster recovery times and providing an alternative to general anaesthesia for thyroid and parathyroid surgery. All patients who have undergone this procedure have scored high on the patient comfort scale. This successful new approach was achieved through the excellent cooperation of the medizi.-anaesthesia team and the surgical team of Professor Dr. Andreas Zielke and his consultant Dr. Constantin A. Smaxwil of the Department for Endocrine Surgery at the Diakonie-Klinikum Stuttgart. The outstanding technology of the SonoSite SII system helped us to implement our plan."
For more information about FUJIFILM SonoSite products, go to eraf-sales@fujifilm.com.
SonoSite, the SonoSite logo and SII are trademarks and registered trademarks of FUJIFILM SonoSite, Inc. in various jurisdictions. FUJIFILM is a trademark and registered trademark of FUJIFILM Corporation in various jurisdictions. All other trademarks are the property of their respective owners. Copyright (c) 2017 FUJIFILM SonoSite, Inc. All rights reserved. Subject to change.
About FUJIFILM SonoSite, Inc.
SonoSite helped pioneer the concept of portable, point-of-care ultrasound, and it continues to be a world-leading manufacturer and innovator of bedside ultrasound systems as well as an industry leader in ultra high-frequency micro-ultrasound technology. Headquartered near Seattle, the company is represented by 26 subsidiaries and a global distribution network in over 100 countries. SonoSite's portable, compact systems are expanding the use of ultrasound across the clinical spectrum by cost-effectively bringing high-performance ultrasound to the point of patient care. For more information, go to: www.sonosite.com/de.
FUJIFILM Holdings Corporation, Tokyo, Japan, brings continuous innovation and leading-edge products to a broad spectrum of industries, including electronic imaging, digital printing equipment, medical systems, life sciences, graphic arts, flat panel display materials, and office products, based on a vast portfolio of digital, optical, fine chemical and thin film coating technologies. Fujifilm is committed to environmental stewardship and good corporate citizenship. For more information, please visit www.fujifilmholdings.com.