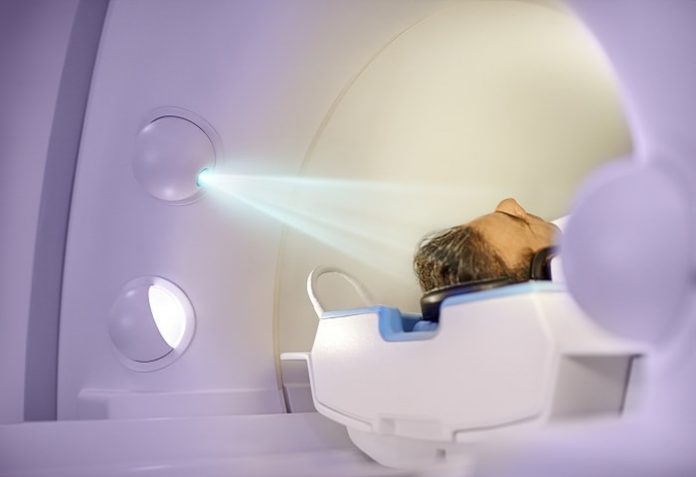 Royal Philips , a global leader in health technology, today announced the newest addition to its digital Ingenia MR portfolio, the Ingenia Elition, a new 3.0T MRI solution. Integrating the latest innovations in systems, software and services, the Ingenia Elition MR solution offers extraordinary image quality and performs exams up to 50% faster1, with no compromise in image quality – empowering a faster, smarter and simpler path to confident diagnosis, elevating the patient experience and helping to improve patient care.
"As value-based care initiatives challenge healthcare organizations to drive better outcomes, radiology departments are specifically caught between ever-increasing imaging volume demands, while also facing pressure to engage more deeply with both referring physicians and patients," said Arjen Radder, Business Leader MR at Philips. "Philips is responding to these challenges through the development of solutions such as Ingenia Elition to improve image quality and the patient and staff experience, as well as operational efficiency."
Intelligent and patient-friendly MR platform
The Ingenia Elition MR solution delivers patient-centric imaging from patient set-up to the final image. By uniting Philips' unique dStream digital broadband technology with Compressed SENSE2 and 3D APT across its new digital MR portfolio, radiologists have the tools necessary to help solve challenging clinical situations, improve the patient experience and set new directions for clinical research.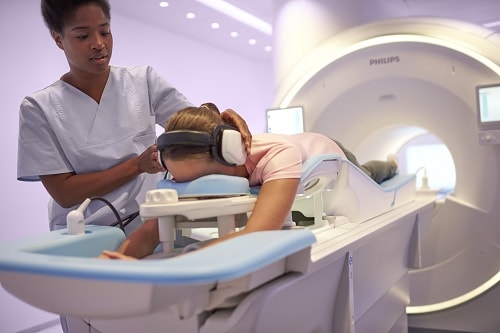 Unique patient sensing technology
New patient sensing technology and AI-driven SmartExam analytics for automatic planning, scanning and processing of exams help improve the entire MR workflow, from image acquisition to reading preference. Ingenia Elition's VitalScreen offers operators fully guided patient setup with a newly designed user interface for workflow optimization and VitalEye brings a unique patient sensing approach, enabling respiratory signal without any interaction from the operator. VitalEye technology and algorithms process over two hundred body locations in parallel to intelligently extract signs of breathing – allowing routine exam set-up time to occur in less than a minute, even for less experienced operators3.
Philips Ambient Experience and in-bore Connect solution, offering an immersive audio-visual experience to calm patients and guide them through MR exams, further improves the patient experience. A study at Herlev Gentofte University Hospital in Denmark showed that the Ambient Experience in-bore Connect solution helped reduce the number of rescans by up to 70% , allowing radiologists to handle more patients per day. The unique combination of innovations that the new Ingenia Elition offers is improving the entire workflow from image acquisition to reading preferences.
All-new Ingenia digital MR portfolio
The Ingenia Elition 3.0T is part of the all-new Ingenia digital MR portfolio and complements the recently introduced Philips Ingenia Prodiva 1.5T MR solution. Philips' new MR portfolio supports radiology departments to enhance productivity, improving the patient and staff experience, while delivering better value-based care through improved patient outcomes at lower costs.
Philips will officially unveil Ingenia Elition and its newest MR innovations, alongside its full suite of solutions for diagnosis and treatment during the 2018 European Congress of Radiology at booth #402 in X4 at the Austria Center in Vienna. For more information about Philips' presence at ECR 2018, including our virtual reality MR experience, visit www.philips.com/ecr, and follow @PhilipsLiveFrom for #ECR18 live updates.
[1] Using Compressed SENSE technology and compared to exams without Compressed SENSE
[2] 510k pending. Not available for sale in the USA or Canada. Not yet CE marked. Not yet available for delivery.
[3] Based on in house testing.
[4] Results from case studies are not predictive of results in other cases. Results in other cases may vary.
About Royal Philips
Royal Philips is a leading health technology company focused on improving people's health and enabling better outcomes across the health continuum from healthy living and prevention, to diagnosis, treatment and home care. Philips leverages advanced technology and deep clinical and consumer insights to deliver integrated solutions. Headquartered in the Netherlands, the company is a leader in diagnostic imaging, image-guided therapy, patient monitoring and health informatics, as well as in consumer health and home care. Philips' health technology portfolio generated 2017 sales of EUR 17.8 billion and employs approximately 74,000 employees with sales and services in more than 100 countries. News about Philips can be found at http://www.philips.com/newscenter