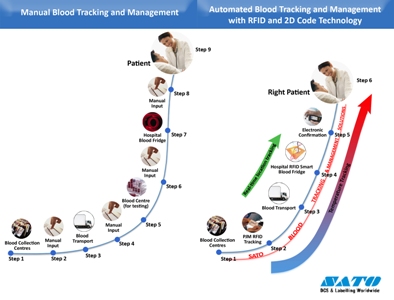 SATO leverages RFID technology to improve blood bag real-time traceability
and safety management in Asia Pacific.
New solution improves efficiency and speed in blood bag management

SINGAPORE, 18 SEPTEMBER 2012 — Today at the HiMMS AsiaPac 12 Conference, SATO Healthcare, a leader in barcode and RFID solutions for the healthcare industry, launched the availability of the SATO Blood Safety Solution, an automated blood bag tracking and management solution that ensures fast and efficient delivery of blood from donation center to bedside transfusion featuring Phase Jitter Modulation (PJM) RFID and 2D code technology.
The SATO Blood Safety Solution is a data-rich and location-aware system that can help blood authorities, dramatically improve the logistical management of blood. Through real-time tracking using RFID technology, the efficiency and speed of blood management is improved. Furthermore, the SATO Blood Safety Solution provides blood authorities with improved visibility on the inventory of different blood types at hospitals and can easily enable the supply of blood needed.
"Blood bag tracking today is a very time-consuming process that involves multiple steps where manual data entry is required and can result in delays. Optimizing the logistical management of blood with speed and efficiency is the key today. It can mean the difference between saving or losing a life.
This is why the SATO Blood Safety Solution is not a nice-to-have, but a must-have, for the healthcare industry in Asia Pacific. Patient safety is our main concern, and our solution integrates the latest technologies to offer healthcare organizations peace of mind, speed and efficiency," said Lim Yee, Managing Director, SATO Asia Pacific.
The SATO Blood Safety Solution incorporates SATO's RFID and 2D code printing technology and other industry leading technology and software from industry partners. With this solution, integration to current blood bag management systems can be achieved through investments into software that works with RFID Tunnel Readers, RFID Smart Blood Fridge, RFID/Barcode printers, and RFID tags for blood bags.
PJM RFID technology allows large volumes of tagged items to be quickly and accurately identified and is especially designed for dynamic situations where items are stacked or tored in any orientation. Compared to barcodes which take half-second or more to read, in close proximity and direct line of sight of the reader, RFID tags can be read at a faster rate , at greater distances, and even through containers.
SATO has been partnering with leading healthcare technology providers for more than 15 years to deliver end-to-end solutions, such as the One Check™ System, ensuring the right medication gets to the right patient at the right time. As a pioneer in AIDC and a leader in barcode printing, labeling, and EPC/RFID solutions, SATO specializes in auto identification, data management and movement tracking across all points of the supply chain. Additional information about SATO Healthcare solutions can be found at: www.satoasiapacific.com/industry-solutions/healthcare.aspx.
About SATO
SATO is a pioneer and leading global provider of Integrated Automatic Identification and Data Collection (AIDC) solutions that leverage barcode and RFID technologies. SATO manufactures innovative, reliable auto-identification systems and offers complete solutions to businesses by integrating hardware, software, media supplies and maintenance services. Customers rely on SATO for accuracy, savings on labor and resources and also in their green efforts.
Founded in 1940, SATO is publicly listed on the first section of Tokyo Stock Exchange in Japan. It has sales and support offices in over 20 countries and is represented globally (over 90 countries) through a global network of partners. For the fiscal year ended March 31, 2011, it reported revenues of *JPY 78,368 million (US$ 914 million). More information about SATO Corporation can be found at www.sato.co.jp/english
* Conversion is based on an average exchange rate of 1 US Dollar = 85.73 Japanese Yen. More information on SATO's global presence, please visit www.satoworldwide.com
Press Contact
Suzy Kooy
Senior Account Executive
Text100 Singapore
E: Suzy.kooy@text100.com.sg / T: +65 6603 9000