Acuson SC2000 is the world's first echocardiography system to acquire instantaneous, nonstitched full-volume images of the heart in a single heartbeat. Siemens Healthcare unveils the Acuson SC2000 volume imaging ultrasound system, the first system in the world to acquire non-stitched real-time full-volume 3D images of the heart in one single heart cycle, during the European Congress of Radiology (ESC), August 30 – September 4, 2008 in Munich, Germany. Called "Echo in a Heartbeat," this new technology marks the greatest paradigm shift in ultrasound since the introduction of 2D imaging in the late '70s. Instantaneous, non-stitched, full-volume imaging comes 55 years after echocardiography pioneers Inge Edler und Hellmuth Hertz acquired the world's first cardiac ultrasound recording using Siemens technology in 1953.
"Innovation has always been the lifeblood of Siemens, and the Acuson SC2000 volume ultrasound system is delivering on this promise," said Klaus Hambuechen, chief executive officer, Ultrasound, Siemens Medical Solutions USA, Inc. "The system has unparalleled capabilities in information rate processing that allow us to acquire a full volume of the entire heart with 90 degree pyramids. With a high-volume acquisition rate like this – in one second, every second – acquisition time is dramatically reduced, improving the overall workflow in the echocardiography suite
Next Generation System Architecture and Transducer Technology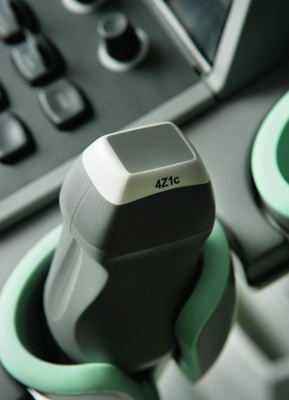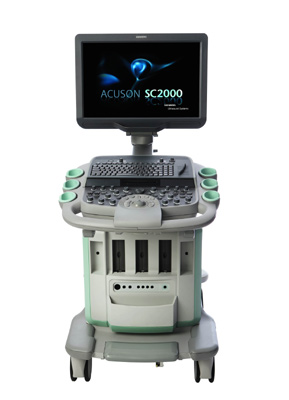 The Acuson SC2000 system is Siemens' premier cardiology platform that will change the way echocardiography is practiced today. Its advanced architecture delivers vastly more information than today's conventional systems and is strengthened by Siemens patented Coherent Volume Formation technology. Coupled with the system's high-volume acquisition rate, Coherent Volume Formation moves away from serial line-by-line acquisition towards simultaneous, multiple beams, delivering excellent image resolution.
The proprietary 4Z1c transducer features revolutionary, patented active cooling technology, enabling full output power within regulatory limits. This results in improved penetration, reduced noise and high-volume acquisition rates when compared to conventional 3D transducers. The 4Z1c is a single transducer solution for adult echo applications that provides all the modes needed: volume imaging, 2D, M-mode, color Doppler, and spectral Doppler.
This breakthrough technology showcases Siemens acoustic mastery and delivers on the long-awaited promise of true volume imaging for every patient.
Better Outcomes Through Workflow-Driven Exam Sequences
The Acuson SC2000 system is designed to support advanced cardiovascular applications. The knowledge-based workflow software uses learned pattern recognition technology and an expert database of real clinical cases. This enables the system to recognize anatomical patterns and landmarks, as well as to perform automatic measurements streamlining clinical workflow. The system automatically derives reference plane images from the full-volume cardiac capture dataset and offers automated full-volume contouring for fast qualitative and quantitative analysis.
Customizable, programmable, and protocol-driven workflow sequences deliver repeatability for better outcomes: greater efficiency, accuracy, consistency, and care – from data acquisition to diagnosis. To further enhance efficiency, the offline workstation enables reporting, as well as complete review and processing of the acquired volumes.
Besides using the latest technology advancements and applications to improve efficiency and workflow, Siemens has also addressed the ergonomics of the system to meet and exceed today's recommended ergonomic guidelines to reduce work-related stress injuries and to accommodate the varied work environment of sonographers. The new high-end system for cardiological examinations will be available very likely in Europe in autumn 2008.
About Siemens Healthcare
The Siemens Healthcare Sector is one of the world's largest suppliers to the healthcare industry. The company is a renowned medical solutions provider with core competence and innovative strength in diagnostic and therapeutic technologies as well as in knowledge engineering, including information technology and system integration. With its laboratory diagnostics acquisitions, Siemens Healthcare is the first integrated healthcare company, bringing together imaging and lab diagnostics, therapy, and healthcare information technology solutions, supplemented by consulting and support services. Siemens Healthcare delivers solutions across the entire continuum of care – from prevention and early detection, to diagnosis, therapy and care. Additionally, Siemens Healthcare is the global market leader in innovative hearing instruments. The company employs more than 49,000 people worldwide and operates in 130 countries. In the fiscal year 2007 (Sept. 30), Siemens Healthcare reported sales of €9.85 billion, orders of €10.27 billion, and group profit of €1.32 billion. Further information can be found by visiting http://www.siemens.com/healthcare.
Media Relations: Marion Bludszuweit
Telephone: +49 9131 84-3292
E-mail: marion.bludszuweit@siemens.com
Siemens AG
Healthcare Sector
Henkestr. 127, D-91052 Erlangen