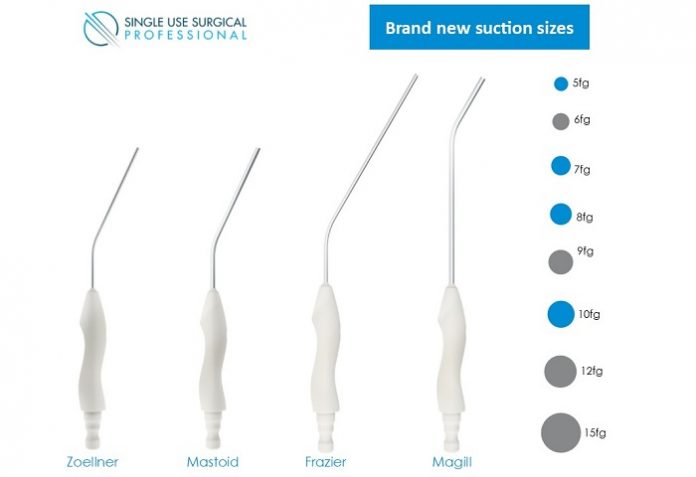 A UK company, who manufacture the world's widest selection of specialist single-use suction devices, will be at Arab Health 2019 (28 – 30th January) to raise awareness of their newly extended suction range.
Single Use Surgical offer high quality, alternative single use solutions across many specialities including ENT, Head and Neck, Gynaecology, Laparoscopy, General and Vascular surgery. Their extensive range has been extended further to include additional lumen sizes offering surgeons more precision and choice.
The Zoellner, Mastoid, Frazier and Magill suctions are now available in 5fg, 7fg, 8fg, and 10fg, as well as their classic 6fg, 9fg, 12fg and 15fg. Expansion of the Single Use Surgical Professional range ensure the choice and precision required exists for healthcare professionals in oral, maxillofacial, nasal and plastic surgery.
Established in 2001, Single Use Surgical was formed as a direct response to UK hospitals' concerns over the cleaning practices involving fine lumen instruments. The company's ethos is simple – to produce instruments that are sterile, efficient and manufactured to the highest standards, all carefully designed to put patients first and reduce the risk of cross contamination.
Each of its suctions capture the same look, feel and functionality as the reusable equivalent and have been well received globally.
Single Use Surgical continues to grow rapidly in many markets in the Middle East and will be at Arab Health 2019 to source new distributor partners from the region.
Export Manager, Michael Denver, said: "We are always looking to expand our International network and are keen to speak to interested partners at Arab Health 2019 about our newly extended suction range. We are fully committed to delivering high quality products, reliability and great customer service with dedicated product support that global partners, both new and old, require to serve and nurture their markets."
Arab Health 2019 is taking place from 28 – 30th January. To arrange a meeting in advance please contact Michael Denver michaeldenver@pelicanfh.co.uk or visit the Welsh Government stand on Hall 7 – stand F30 & G30
For more information visit: www.susl.co.uk