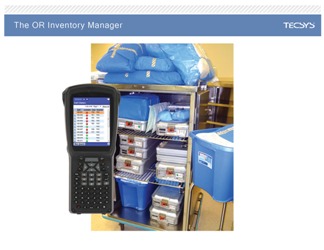 TECSYS Inc., an industry-leading supply chain management software company, announced today the OR (Operating Room) Inventory Manager; TECSYS' innovative and clinical staff-friendly solution specifically designed for the perioperative supply chain environment. It empowers the OR organization to leap forward in their transformational initiatives to meet the constraints and stringent needs of today's operating rooms.
TECSYS' OR Inventory Manager is all about ultimate visibility, control and efficient execution. It optimizes the supply chain execution process, reduces costs and eliminates waste while restoring clinical staff's satisfaction with the reliability of the perioperative supply chain process.TECSYS' OR Inventory Manager enables the on-time delivery of the required supplies and medical devices for procedures while capturing millions of dollars of expenses for billing and revenue recognition purposes.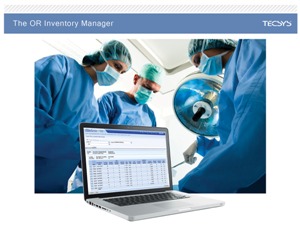 Robert Colosino, Vice President Business Development & Marketing at TECSYSstated,"Since 2003, we have pioneered the CSC (Consolidated Services Center) model, empowering health systems to reap millions of dollars in savings and improve service to patients. In 2011, we have extended our leadership with the introduction of SMS (Supply Management System) for point-of-use. SMS is enabling health systems not only to reduce significant supply chain spend, but also reclaim millions of dollars in expensed inventory. With today's announcement, the OR Inventory Manager represents a leap forward for the perioperative supply chain. It is bringing proven supply chain technology and health systems industry expertise to the operating room.  Most importantly it is destined to deliver similarbenefits as SMS to the perioperative supply chain and enable health systems achieve best-in-class performance in their OR. "
TECSYS' OR Inventory Manager enables full visibility, tracking and control of lots and serial numbers of inventories anywhere in the health system. It allows the hospital to reduce inventory levels, decrease the incidences of human error and eliminates labor-intensive manual processes. It also enables the management of recalls and the ability to analyze and plan the acquisition of supplies to replenish stock and non-stock inventory items including expensive medical devices on consignment from suppliers.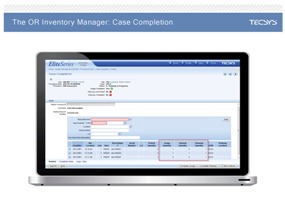 Nancy Pakieser, Director, Product Marketing at TECSYS commented: "It is a common practice for the perioperative staff to order supplies as needed, order one-offs and ship them overnight to ensure on-time delivery. On the other hand, with the complete lack of visibility,we have seen at so many hospitals inventory just grows and grows, the inventory expires, gets expensed and does not get charged, resulting in significantfinancial losses to health systems.The OR Inventory Manager was designed from the ground up specifically for the perioperative environment. It is leveraging some thirty years of TECSYS' experience in supply chain execution and more than eighteen in healthcare alone. It is a solution that empowers health systems to be able to go on a short journey of effective transformation to gain the substantial benefits of efficiency, cost control, revenue recognition with improved quality care for their patients today."
About TECSYS
TECSYS is a leading supply chain management software provider that delivers powerful enterprise distribution, warehouse and transportation logistics software solutions. The company's customers include over 600 mid-size and Fortune 1000 corporations in healthcare, heavy equipment, third-party logistics, and general wholesale high-volume distribution industries. TECSYS' shares are listed on the Toronto Stock Exchange under the ticker symbol TCS.
{mosimage}{mosimage}