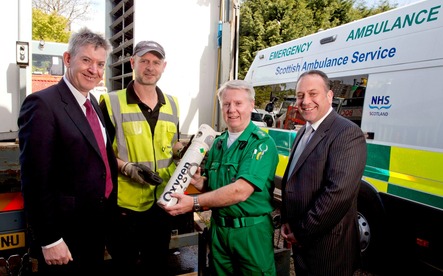 John McCullough, Scottish Ambulance Service Area Service Manager with the first electronically-tracked BOC Healthcare cylinder at BOC's Aberdeen site. With him Andrew Harvey, Head of BOC Healthcare; Alan Simpson, the BOC driver who delivered that first cylinder; and David Miller, BOC Healthcare Account Manager – Scotland.
BOC's Cylinder Tracking system, which will electronically record and track the location, movement and content of every BOC Healthcare cylinder in the UK and Ireland, was inaugurated at a ceremony in Aberdeen on Friday 4 May.  Andrew Harvey, BOC's Head of Healthcare, presented a certificate to John McCullough of Scottish Ambulance, who took delivery of the first officially-tracked healthcare cylinder in the country.
The ceremony marked the completion of a three-year project by BOC to develop a system robust enough to track its inventory of several million cylinders in the UK while flexible enough to deal with the different ways in which customers buy products and services from the company, a member of the international Linde Group.
"The products we supply to the health service are frequently life-critical," explained Andrew Harvey. "So, all our systems have to be exhaustively tested before deployment in order for us to guarantee an uninterrupted service to our customers. Following extensive trialling, we are now rolling the system out nationally so that everyone can have the benefit of up-to-the-minute inventory tracking."
John McCullough, Scottish Ambulance Area Service Manager, said: "As part of our commitment to our patients, we keep detailed records of all our procedures and treatments. Knowing the status of all our medical equipment, including the location and status of our medical gases, is an important part of this. This new service from BOC will help us ensure the effectiveness of our service to the Scottish public."