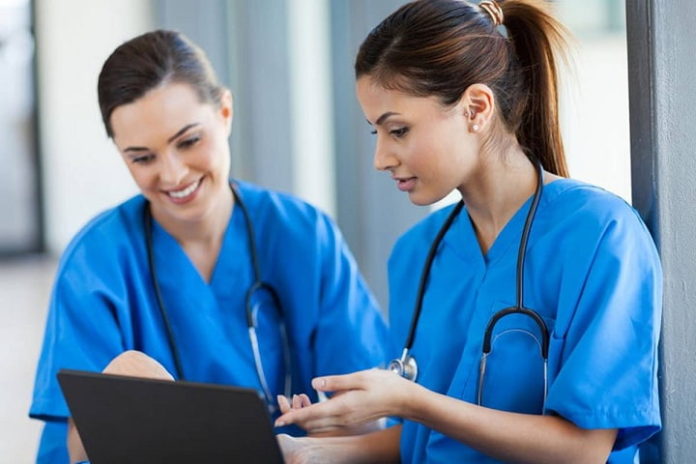 State of the industry
Nurses are a crucial component of the healthcare system. Their practice touches nearly every aspect of patient care, and is essential to the operations of hospitals, clinics, office practices, rehab, skilled nursing and healthcare facilities everywhere. However, nurses are under an unprecedented amount of pressure as healthcare systems, already facing staff shortages and outdated systems, continue to be overwhelmed by COVID-19. With hospitals grappling with what seems like an endless crisis, traditional care models simply aren't working.
Given the circumstances, it is no surprise we are facing unparalleled levels of burnout, shortages, and job dissatisfaction among nurses.
Strategies healthcare leaders can implement to support nurses
To combat the escalating nursing crisis, leadership at healthcare systems must address the underlying factors that are contributing to burnout, including inadequate staffing, a lack of mental health support for nurses, and the need for increased training so nurses feel better equipped to deliver quality patient care to patients everywhere. By implementing the following strategies, hospitals can re-establish trust and satisfaction among nurses and ensure the professionals so many rely on are being taken care of too.
Understand the issue. Healthcare organizations must recognize that their biggest asset is their workforce; in order to retain their teams, leaders must acknowledge the underlying problem. One study found 5% of nurses reported leaving the profession because of burnout in 2018 – these numbers have only continued to rise with increased pressures on our frontline professionals. Addressing burnout in its earliest stages is crucial and can only be achieved through active monitoring and regular check-ins with staff. Healthcare organizations should offer their workforce mental health support though employee assistance programs, grant family or childcare support where needed, and extend more flexibility in scheduling hours to encourage a healthy work-life integration.
Address staffing issues. Inadequate numbers of qualified and competent staff is at the heart of the nursing resiliency issue. Healthcare systems must invest in hiring qualified nurses who are competent. Novice nurses must be provided with adequate orientation, so they are competent and confident working along side of their more experienced peers. That means updating current orientation programs. Nurse residency programs and practice/academic partnerships are a great way to support new nurse readiness to practice. Investing in float pools and staffing based on patient acuity and nurse competency – not just nurse/patient ratios – makes the difference between being able to care for patients competently and confidently or being overwhelmed.
Provide support. Nurses, like anyone else, need to be cared for. Healthcare institutions can take steps to provide nurses with the support they need to ensure they feel recognized and valued in the workplace. Implementing self-scheduling, shorter or flexible shifts, and offering time off are a good start, but organizations must go even further. By providing continued professional development activity programs and helping nurses achieve their career goals via lateral or vertical steps, healthcare organizations prove they have nurses' best interests at heart – this can be the difference between retaining talent and losing it.
Implement an agile care model. Historically, many healthcare systems have used what is considered a traditional primary nurse model to deliver care. However, COVID-19 revealed the inability of that model to meet patient need due the supply and demand issue of not having enough nurses to care for the upsurge in patients. Instead, the team model of care focuses on using a team leader to oversee the care of others, such as RNs from other care areas, LPNs, unlicensed assistive personnel, and other healthcare professionals. Throughout the COVID-19 pandemic, this model also helped foster collaboration across the healthcare workforce. In addition, increasing the number of nurses in float pools and cross training the float pool and nurses in adjacent specialties resulting in a more competent, confident, and efficient staff. In a crisis situation, being able to shift from the primary nurse model to the team model of care improves agility and efficiency of the workforce.
Creating agility in healthcare
The agile team model concept dates back to World War II and came about out of sheer necessity due to a shortage of nurses in a time of crisis. The 2022 version of that model is fundamentally similar but differs in one way.  This time the agile care model has an interdisciplinary aspect, which extends beyond nurses to other healthcare professionals in order to form a holistic approach to quality care.
Because the model accommodates staffing agility, hospitals can quickly train support or float-pool staff – including unlicensed assistive personnel or medical therapists — to effectively help where they are needed most. This model's facilitation of rapid staff deployment to when and where care is needed sets it apart from all others, and is essential in a crisis, such as what we've experienced with COVID-19. Supporting adequate staffing, agile care models, and providing the workforce with continuing professional development, career mobility, and offering support resources, can improve quality care, patient safety, and staff satisfaction – all of which contribute to a better work environment and quality of life.
Conclusion
As we prioritize support, foster resilience, and adopt more agile care models to mitigate burnout among nurses, we must also realize that individuals outside of the profession have an important part to play. In the seemingly unending crisis that is COVID-19, including the rise of the especially contagious Delta variant, it is imperative that Americans get vaccinated, follow CDC guidelines, and exhibit responsible behavior such as social distancing, mask-wearing, and regular handwashing. Vaccine hesitancy is not inconsequential – it is contributing to a continued surge of hospital admittances that actively puts nurses, and all frontline care workers, at perpetual risk. Burnout will continue to be an obstacle for hospital staff until we put our unified faith in science and each do our part to end the pandemic.
COVID-19 will not be a short-term setback. Its effects on job loss and the healthcare economy have permanently changed how the clinical workforce is managed and the ways organizations must reinvent themselves moving forward. Looking ahead, we see opportunity to accelerate innovation to address burnout, foster resilience, and help guide the profession so that nurses are ready to meet the challenges of whatever comes next.