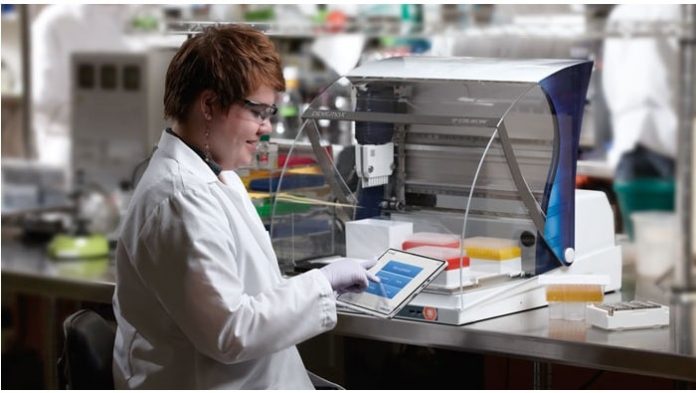 Merck, a leading science and technology company, today announced that it has entered into an agreement to acquire Natrix Separations, an Ontario, Canada-based provider of hydrogel membrane products for single-use chromatography. The transaction is expected to close in Q3 of 2017. Financial details were not disclosed.
Natrix is known for its unique technology platform capable of delivering high productivity and impurity removal in a single-use format, an ideal fit with next-generation processing. This acquisition complements Merck's efforts to drive next- generation bioprocessing, ultimately enabling faster, more efficient technology for its customers.
"The Natrix technology platform, and the development options and capabilities that this brings for single-use and rapid cycling chromatography, will allow us to accelerate our offering in mAb and vaccine manufacturing," said Udit Batra, Member of the Merck Executive Board and CEO, Life Science. "This acquisition creates tremendous opportunity to drive growth and advancement in next-generation processing — an area of increasing importance to our customers."
Next-generation processing is any technology, expendable or system that changes the existing monoclonal antibody manufacturing template through unit operation intensification, connection of unit operations, or fully continuous processing. Biomanufacturers are moving toward next-generation processing because of its many benefits, including increased plant productivity, facility flexibility, cost efficiencies and reduced risk. Next-generation processing is expected to triple in market size between 2020 and 2025.
Natrix markets both an anion exchange membrane and cation exchange membrane. Natrix is developing additional products to enable a fully single-use, full-scale biological purification process.
"Joining Merck gives us the opportunity to collaborate with some of the best minds in the industry, allowing us to further the great work done by our scientists," says John Chickosky, CEO, Natrix Separations. "I am truly excited to become part of a larger effort and see the benefits of this combination in the advances we will make for our customers and the global scientific community."
About Natrix Separations, Inc.
Natrix Separations enables fast and flexible manufacturing of biopharmaceuticals through high-productivity disposable downstream processing products. The innovative Natrix HD Membranes overcome the limitations in efficiency, speed, and flexibility imposed by conventional capital-intensive approaches to chromatography. Natrix products feature well-established industry-standard chemistries, and are scalable from R&D to commercial manufacturing. Natrix is headquartered in Burlington, Ontario, Canada. For additional information, visit www.natrixseparations.com
About Merck
Merck is a leading science and technology company in healthcare, life science and performance materials. Around 50,000 employees work to further develop technologies that improve and enhance life – from biopharmaceutical therapies to treat cancer or multiple sclerosis, cutting-edge systems for scientific research and production, to liquid crystals for smartphones and LCD televisions. In 2016, Merck generated sales of €15.0 billion in 66 countries.
Founded in 1668, Merck is the world's oldest pharmaceutical and chemical company. The founding family remains the majority owner of the publicly listed corporate group. Merck holds the global rights to the Merck name and brand. The only exceptions are the United States and Canada, where the company operates as EMD Serono, MilliporeSigma and EMD Performance Materials.