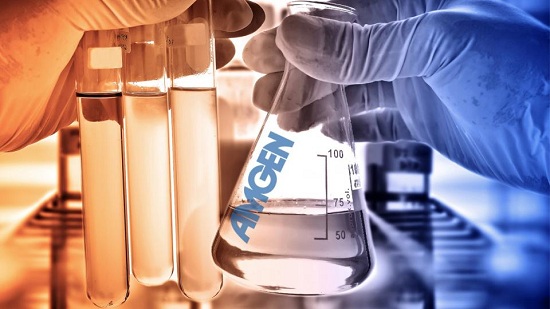 Amgen announced a new partnership with two NHS organisations, the North West Coast Innovation Agency and Imperial College Health Partners. This collaboration will help tackle the 'silent killer' of high cholesterol across the North West Coast of England – an area heavily impacted by heart attacks, strokes, and premature deaths due to cardiovascular disease (CVD).
'Control Cholesterol: Collaborating to Reduce Risk' is an innovative two-year programme adopting a quality management approach to improve health outcomes for people at high risk of a CVD event, due to raised cholesterol. It is part of a global Amgen initiative seeking to improve human health by not only treating diseases after they strike, but by helping to predict and prevent illnesses before they occur. The UK programme is one of the largest 'predict and prevent' commitments by Amgen outside of the United States.
Together with its NHS partners, Amgen will be working with primary care networks, clinical commissioning groups, and GP practices to develop scalable, evidence-based solutions that deliver cost efficiencies and capacity savings. Through earlier interventions, the collaboration will support people most at risk of a CVD event, improve care to help them remain as healthy as possible, and potentially prevent them from suffering a life-threatening heart attack or stroke. Improved pathways for these patients in primary care will ensure they receive appropriate advice and treatment outside the hospital setting. This will help preserve hospital capacity to enable the NHS to deal with other acute healthcare challenges, such as COVID-19 and the winter flu season, as well as supporting the NHS to deliver its Long Term Plan vision1.
Nationally, approximately 6.1 million2 people are living with heart and circulatory diseases, which account for more than a quarter2 (27%) of all deaths in England, costing the NHS an estimated £7.4 billion each year2. Cardiovascular disease is also the largest cause of premature death in deprived areas3. These statistics demonstrate the importance of innovative collaboration between the NHS, academia, and the biotechnology industry to find new and sustainable solutions that improve lives and can benefit the health system over the long term.
Through 'Control Cholesterol: Collaborating to Reduce Risk', more than 300,0004,5 people in the North West of England with potentially high cholesterol levels, will benefit from improved CVD care and cholesterol management. This includes approximately 150,0004,5 who are at very high risk of having a heart attack or stroke.
Using a predictive software model developed by Imperial College Health Partners, 'Control Cholesterol: Collaborating to Reduce Risk' will enable health organisations to identify gaps in cholesterol management, understand the number of people at risk of CVD, and model the potential health outcomes and cost savings of improving care.
Implementing the model in the North West region – an area where early deaths from cardiovascular disease before the age of 75 are the highest6 in England and 20%6 higher than the national average – will provide invaluable insights that inform how Amgen and its NHS partners can work together to develop new models of care for people with raised cholesterol.
Dr Tony Patrikios, executive medical director at Amgen UK and Ireland, said: "As the front line of the NHS, primary care plays a critical role in identifying patients at high risk of suffering cardiovascular events, and ensuring they are appropriately treated or referred on for timely treatment and optimal management. This collaboration brings together the collective scientific expertise, clinical experience, and deep understanding of cardiovascular disease of Amgen and our NHS partners, to provide a meaningful contribution to the NHS in achieving its Long Term Plan ambition of preventing up to 150,0007 avoidable cardiovascular events over the next 10 years."
Dr Phil Jennings, medical director of the North West Coast Innovation Agency, said: "We have previously led successful programmes to tackle the risk factors for cardiovascular disease, atrial fibrillation and high blood pressure. We're very proud of our record in this area and the collaboration with Amgen will help us continue in the same direction by identifying people with raised cholesterol, which is a major cause of heart attacks and strokes. There's no question that tackling cardiovascular disease in our region is a very high priority. Our hope is that the programme will quickly identify people who are most at risk and start to improve outcomes quickly."
Dr. Jonty Heaversedge, Clinical Director at Imperial College Health Partners (ICHP) said: "At ICHP we have considerable experience in developing and delivering effective tools to identify and treat patients with atrial fibrillation and to help reduce the variation in their care. The NHS is putting increasing emphasis on preventative rather than reactive treatment options and the predictive software model that we are developing as part of the collaboration with Amgen supports this prevention strategy to avoid more serious, and potentially more costly, health problems and treatments associated with cardiovascular disease. This is not only better for the patient but for the wider system too."
High-risk patient groups in this region are in an even more critical position as a result of the COVID-19 pandemic. The impact of coronavirus on the cardiovascular system has increased the need for quality management interventions that can reduce cardiovascular morbidity and mortality, with people suffering from cardiac disease comprising almost 30%8 of COVID-19 hospitalisations. The COVID-19 pandemic has acted as a catalyst for accelerating change, with the NHS responding by adopting new and innovative ways of treating patients. 'Control Cholesterol: Collaborating to Reduce Risk' is another opportunity to harness this innovation and provide patient-centred care in ways that move more services out of hospital and into the community.
About NHS North West Coast Innovation Agency
The Innovation Agency is an Academic Health Science Network, one of 15 AHSNs in England operating as the innovation arm of the NHS as part of the national AHSN Network. The Innovation Agency covers the North West Coast – Cheshire, Merseyside, South Cumbria and Lancashire, serving a population of just over four million residents. The Innovation Agency's role is to spread innovations at pace and scale, helping facilitate change across whole health and social care economies, to improve health, drive down the cost of care, and stimulate economic growth.
About Imperial College Health Partners
Imperial College Health Partners (ICHP) is a partnership organisation bringing together NHS providers of healthcare services, clinical commissioning groups and leading universities across North West London. We are also the designated Academic Health Science Network (AHSN) for North West London as part of the national AHSN Network. We were created by the NHS to support complex change across the health and care sector – innovating and collaborating for a healthier population.
About Amgen in the UK and Ireland
Amgen is committed to the relentless pursuit of breakthroughs and making a sustainable contribution to healthcare. A biotechnology pioneer since 1980, Amgen serves patients by transforming the promise of science and biotechnology into therapies that have the power to restore health or save lives.
Amgen develops innovative medicines in cancer and long-term conditions by using advanced human genetics to unravel the complexities of disease and understand the fundamentals of human biology. As one of the most forward-thinking and innovative biotech companies, Amgen's growing portfolio of medicines tackle some of the biggest healthcare burdens facing society today.
The UK and Ireland is one of Amgen's largest sites outside of the company headquarters in California and is a European hub for research and development. More than 500 people at Amgen in the UK and Ireland contribute to the journey that turns molecules into medicines, and in 2019 approximately 253,000 UK and Irish patients were treated with Amgen medicines.