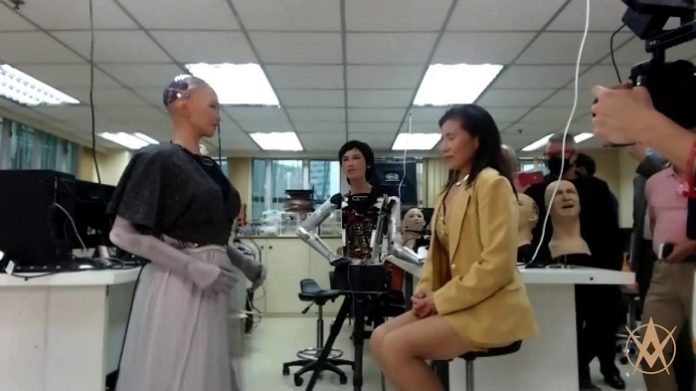 A new robot with a human face and advanced artificial intelligence is now offering to care for older people, especially those isolated by the ongoing COVID-19 health crisis. AI developer Singularity Studio and Hanson Robotics have teamed up to launch the robot, named Grace, as part of their new joint venture, Awakening Health.

Grace Care
Grace, demonstrating her features in the video up top, combines technologies from both companies, upgraded and adapted for the new product. The Hanson Sophia 2020 provides the robotics platform, while the SingularityNet's (SNET) AI enables the robot to interact with users, conversing with them, and responding to their needs. Hanson's robots have been used for other medical purposes, including elder care and autism treatment, while SNET has been a part of talk therapy and disease analysis programs. That friendly AI personality, tuned for therapeutic conversations, can detect and respond appropriately to patients based on both what they say and the emotional context, while the humanoid face makes some users feel more comfortable about sharing their thoughts and medical information than they would with a screen or audio-only AI.
"This merging of the tech and medical arena is an important initiative by the world's leading robotics and AI team," Awakening Health CEO David Lake said in a statement. "The stellar team previously connected through Sophia, the most advanced, celebrity humanoid robot. Following years of serving university research, museums, and other industries, HR launched Sophia 2020 for R&D and B2B applications. Now, Sophia's sister, Grace, allows for quick deployment with existing hardware, AI, and charm to serve the healthcare industry."
Healthy AI
Awakening Health claims that Grace is the first humanoid robotic assistant of its kind. The idea of combining AI and healthcare is everywhere, whether or not it's augmented with robotics. As COVID-19 limits how much people travel and see each other in person, these sorts of tools have grown in popularity. For instance, voice apps like My Day for Seniors send regular updates on the health and safety of a user to whoever they choose, similar to the new Alexa Care Hub, which is designed to let families keep a virtual eye on older loved ones by connecting Alexa accounts. One account becomes the emergency contact, and the voice assistant keeps them informed about their family member's activity. Retirement communities are also experimenting with using voice AIs more to improve their care of residents. Tech solutions for seniors developer K4Connect distributed more than 8,000 Amazon Echo Dot smart speakers to retirement communities with its K4Community software, while Google has given 1,000 Nest Hub Max smart displays to retirement communities in Washington State for that purpose and as a pilot program to test a simplified interface for seniors.
The hardware facet hasn't been ignored either. The last couple of years have seen the emergence of devices like Pria, a voice-activated robotic companion with a smart display and pill dispenser, and LifePod, a 'proactive' smart speaker whose voice assistant can begin conversations its owner about health routines. And though not humanoid, mobile robots like temi or the cat-faced Mylo are serving as caretakers in people's homes or hospitals. Even without the health-specific features, there are benefits to introducing AI personalities to older people. Studies by Project Zilver and Voice for Loneliness have demonstrated how a voice assistant can not only aid families in watching over loved ones but keep those older relatives engaged with the world too.
Grace will likely find plenty of eager buyers once finished with its current testing. Grace would likely be sold to organizations that provide technological solutions for healthcare. Awakening Health has set up a deal with Connected Living, which provides content management systems, for retirement communities in the U.S. to prepare for that moment. Connected Living already incorporates robotic options to its products and is the exclusive North American distributor for temi.
"We see this strategic partnership as incredibly important for our core aging services market space," Connected Living CEO Sarah Hoit said in a statement. "The scope and breadth of what Awakening aims to achieve is of the highest order, and we are eager to support this initiative in line with our desire and mission to lead the way as an innovator in biotech health care services."