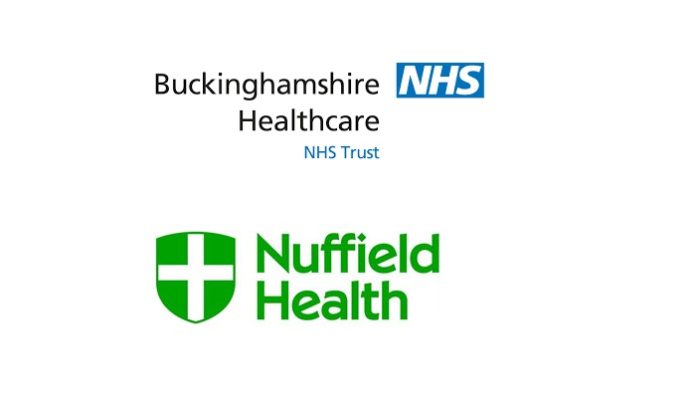 Teams from Buckinghamshire Healthcare NHS Trust and Nuffield Health, the UK's largest healthcare charity, are working together with 28 employees from Nuffield Health being seconded into family liaison, clerical, operational and administrative positions including COVID-19 swabbing to support the NHS Trust's efforts during the COVID-19 pandemic
The employees joined the NHS Trust team in January, seconded into Stoke Mandeville, Amersham and Wycombe hospitals. The employees chose to be seconded into the NHS Trust team after being furloughed due to Nuffield Health's UK network of fitness and wellbeing centres and clinical services being closed due to current government restrictions.
Sam Moya, Wellbeing Personal Trainer at Nuffield Health's Fitness and Wellbeing Centre in Aylesbury, explains: "I'm a marshal for the COVID-19 vaccinations at Stoke Mandeville Hospital. I take a register of each person who attends for their vaccination and hand them a consent form to complete prior to them entering the building where the vaccine is administered. I also help deliver food and refreshments to the NHS team working on the wards with COVID-19 patients, the NHS team are always extremely grateful."
Tunde Adewopo, Divisional Director of Specialist Services at Buckinghamshire Healthcare NHS Trust says: "Partnering with Nuffield Health locally to be able to bring some of their employees to work with us at the Trust couldn't be more timely. They will be able to contribute to the national effort to fight the pandemic by filling essential administrative, clerical and operational roles, or by acting as family liaisons. This will support our medical and nursing colleagues, helping to free up their time and enabling them to focus even more on caring for our patients, who are at the heart of everything we do."
Nuffield Health's Charity and Medical Director, Dr Davina Deniszczyc, states: "As the UK's largest healthcare charity, we're proud our people are supporting Buckinghamshire Healthcare NHS Trust during the COVID-19 pandemic.
"We are in a unique position within the healthcare sector to utilise our people's broad range of expertise, across clinical, fitness and mental health to support NHS Trusts and our people are excited to be working alongside their NHS colleagues. This initiative builds on our hospitals continuing support to NHS trusts across the UK, so far over 230,000 NHS patients have been cared for by our hospital teams during the pandemic and our nurseries have cared for the children of NHS key workers. We have also launched a free, specialist COVID-19 rehabilitation programme with NHS trusts to support patients in their recovery," she says.
About Buckinghamshire Healthcare NHS Trust
Buckinghamshire Healthcare NHS Trust provides a wide range of high quality acute and community services from two acute hospital sites in Stoke Mandeville and Wycombe, five community hospitals at Amersham, Buckingham, Chalfonts and Gerrards Cross, Marlow and Thame, and a number of community sites across the county, as well as in patients' own homes. Details of these can be found here: http://www.buckshealthcare.nhs.uk/For%20patients%20and%20visitors/hospitals-and-community-facilities.htm
Around 6,000 staff serve residents across Buckinghamshire, Thame (Oxfordshire), Tring (Hertfordshire) and Leighton Buzzard (Bedfordshire) – a combined population of 500,000. It serves a much larger population, 1.5m, for burns and plastic services and 14m for spinal injuries
About Nuffield Health
Nuffield Health is the UK's largest healthcare charity. For the last 60 years, Nuffield Health's experts have been working together to make the nation fitter, healthier, happier and stronger, all for the public benefit. As an organisation with no shareholders, income is invested back into the vision to build a healthier nation. Nuffield Health has been supporting NHS trusts in the UK throughout the COVID-19 pandemic treating, with the Charity's 31 hospitals treating 230,000 NHS patients to date and providing staff, facilities and equipment.