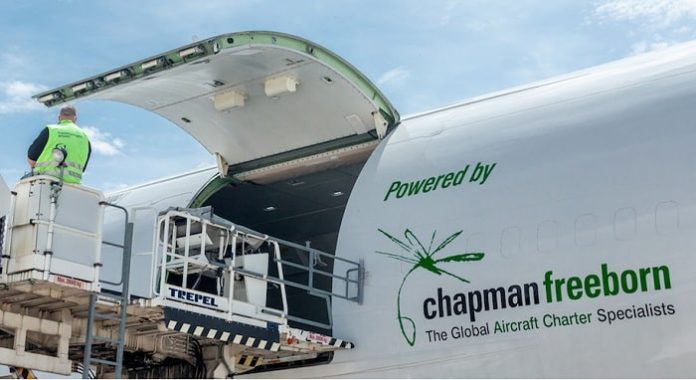 Throughout 2020 Chapman Freeborn has been on the front line to help aid the global fight against COVID-19, working tirelessly to arrange cargo operations for PPE and medical supplies all over the world. Our cargo team recently completed an operation to transport vital Covid-19 medical equipment from Johannesburg, South Africa (JNB) to Conakry, Guinea (CKY).
A mobile hospital explicitly designed for the Covid-19 pandemic was loaded on to a B747F aircraft at O.R. Tambo International Airport. The hospital, which included generators, tents, HEPA filters and medical equipment, can facilitate up to 200 people to receive potential lifesaving treatment.
With nearly three months of precise planning and collaboration, the team worked alongside BDJ Freight International, airlines, airports and freight forwarders to make this operation successful. It was a necessity that communications which spanned across three regions (United Kingdom, South Africa and United Arab Emirates) were meticulous to ensure the consignment was safely delivered.
Divan Hamman, General Manager, BDJ Freight International says:
"We are pleased that we can do our part as a freight forwarding and logistics solutions provider to support the global community by transporting these products to countries where the virus is still prevalent and are in desperate need of medical facilities. Assisting the client to deliver the facility within 3 weeks, from production to delivery at final destination, was a challenge, but something we looked forward to and succeeded in managing"
Gerhard Coetzee, Chapman Freeborn Cargo Charter Manager, South Africa says:
"Having been involved with multiple charters during the current pandemic, this was  definitely an interesting project to be a part of –  and it wouldn't have been possible without all the parties involved. Being involved from day one, as the project evolved and then successfully flew, is a proud achievement.
The team at Chapman Freeborn are dedicated and passionate, and this showcases how well they work in tandem to deliver the customers' expectations and ensure first class excellence."
When the flight successfully took off from Johannesburg, the handling went smoothly with no complications, and the cargo delivered seamlessly to Conakry. The client reported back and was delighted with the perfectly planned operation – a superb effort from everyone involved and a fantastic example of multiple offices working in synergy.