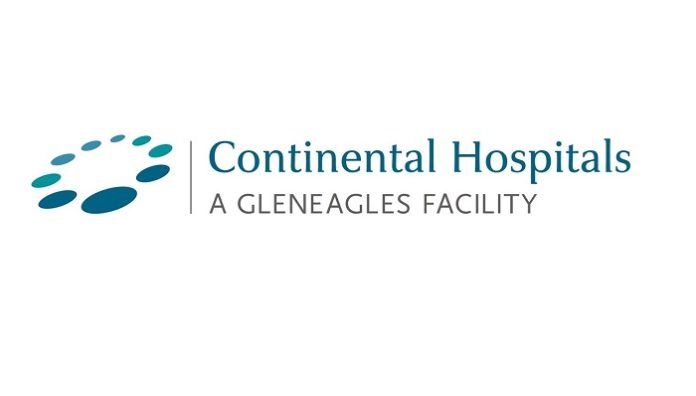 Continental Hospitals celebrated of new life by felicitating the heroes that work to give another life to the trauma victims – the Ambulance drivers. This was a part of a series of awareness programs organized by the Hospital in partnership with the Cyberabad Police, SCSC and Lions club to make Hyderabad emergency ready.
The Chief Guest for the event was Shri. S M Vijay Kumar, IPS – DCP Traffic, Cyberabad and Convener, Traffic Safety Forum, SCSC and the guest of honor was Mr. Krishna Yedula, Gen. Secretary SCSC. The event was also graced by the presence of Lion Saurabh Sureka, Social Entrepreneur and Charter President – Lions Club of Hyderabad YUVA. The event saw some heart touching shares by both the ambulance drivers and the victims.
With one trauma-related death occurring in India every 1.9 minutes, deaths due to trauma exceeded those due to cancer and heart diseases combined in India. In this regard, Continental Hospitals have taken up – Making Hyderabad emergency ready as its mission. The hospital is conducting various awareness programs as part of this endeavor.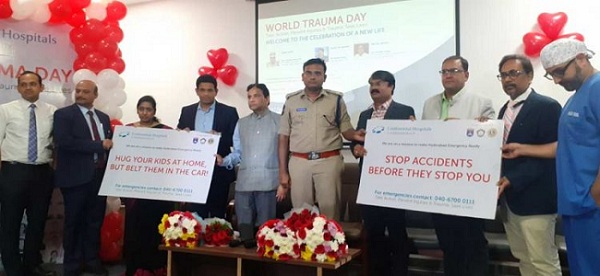 A society is empowered when the individuals in the society are empowered. To make Hyderabad Emergency ready, the hospital have already started basic life support programs in various communities and corporates. The hospitals aims to create First Aid champions in these communities. It is extremely important for individuals to be trained as a basic support by the bystander can increase the chances of survival of the victim.
About Trauma Care at Continental
The Continental Institute of Emergency, Trauma Services & Critical Care Management is a Level 1 Tertiary comprehensive center equipped to deal with every type of urgent life threatening condition. We are of the select few private hospitals in Hyderabad and South India to have a bedded A&E equipped with state-of-the-art equipment for a wide spectrum of patients with acute emergencies for initial evaluation, resuscitation, treatment, investigation, stabilization, monitoring and disposition. Working round the clock, our physicians have access to highly advanced and accurate laboratory and radiology tests. Our Continental Life Care on Wheels Ambulance Service has an efficient and high tech line of ambulances that are available 24*7 to transport critically ill or injured patients.
The salient features of the trauma unit of Continental hospital are:
More than 97% success rate in treating road accidents
Operates mobile ICUs which reduces the risk of mortality while transfer
24×7 ER consultants on premises backed by experts in allied super specialties
Follows international standards of trauma care
Easy assessable with close proximity to Outer Ring Road
About Continental Hospitals, Hyderabad
Continental Hospital is a NABH and JCI-accredited facility in Hyderabad offering multi-specialty tertiary and quaternary care services. The hospital has a capacity of 750 beds with 250 operational beds currently. The hospital has Green OT, Level 3 NICU and PICU, and it's known for efficient critical care team. The hospital has state-of-the-art facilities and medical equipment, as well as the latest communication and information technology. Key specialties include Cardiac Sciences, Neuro Sciences, Gastroenterology, Obstetrics and Gynaecology, Oncology, Orthopaedics and Emergency Medicine.
Continental Hospitals is a part of IHH Healthcare, a leading premium integrated healthcare provider with a network of 84 hospitals and more than 16,000 licensed beds. It is one of the largest healthcare groups in the world by market capitalisation and is listed in the Main Market of Bursa Malaysia and Main Board of SGX-ST. IHH is a leading player in the home markets of Malaysia, Singapore, Turkey and India, and in their key growth markets of China and Hong Kong.