David Marshall has been appointed Chief Executive (CE) of New Victoria Hospital in south west London, a private charity owned hospital which is celebrating its 60th anniversary.
His new appointment comes as the Hospital is about to complete its extensive £30m redevelopment, culminating with the opening in April of a new main entrance and reception, leading into a brand new outpatient suite.
David brings with him a wealth of international experience in the healthcare sector, working in the UK, Australia, the Middle East and South Africa. This includes six years as CEO at the Hospital of St John and St Elizabeth in London.
He succeeds Graham Ball, who becomes Executive Chairman of New Victoria Hospital.
David says "I'm pleased to be joining New Victoria Hospital, especially at such an exciting stage. The completion of the building work gives a fantastic opportunity to show off the Hospital. We will be gaining a new, fit for purpose outpatient facility with increased capacity, as well as a new main entrance which sits alongside the road. Our patients will continue to receive the quality of care we have always provided, but this will now be in a five star environment. Our staff have continued to work in difficult circumstances during all the building work and now they will be able to do their jobs in a more comfortable environment in purpose built facilities.
"The Hospital has been here for 60 years. My vision is to develop the Hospital for another 60 years. It's recognised as a leading provider of safe, robust health services, and has an excellent reputation. The redevelopment will further enhance our position in the local community."
Prior to joining New Victoria Hospital, David ran his own business providing management consultancy services to the healthcare sector. He worked as Executive Director of Clementine Churchill Hospital in Harrow, part of the BMI Healthcare group with overall responsibility for the operational leadership and management of the hospital. Before this, he was Interim Chief Executive of the Epilepsy Society where he spearheaded a recruitment programme to build a management team capable of delivering a sustained service.
In 2006, he joined the Hospital of St John & St Elizabeth in London, as Finance Director and three years later became CEO for a further six years. This appointment marked David's return to the UK from the Middle East, where he worked for several years, firstly for the Royal Commission for Jubail and Yanbu in Saudi Arabia providing management support for two hospitals and then as Business Unit Leader for KPMG Healthcare Advisory in Bahrain.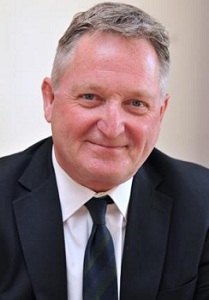 David's background is in finance and he started his career in his native South Africa as regional finance manager for a number of companies before he came to the UK in 1992, where he worked as Project Accountant for AHS Emstar plc. It was during this period he met and married his wife Allison, who is from Perth, Australia, so they decided to return there. His first job in the healthcare sector was at Royal Perth Hospital in Western Australia, a public 900 bed teaching hospital. He was headhunted as CEO of Peel Health Campus, a newly built hospital in Australia, 70 kms south of Perth.
David is married to Allison and they have a son Fraser. In his spare time, David is a keen cyclist, competing regularly in events, mostly in aid of charity.
About New Victoria Hospital
New Victoria Hospital in south west London, is a private charity-owned Hospital which has provided an excellent level of service to the local community for 60 years.
The final phase of the Hospital's building work will include the following facilities: a main entrance and reception, a new fit-for-purpose outpatient facility with increased capacity. This will include 12 consulting rooms, a cardiac diagnostic room, five treatment rooms including for colposcopy, audiology and phlebotomy. It completes the construction of The Victoria Foundation Wing, which opened in 2016. This houses four state of the art theatres, a new 14 bed day surgery unit and a new CT scanner with cardiac diagnostic facility.
New Victoria Hospital is registered with and regulated by the Care Quality Commission (CQC) and is fully compliant with their standards. The current CQC rating for the Hospital is "good". The Hospital was proud to achieve this rating across all five categories – safe, effective, caring, responsive and well-managed.
It is owned by its parent charity The Victoria Foundation. This charity helps to transform lives where there is an opportunity to do so – either through medical provision or by ensuring that young people destined to become the future generations of doctors are not prevented from doing so through lack of finances. www.newvictoria.co.uk