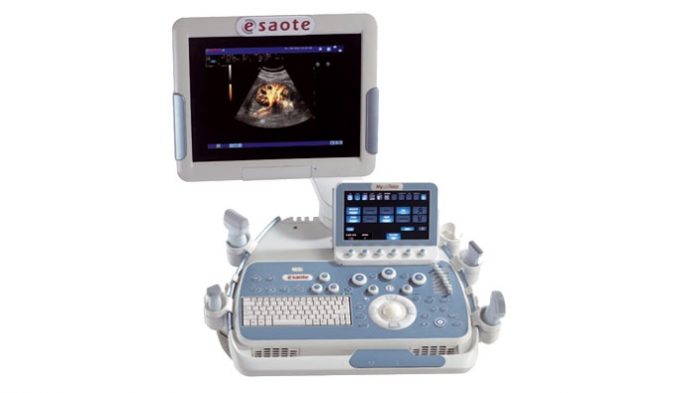 ESAOTE introduces the MyLabTM9 at JFR 2017, the flagship platform in its Ultrasound portfolio which defines a new standard in image CLARITY, smart WORKFLOW, solid PERFORMANCE.

The MyLabTM9 eXP will be launched at JFR 2017 in Paris, October 13th -16th , Palais des Congrès, BOOTH 1N01 – Level 1 – Hall Neuilly.
"The MyLabTM9 platform represents a new chapter for Esaote" said Luca Bombino, High-End
Ultrasound Product Marketing Manager. "We invested in technologies that have a real clinical
impact, improving image acquisition, diagnostic confidence and patient throughput. Our multimodality approach allows quick access to other imaging modalities and PACS systems, for immediate clinical follow up and fusion imaging. At Esaote, we believe this is an important step for a more informed and efficient healthcare system."
The MyLabTM9 eXP takes advantage of cutting-edge manufacturing to offer an ultra-ergonomic experience, such as the easyMode unique touch-tool for image optimization. "In everyday clinical practice, it's crucial to be precise, and confident at the same time. The easyMode technology allows the operators to conduct the examination with a focus on the patient, without distractions or complex technical routines of the system." Carlo Biagini, MD, Radiologist, Florence, Italy.
Developed to provide ultra-quality ultrasound technology to hospitals, clinics and private practices,the MyLab TM9 eXP offers smart upgradability, remote serviceability, long-term maintenance options and transducer compatibility. For more information visit www.esaote.com
Massimo Rosa, Esaote Chief Global Marketing Officer said "Today economic constraints, and
the increase in average life expectancy, are opposing forces. The MyLabTM9 eXP provides advanced diagnostic capabilities and clinical efficacy to respond effectively to the most demanding healthcare needs expanding the access to innovative technologies for more customers."
About Esaote:
With a consolidated turnover of EUR 270 million in 2016, the Esaote Group is a leader in the
biomedical equipment sector, in particular the areas of ultrasound, dedicated MRI and software for managing the diagnostic process. The Group currently employs 1,200 people. With its own production and research units in Italy and the Netherlands, Esaote is recognised as one of the top 10 diagnostic imaging companies in the world. Information on
Esaote and its products is available at www.esaote.com
Communications & External Relations:
Mariangela Dellepiane
Tel.: +39-010-6547238 Mob.: +39-335-1289783 e-mail: mariangela.dellepiane@esaote.com