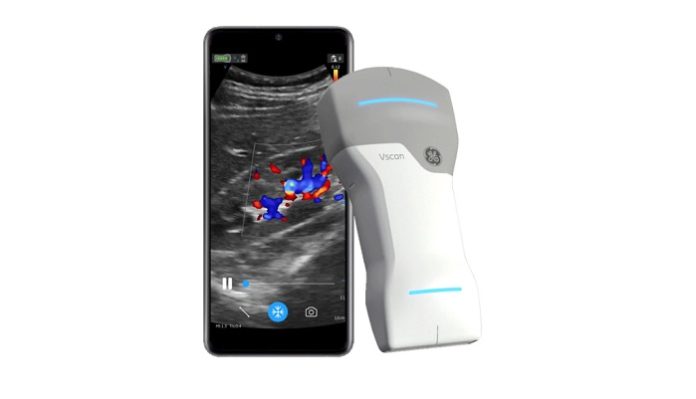 Offering a combination of proprietary image enhancing technology and the ability to switch between vascular and cardiac assessments with one device at the point of care, GE HealthCare has launched the handheld ultrasound device Vscan Air SL at the European Society of Cardiology (ESC) Congress in Amsterdam, the Netherlands.
Emphasizing the proprietary SignalMax and XDclear technologies available with Vscan Air SL, GE HealthCare said the handheld ultrasound device offers enhanced sensitivity and resolution.
The dual-headed probe of Vscan Air SL also enables clinicians to access sector and linear arrays on the same device, a capability that facilitates rapid vascular and cardiac assessments of patients, according to GE HealthCare.
"Having ever more powerful handheld ultrasound is a game changer for patient care. Whether on the ward or in general practice, being able to provide high-quality imaging at the point of care means rapid diagnosis and rapid treatment," noted Guy Lloyd, M.D., FRCP, a consultant cardiologist at Barts Heart Center and University College London Hospitals.
GE HealthCare noted that Vscan Air SL, which has garnered FDA 510(k) clearance, will be commercially available in the United States within the next month. The device is currently available in Austria and New Zealand as well as countries in Asia and Europe, according to the company.