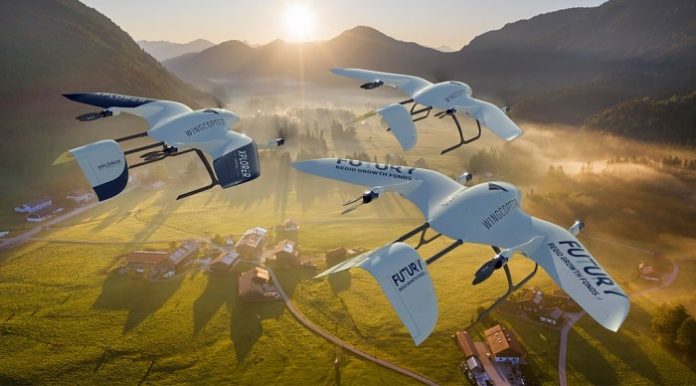 Award-winning manufacturer of eVTOL (electric vertical take-off and landing) drones dedicated to humanitarian initaitives, Wingcopter, has secured $22 million (€18M) in Series A funding.
The financing round was led by Silicon Valley-based Xplorer Capital, a key investor in autonomous technologies, and Futury Regio Growth Fund, a Germany-based growth capital fund focusing on investments in globally scalable business models. In addition, Futury Ventures and Hessen Kapital III participated in this financing round.
The Darmstadt-based drones company will use the funds to strengthen its focus on healthcare-related applications, including the distribution of COVID-19 vaccines.
In addition to selling drones, Wingcopter will expand its drone-delivery-as-a-service offerings. These services will allow customers to benefit from Wingcopter's technology and its BVLOS (beyond visual line of sight) flight operations of five continents, without having to own a fleet of drones.
Wingcopter also plans to further grow the team in the fields of flight testing, certification, production, and software development, focused on ground and flight control software, embedded systems, software architecture, and cloud infrastructure.
In Malawi, Wingcopter recently started a COVID-19 response project named Drone + Data Aid to improve healthcare supply chains together with Deutsche Gesellschaft für Internationale Zusammenarbeit (GIZ) GmbH on behalf of the German Federal Ministry for Economic Cooperation and Development (BMZ). As part of the undertaking, Wingcopter has partnered with UNICEF'S African Drone and Data Academy to train local youth in drone operations.
In 2020, Wingcopter was named a Technology Pioneer by the World Economic Forum, recognising its social impact as part of the fourth industrial revolution.
In December 2019, the drone manufacturer scored a seven-digit funding from Singapore-based Corecam Capital Partners. In March 2020, it landed a further investment from Corecam, with the exact amount secured not revealed.
At the beginning of 2020, Swiss Post and Matternet started transporting lab samples by drones between hospitals in Switzerland again. This was months after putting the project on hold because of two incidents.
Tom Plümmer, CEO of Wingcopter, said: "Our team is driven by tackling the world's challenges through scalable innovations. This chapter of our journey is dedicated to setting up logistical highways in the sky that leapfrog traditional means of transportation. Poor infrastructure has always been a barrier, especially for healthcare provision, impacting billions of lives – a situation further exacerbated by COVID-19. With the support and powerful networks of our investors we are taking a huge step closer to fulfilling our vision of creating efficient and sustainable drone solutions that improve and save lives everywhere."
Jonathan McQueen, co-founder and managing partner of Xplorer Capital explains: "We have been impressed with the Wingcopter team and the speed at which they have developed the product and built the company. We look forward to watching and supporting them as they help to deliver vaccines in the near-term, and to deliver freight in a more sustainable way over the long-term."