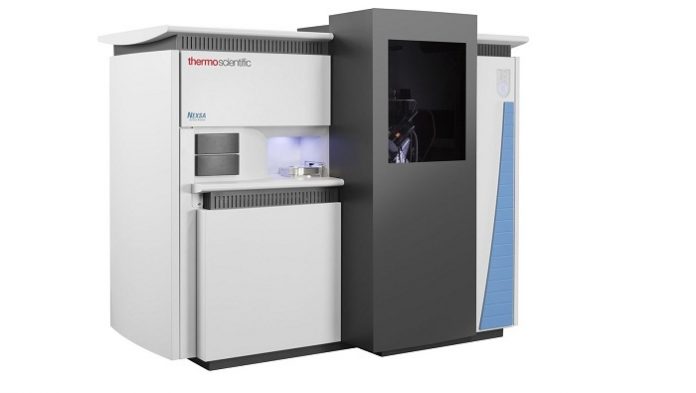 Materials researchers, product developers and failure analysis scientists seeking to conduct cost-effective, research-level x-ray photoelectron spectroscopy (XPS) studies in academic and corporate laboratories can now benefit from the new Thermo Scientific Nexsa surface analysis system. The system is designed to easily integrate multiple analytical techniques in a single compact, fully-automated surface analysis instrument.

The Nexsa system, which makes its debut at ECASIA 2017, September 24-29 at Le Corum in Montpellier, France (Stand 15), combines the high throughput and high sensitivity of the Thermo Scientific K-Alpha+ XPS system with the multi-technique capabilities of the Thermo Scientific ESCALAB Xi+ XPS microprobe. Users of the Nexsa system can add complementary techniques, such as Raman spectroscopy, ion scattering spectroscopy (ISS), reflected electron energy loss spectroscopy (REELS) and UV photoelectron spectroscopy (UPS), to generate multiple measurements from the same point on the sample, without repositioning. Integration of multiple analytical techniques is designed to allow users to conduct true correlative analysis, unlocking the potential for further advances in microelectronics, ultra-thin films, nanomaterials development and many other fields.
"We designed the Nexsa system with shared-use laboratories in mind, following the success of the K-Alpha+ in these facilities around the world," said Kevin Fairfax, business director, surface analysis for Thermo Fisher. "The new system makes world-class surface analysis more accessible to non-experts, who can now combine multiple techniques and confidently produce world-class data with minimal training and effort."
Additional features of the Thermo Scientific Nexsa surface analysis system include:
A new small spot x-ray source, designed to improve the imaging capabilities compared to previous instruments;
The ability to transfer air-sensitive materials, such as lithium-ion battery materials, into the instrument without exposure to the atmosphere either via an optional vacuum transfer module or integration with an external glove box; and
Optional integration with the patented Thermo Scientific MAGCIS dual mode ion source to enable depth profiling of soft materials, such as polymers.
For more information on the Thermo Scientific Nexsa surface analysis system and the full portfolio of Thermo Scientific surface analysis instruments, please visit www.thermofisher.com/surfaceanalysis.
About Thermo Fisher Scientific
Thermo Fisher Scientific Inc. is the world leader in serving science, with revenues of more than $20 billion and approximately 65,000 employees globally. Our mission is to enable our customers to make the world healthier, cleaner and safer. We help our customers accelerate life sciences research, solve complex analytical challenges, improve patient diagnostics, deliver medicines to market and increase laboratory productivity. Through our premier brands – Thermo Scientific, Applied Biosystems, Invitrogen, Fisher Scientific and Unity Lab Services – we offer an unmatched combination of innovative technologies, purchasing convenience and comprehensive services. For more information, please visit www.thermofisher.com.
Media Contact Information:
Brian Lowe
Greenough
Boston, Mass., USA
+1 617-275-6523
blowe@greenough.biz
Jim Heeren
Thermo Fisher Scientific
Madison, WI, USA
+1 608-819-5725
jim.heeren@thermofisher.com