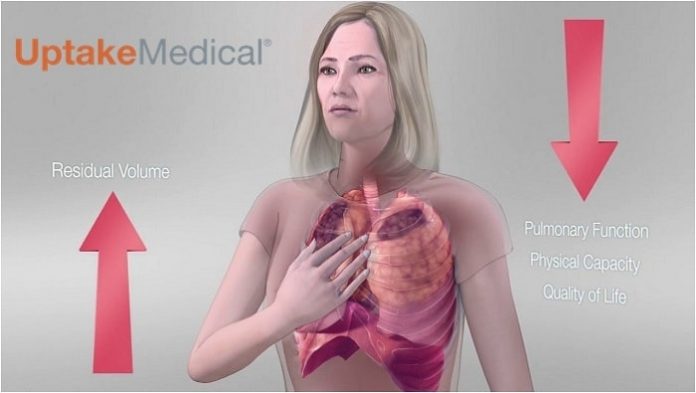 The InterVapor® Bronchoscopic Thermal Vapor Ablation (BTVA®) is back on the market after a brief hiatus as the asset sale of Uptake Medical Corporation was being completed to Broncus Holding Co. A new company, Uptake Medical Technology, Inc was formed in Seattle, WA, USA and has received a new CE Mark for the technology based on the clinically meaningful improvement in pulmonary function and quality of life for severe emphysema sufferers.¹ BTVA is now commercially available and patients are being treated in several European countries. Uptake Medical expects to expand global BTVA sales to Australia as well as Asian countries by the end of 2017.
"2018 promises to be an exciting year for the new Uptake Medical," says company founder and president Robert Barry, "with the recent outstanding STEP-UP multi-center randomized controlled trial results and the backing of Broncus, we are posed for success. In addition, we have very exciting bronchoscopic lung cancer ablation clinical studies underway. When you combine San Jose, CA based Broncus Medical's Archimedes system for accessing and diagnosing lung disease, with BTVA you start to see our vision of a complete Interventional Pulmonology Company come to life."
"I am happy to finally have a solution for emphysema patients with positive collateral ventilation. Previously these patients did not have good options with proven benefit," says STEP-UP trial PI Prof. Felix Herth. "I especially like the ability to focus just on the most diseased segments and stage the procedure as I see best for the patient. I am also looking forward to continued work with Broncus/Uptake Medical on developing a quick and effective bronchoscopic treatment for lung cancer."
Expanding the commercial availability isn't all that Uptake Medical is doing. "We also have plans to continue our research of BTVA for emphysema patients and expand the scope of patients that qualify. We are also continuing clinical research and development of our adaptation of the technology for the ablation of several other lung diseases," says VP of R&D Erik Henne.
Uptake Medical will be at ERS this year in Milan sharing a booth with their partner company, Broncus Medical.
¹ Herth, F. J. F., Valipour, A., Shah, P. L., … (2016). Segmental volume reduction using thermal vapour ablation in patients with severe emphysema: 6-month results of the multicentre, parallel-group, open-label, randomised controlled STEP-UP trial. The Lancet Respiratory Medicine, 2600(16), 1–9.