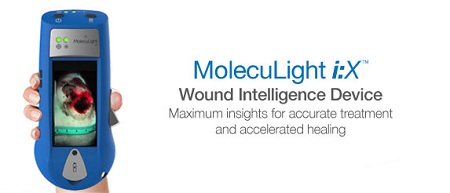 MolecuLight is pleased to announce the execution of an exclusive global distribution agreement with Smith & Nephew to distribute the MolecuLight i:XTM Imaging Device product line.
The distribution agreement represents an important milestone to expand market access with a highly-respected market leader with an established presence across a broad customer base and a deep knowledge of the clinician need.
"This is a historic day for MolecuLight", says Craig Kennedy, CEO.  "This partnership further proves our continued commitment to empower clinicians with knowledge allowing them to strengthen their clinical decision making."
Andy Weymann, MD, Chief Medical Officer at Smith & Nephew says:  "The MolecuLight i:X enables healthcare professionals to see what they have never been able to see before, the actual accumulation of fluorescent bacteria in a wound, even when not visible to the naked eye, among other benefits like guiding debridement and wound cleansing, wound measurement, as well as enhance the conversation between the clinician and the patient. MolecuLight i:X enhances clinicians' ability to choose the right therapy, at the right time for their patient1,2."
"This agreement is a key step for our company and its shareholders and helps us deliver on our pledge to advance wound healing through innovation", says Dr Ralph DaCosta, Founder, Chief Scientific Officer and Board Director.  "Our initial customer and patient experience has been excellent.  We are confident that Smith & Nephew's longstanding dedication to clinicians and patient wellbeing will help rapidly expand clinical adoption."
The device is currently CE Marked and approved by Health Canada and is available in the European Union and in Canada.  The MolecuLight i:X is pending De Novo approval in the USA.
About MolecuLight
MolecuLight Inc. is a privately owned, Canadian medical imaging company delivering real-time fluorescence image-guidance solutions that provide clinicians with new information about wound bacterial burden and wound size to assist clinicians in making improved diagnostic and treatment decisions.  To learn more visit
www.moleculight.com
.
About Smith & Nephew
Smith & Nephew is a global medical technology business dedicated to helping healthcare professionals improve people's lives. With leadership positions in Orthopaedic Reconstruction, Advanced Wound Management, Sports Medicine and Trauma & Extremities, Smith & Nephew has around 15,000 employees and a presence in more than 100 countries. Annual sales in 2015 were more than $4.6 billion. Smith & Nephew is a member of the FTSE100 .
Wu YC, Smith M, Chu A, Lindvere-Teene L, Starr D, Tapang K, Wong O, Linden R, DaCosta RS. Handheld fluorescence imaging device detects subclinical wound infection in an asymptomatic patient with chronic diabetic foot ulcer: a case report. Int Wound J. 2016 Aug;13(4):449-53.
DaCosta RS, Kulbatski I, Lindvere-Teene L, Starr D, Blackmore K, Silver JI, Opoku J, Wu YC, Medeiros PJ, Xu W, et al. Point-of-care autofluorescence imaging for real-time sampling and treatment guidance of bioburden in chronic wounds: first-in-human results. PLoS One. 2015 Mar 19;10(3).