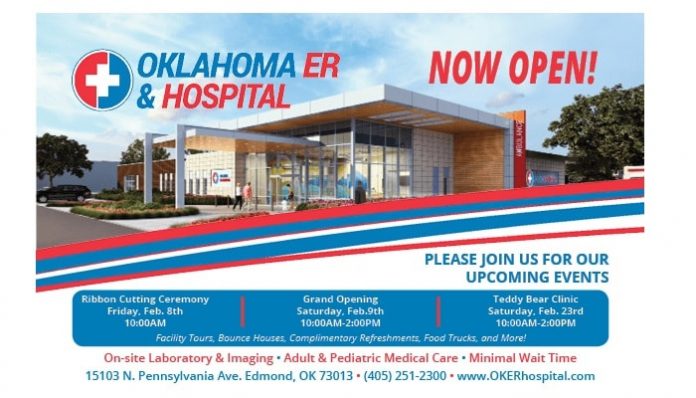 Nutex Health is proud to announce the successful opening of Oklahoma ER & Hospital. This state-of-the-art facility opened its doors on January 25th, 2019 and serves as the first micro-hospital of its kind in Oklahoma.
As a pioneer the micro-hospital industry, Nutex Health is planning to open several similar hospitals around the U.S. in the second quarter.
"Micro-hospitals are the ideal addition to metropolitan areas such as Oklahoma City," Dr. Tom Vo, CEO of Nutex Health, states, "They are perfectly positioned to bring fast, efficient, convenient, affordable, and high quality patient care to areas that need it, but without the long waits that most patients encounter at traditional facilities. We are excited to be offering both inpatient and outpatient services in such a comfortable environment with experienced dedicated physicians."
The hospital offers a full-service Emergency Room with 4 inpatient beds, on-site laboratory, on-site pharmacy, and in-house imaging services. The ER department is equipped to handle emergencies for patients of all ages and offers private, hotel-like rooms that are sure to put anyone at ease. A dedicated pediatric room also allows parents and children alike a comfortable stay when they're sick or injured.
In addition to ER services, Oklahoma ER & Hospital will be offering outpatient services with access to MRI, CT scans, x-rays, ultrasound, and blood work. The hospital will be staffed by a team of Board-Certified physicians as well as experienced nurses, and medical technicians to provide Oklahoma ER & Hospital the very best in medical care.
ABOUT NUTEX HEALTH
Founded in 2011, Nutex Health is the premier service provider in the Micro-hospital and Freestanding Emergency Room (FSER), and Hospital Outpatient Department (HOPD) industries. Our philosophy is simple: by providing physicians with the tools, resources, and management services needed to operate their facility, we allow for a higher and more proficient level of care. We build the best teams of local doctors, nurses, and support staff with an unwavering emphasis on patient experience and satisfaction.