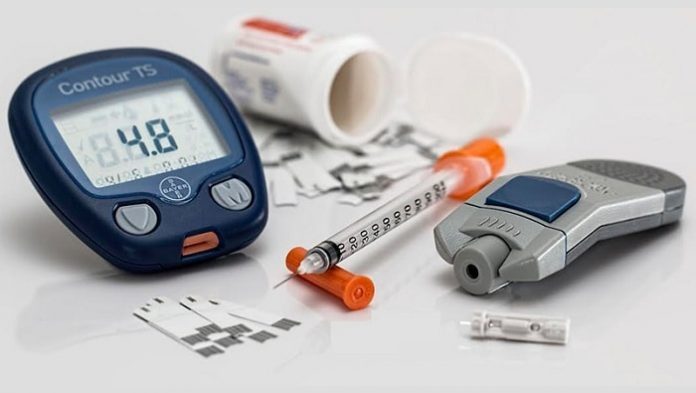 Onduo Health, the virtual diabetes coaching program backed by Verily (and to a lesser extent Sanofi) announced this morning that it is expanding its platform beyond Type 2 diabetes to include several other conditions frequent among its populations.
Multi-condition services focused on hypertension, pre-diabetes, weight loss and mental wellbeing – as well as underlying coaching support for dieting, physical activity and medication management – are now available to the company's payer and employer clients, Onduo CEO Dr. Vindell Washington told MobiHealthNews. The company is also increasing its support for mental and behavioral health issues such as anxiety and depression over the next several months, with other offerings slated for the back half of 2021.
"We're pivoting to be more focused on whole person-centered care, and our first expansions are … rounding out some of the cardiometabolic solutions that are needed in the industry and continuing along that path," Washington said.
"We've always had what we call supporting strategies for diabetics – that's around diet, exercise, medication adherence and sleep. But we've actually expanded the population to which we're trying to bring those solutions."
Further, Onduo has kicked off a multi-language support effort by announcing that its offerings are now available for those who speak Spanish. To do so the company has translated all of the language included in its app, and hired coaches as well as providers with medical Spanish fluency, Washington said.
Onduo describes its take on chronic disease management as "personalization at scale." For Washington, the technology side of this consists of three major components: connected devices like continuous glucose monitors (CGMs) to collect signal data, artificial intelligence to make sense of those signals, and user interface design backed by behavioral science to spur change.
Onduo will continue to rely on its tech-heavy approach, although "that doesn't mean that we necessarily want to develop a device for every condition," he said. "But we do have a lab in South San Francisco. We're thinking about that, and we're also not opposed to using some currently existing devices in the works. So [for instance], we're using for the blood pressure program-connected Bluetooth blood pressure cuffs that we didn't invent, but we also have some items down the pipeline that we are developing to improve that interface."
Onduo's various devices and algorithms together support the company's human coaches and providers, who conduct virtual appointments with members to guide them toward healthier lifestyles. Washington said that this approach to Type 2 management has borne fruit for Onduo, but that the company has long been aware that members' conditions aren't defined by a single ailment.
"What our doctors were engaged in was not just the treatment of diabetes," he said. "If a patient has problems with their medications around high blood pressure, for example, they were engaging with those members and trying to get them into a good state – when you hire a physician who's taken a Hippocratic Oath and they can help, they tend to help.
"Early on, we found that 70% of our diabetic patients had high blood pressure. So in order to provide the best care for that individual, it became clear that we had to at least think about diseases in clusters, not just isolated entities, to bring people to their best health."
The CEO said that this cluster approach led Onduo to prioritize the comorbidities that were most common among their members. Type 2 diabetes and older age are associated with high blood pressure. Chronic-disease diagnoses bring new challenges to emotional resiliency and mental wellbeing. He said the company had already been conducting pilots among members who had Type 2 diabetes, as well as hypertension or behavioral health concerns, with encouraging results.
Washington acknowledged that it isn't hard to take this physiological progression of services a step further and wonder whether Onduo also has its eyes on expanding to additional conditions with heavy overlap.
One such example would be the increasingly crowded musculoskeletal (MSK) space, where other digital diabetes management platforms like Omada Health and Dario Health have recently made M&A-driven expansions. Extend that net to include other conditions stressing the system and you'll land on COPD, women's health and "other things we are certainly considering," Washington said.
Still, Onduo is "very cognizant" that it's a single virtual platform in a broader healthcare ecosystem. The company isn't interested in providing physical services, or dipping into the decades-long relationships that define primary care, Washington said. If Onduo is going to expand into new areas of disease management down the road, it will be in areas that play to its strengths of behavior change, data-driven treatment plans and human coaching, he said.
"I don't think many folks have taken that particular approach. I don't think people have traditionally said 'we need providers,'" he said. "We're cutting a slightly different path in that space, but it does come down to convenience, not only for the individual, but for the health plan and the employer."
Customers want comprehensive platforms, and patients need inclusive services
Of course, Onduo's platform expansion is also a move meant to appeal to its clientele. To an employer or a health plan, having to coordinate a dozen different point solutions for different populations "is not particularly attractive," Washington said. The company has heard "a lot of feedback" from stakeholders indicating single-condition approach wasn't in especially high demand.
"I was the chief medical officer at Blue Cross Blue Shield Louisiana, so I was a target once upon a time for many disease management vendors," he said. "At the end of the day, it was pretty clear when we talked to folks: If you could provide a digital service that was equivalent across a lot of different areas, that would have been more attractive. That's the voice we're listening to."
Also on customers' wishlist was the newly launched multi-language support. Pilots of the Spanish app and services began last fall, he said, and were prioritized over other languages due to the immediate needs of Onduo's booked clients. Those will be added later on as the company identifies other communities among its membership for whom English is not their first language.
At the same time, Washington stressed the need for chronic disease services to design medicine "in a culturally competent way," and keep in mind healthcare's larger obligation to meet patients where they are.
"We have a mantra around doing more good as a company, and part of that includes our approach on product inclusivity. So not only is it a business imperative, it's a moral imperative for us," he said.
"And if you're talking about chronic diseases and ignoring the fact that there are folks in our community who do not have English as a first language, you're just not caring for a bunch of folks in the community that could receive services."