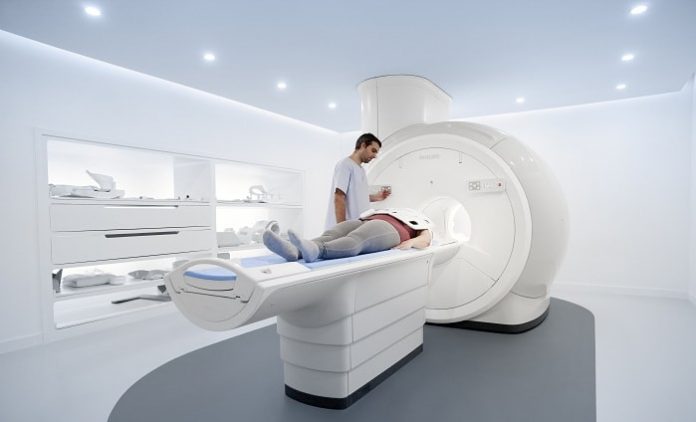 Royal Philips is showcasing the company's latest magnetic resonance (MR) imaging solutions at the Radiological Society of North America's 2017 annual meeting in Chicago, IL. This includes Philips' newest MR system, MR Prodiva 1.5T1 that provides enhanced clinical performance, workflow and patient experience. Philips is also unveiling new solutions to drastically reduce exam times and elevate neuro-oncology.
With these introductions, Philips is helping radiologists use MR-based innovations to achieve a simpler, faster and smarter path to a confident diagnosis, to enhance workflow and deliver better patient care.
Increased pressure on imaging procedures, complicated technology and longer wait times are hurdles that exist in many radiology departments globally. The new MR Prodiva 1.5T addresses this through Breeze Workflow, by providing a simplified, guided patient setup. Breeze Workflow consists of a flexible lightweight digital coil system to support fast patient setup. Combined with Philips' dStream digital broadband technology, MR Prodiva 1.5T provides radiologists with consistent, high-quality images in support of improved patient care. It also helps manage costs through low transportation, installation and energy consumption expenses.
Patient discomfort during imaging exams can significantly impact outcomes, as evidenced by a recent study. MR Prodiva 1.5T features Philips' unique Ambient Experience In-bore Connect, which elevates patient comfort by allowing them to personalize their environment with a visual theme, guiding them through the examination with instructions, and by reducing acoustic noise.
"Imaging plays an important role within the care delivery spectrum, and MR in particular has significant untapped potential," said Kees Wesdorp, Business Leader, Diagnostic Imaging, Philips. "Philips continues to innovate its MR solutions to help radiologists unlock that potential and provide greater value to their organization and patients."
Addressing industry needs with new MR solutions
Philips is also unveiling two new MR innovations that aim to accelerate MR procedures and improve neuro-oncology diagnoses:
Reduce exam times – In healthcare today, reimbursements are declining and chronic conditions are leading to more MR procedures and longer wait times, increasing the pressure on the radiology department. However, accelerating scans with current technology can compromise image quality. To address this issue in MR, Philips has created Compressed SENSE1, an application that enhances productivity in imaging by increasing the data that is able to be pulled quickly from scans, including both 2D and 3D scans, all anatomical contrasts and all anatomies. It reduces imaging examination time and is applicable to the entire patient examination process.
• Elevate neuro-oncology – Today, MR is the gold standard in neuro-oncology imaging. However, opportunities exist for improvement, and new imaging contrast and biomarkers are needed. Philips' new 3D APT [1] helps address these needs. This contrast-free imaging solution uses unique Philips technology. It effectively supports neuro-oncology clinicians in providing a more confident diagnosis, and features a workflow that leverages optimized and standardized acquisition and visualization techniques.
At RSNA 2017, Philips will officially unveil MR Prodiva 1.5T and its new MR innovations, alongside its full suite of solutions for diagnosis and treatment at booth #6735 in Hall B at McCormick Place on Sunday, November 26 at 11:30 a.m. CT.
For more information about Philips' presence at RSNA, please visit www.philips.com/rsna, www.philips.com/thenextmrwave
[1] 510k pending. Not available for sale in the USA or Canada.
For further information, please contact:
Kathy O'Reilly
Philips Group Press Office
Tel: +1 978 221 8919
E-mail: Kathy.Oreilly@Philips.com
Steve Klink
Philips Group Press Office
Tel.: +31 6 10 8888 24
E-mail: steve.klink@philips.com
About Royal Philips
Royal Philips is a leading health technology company focused on improving people's health and enabling better outcomes across the health continuum from healthy living and prevention, to diagnosis, treatment and home care. Philips leverages advanced technology and deep clinical and consumer insights to deliver integrated solutions. Headquartered in the Netherlands, the company is a leader in diagnostic imaging, image-guided therapy, patient monitoring and health informatics, as well as in consumer health and home care. Philips' health technology portfolio generated 2016 sales of EUR 17.4 billion and employs approximately 73,000 employees with sales and services in more than 100 countries. News about Philips can be found at www.philips.com/newscenter.