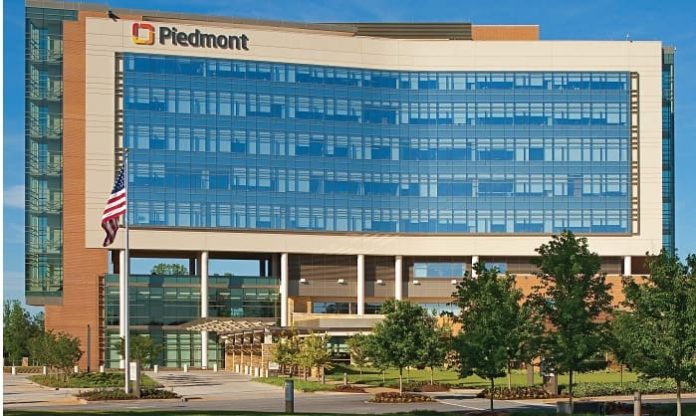 Piedmont Athens Regional Medical Center broke ground on the final phase of its $171 million expansion and renovation project, which includes replacing the oldest section of the hospital – built 100 years ago – with a new, seven-story patient tower.
Hospital staff and community members gathered for a groundbreaking ceremony to celebrate the start of construction.
"This groundbreaking is a huge milestone for our hospital's project and we're very excited to be celebrating this with our community," said Piedmont Athens Regional Chief Executive Officer (CEO) Michael Burnett. "We appreciate everyone who joined us to celebrate as we say goodbye to some of the oldest patient hospital rooms in Georgia and welcome a newly-constructed, state-of-the art building to our hospital's campus."
In October 2018, Piedmont Athens Regional officially kicked off the expansion and renovation project, with the first phase including the addition of a new patient unit on the hospital's Prince Tower II, located on the corner of Prince and King avenues.
With the final phase, the hospital's construction team – DPR Construction – will begin the process of building the new patient tower, replacing what is known as the 1919 Tower.
The 1919 Tower, which is a section of the hospital's Prince Tower I, is currently the oldest section of the hospital, built 100 years ago when the hospital first opened as a three-story, 100-bed community hospital that featured two operating rooms, a delivery room and a 24-member medical staff.
The new tower that will replace the 1919 Tower will stand seven-stories high, which includes a basement and lobby level, and will feature state-of-the-art equipment and replace outdated patient and staff areas. It also will improve wayfinding and the overall experience for patients, visitors and staff.
"This new tower will have a more modern look and feel, and these changes are intended to foster safe, efficient patient flow and minimize delays while our staff deliver high-quality patient-centered care to our patients," said David Sailors, M.D., vascular surgeon and chair of Piedmont Athens Regional's Board of Directors. "As Piedmont Athens Regional says goodbye to the 1919 Tower, it welcomes a state-of-the-art, newly renovated space that will ultimately provide a better experience for our patients and better serve our community."
Piedmont Athens Regional's new patient tower will also feature a retail pharmacy, café and resource center for patients and visitors.
Construction is estimated to be completed in 2022. Once complete, the hospital's capacity will remain at 359 beds.
"We're very grateful for the support of our community during this construction project," said Burnett. "The Piedmont Athens Regional team is looking forward to continuing serve the healthcare needs of those in Athens-Clarke and surrounding communities through this new addition to our hospital."