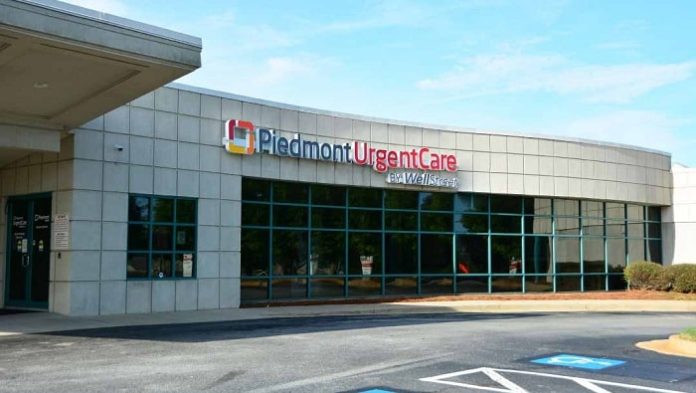 Piedmont Urgent Care by WellStreet, your community urgent care provider, opened a state-of-the-art center in Conyers at 1280 Dogwood Drive SE, on January 3.
"Piedmont Urgent Care by WellStreet is excited to invest in the Conyers community by opening the 5000 square foot center in Millstone Place," said Ron Lavater, chief executive officer for WellStreet. "Our newly renovated facility features the ultimate kids' play area and provides patient visit status updates through waiting room technology. Our friendly staff and Piedmont Clinic providers offer efficient, high-quality urgent care services, with a door- to-door time under 50 minutes."
Piedmont Healthcare partnered with WellStreet Urgent Care in 2014 and now operates 27 Piedmont Urgent Care centers throughout the Atlanta region and beyond. Piedmont Urgent Care operated 17 centers prior to combining with Summit Urgent Care in early December, creating a total of 27 centers across the newly merged entity. The network of urgent care centers treated 225,000 patients last year and all of WellStreet's providers are in the Piedmont Clinic, which has more than 2,000 physician members.
WellStreet's Regional Medical Director, Dr. Cassandra Donnelly states, "Piedmont Urgent Care by WellStreet is proud to expand our services into the Rockdale community. We lend support to PCPs and their patients during extended hours, night and weekends, especially if their offices are closed. We also provide weekend follow-up for most surgical procedures requiring re-evaluation. Most importantly, we are committed to delivering outstanding urgent care to each patient."
In October, Piedmont Urgent Care by WellStreet announced an agreement with the U.S. Department of Veterans Affairs (VA) health plans. Veterans and active military enrolled in the VA healthcare system receive "Priority access", meaning they skip the wait and the line, at any Piedmont Urgent Care by WellStreet.
"Whether it's a cough, a cold, an ankle sprain or back pains, we are happy to care for you," added Dr. Donnelly.
"Piedmont Urgent Care by WellStreet closes the gap between traditional hospital emergency rooms and doctors' offices by offering walk-in care for immediate treatment, which is a recognized need in the community," said Alex Koutsos, Piedmont Healthcare's executive director, primary care operations. "Together with our WellStreet partners, we are very pleased to open the new center in Conyers. WellStreet provides illness and injury care seven days a week close to home."
The new location is open seven days a week, from 7 a.m. to 8 p.m. Monday through Friday, and from 8 a.m. to 8 p.m. on the weekends. Piedmont Urgent Care visits can be utilized for common cold symptoms, such as cough, sore throat, nasal drainage, and ear pain. In addition to walk-in care for minor injuries, illnesses, vaccinations, and physicals, Piedmont Urgent Care offers on-site diagnostic imaging services, in-house medication dispensary, and accepts most major insurance plans, including Medicare, Medicaid, TriWest, and competitive self-pay rates.