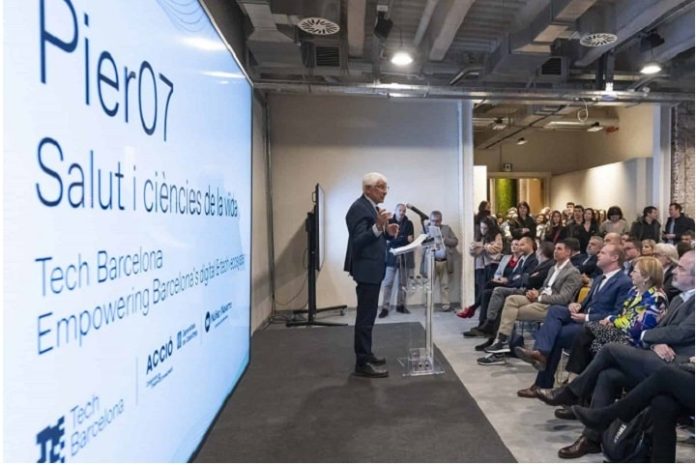 Tech Barcelona has opened Pier07, a 6 000 m² sustainable space in Barcelona. It is designed to be an innovation hub for health and life science startups to collaborate with corporations. The health and life sciences ecosystem in Catalonia represents more than 9% of the GDP and continues to grow. Investing in innovation in this sector is crucial.

The latest BioRegion 2022 report prepared by Biocat, indicates that startups and scaleups have attracted €445 million in investment, almost double that of the previous year. The majority of the capital raised came from international investors, mostly from Europe, Asia, and the United States.
The Pier07 stands as a systemic space where the different agents of the innovative ecosystem in health and life sciences can meet, locate their offices, organize activities, and seek joint solutions to challenges from technology, from Barcelona, and with international projection. It is a space for collaboration between startups, corporations, research centers, innovation areas of hospitals, universities, government, and the health system.
Tech Barcelona has launched the Pier07 with the support and participation of ACCIÓ, the agency for business competitiveness of the Department of Business and Knowledge of the Generalitat de Catalunya. The project has also had the support of entities in the health sector such as the Vall d'Hebron Research Institute (VHIR), the Gerència Territorial Metropolitana Sud de l'ICS (Hospital de Bellvitge) or the Hospital Sant Joan de Déu (I4KIDS project). In addition, partners such as Ferrer, Boehringer Ingelheim, Novartis, Uriach, Vifor Pharma, Ediciones Mayo, Cushman & Wakefield, Nestlé, HP, i2cat or Trifermed have contributed to its conceptualization.
Accelerating Innovation
Tech Barcelona is a private non-profit association that supports and catalyzes Barcelona's digital and technological ecosystem. Through activities and events to foster mutual learning within the ecosystem; work groups to face the challenges of technological, social and economic transformation; connecting talent; giving visibility to innovative projects; creating an international network of ambassadors; and promoting Open Innovation projects; Tech Barcelona has become an essential partner for entrepreneurs and businesses seeking to innovate in this sector.
Asabys Partners is the first tenant to open its offices in Pier07. Other tenants such as Cebiotex, Chasing Science, Adbio Partners and Trifermed have also moved into Tech Barcelona's own coworking space. The building has a total capacity for 500 people.
A Catalyst for Change
Pier07 provides an ideal environment for innovation in health and life sciences. It offers a systemic space where new ideas can be tested and developed with the help of corporations and other key players in the industry. This type of collaboration is essential for accelerating healthcare innovation.
Startups are leading this charge with tech-driven solutions that are transforming how healthcare is delivered around the world. With $9.3B in health innovation funding already recorded in 2021 according to StartUp Health Insights report—putting it on track to match last year's record-breaking pace—it is clear that healthcare startups are making an impact.
The Future of Healthcare Innovation
Healthcare technology is advancing rapidly with new technologies such as AI being integrated into healthcare systems. This promises to revolutionize healthcare delivery but also presents unique challenges such as regulation and data privacy.
McKinsey has identified four essentials of innovation: choose, evolve, accelerate and extend — while ensuring that end-to-end fundamentals are in place. This is something that Pier07 will be aiming to do as it helps startups move their ideas forward with greater speed.
Tech Barcelona's Pier07 is a significant development for healthcare innovation in Barcelona. With its combination of resources from tech companies as well as government support it provides an ideal environment for startups to develop their ideas into reality.