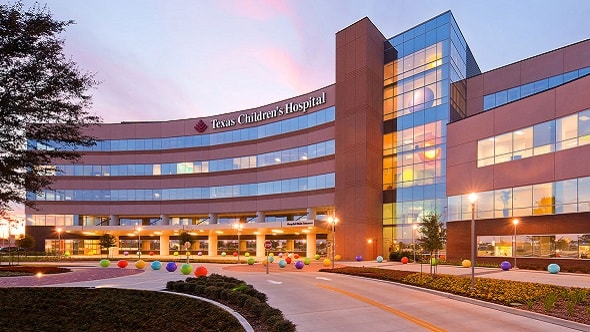 Texas Children's Hospital is proud to announce it ranks as the best place for children to receive cardiology and heart surgery care in the nation by U.S. News & World Report in their 2017-18 edition of Best Children's Hospitals. To learn more about Texas Children's Heart Center® please visit texaschildrens.org/heart.
For more than half a century, the integrated, multidisciplinary team has combined cutting-edge technology with a compassionate and family-centered approach to care. Annually, more than 1,000 surgeries are performed and more than 26,000 patient encounters occur in the outpatient clinic.
"This unparalleled survey result is due to the dedicated work and passionate care our team provides children with heart diseases and defects each day," said Dr. Charles D. Fraser Jr., chief of congenital heart surgery and surgeon-in-chief at Texas Children's Hospital. "We continually strive to improve the quality of care for our cardiac patients by tracking our outcomes and remaining committed to developing innovative cardiac interventions and surgical treatment options to ensure optimum results for patients in need."
Texas Children's Heart Center cardiologists and surgeons are world-renowned leaders in pediatric cardiology, congenital heart surgery, and cardiovascular anesthesiology, and strive to offer every procedure available for the treatment of pediatric heart diseases and defects for children of all ages, including preterm and low-birth-weight newborns. Some of the services offered by the Heart Center include cardiac catheterization, electrophysiology, diagnostic and cardiac imaging, adult congenital heart disease treatment, congenital heart surgery, cardiac nursing, cardiac critical care (cardiovascular intensive care unit) and heart transplantation.
"Our cardiology team offers a multi-faceted continuum of care from diagnosis through treatment and follow-up for patients with cardiac issues and heart failure," said Dr. Daniel J. Penny, chief of pediatric cardiology at Texas Children's. "We are committed to providing exemplary family-centered care and less-invasive procedure options to children with complex congenital heart conditions."
The Heart Center team is led by Fraser and Penny, as well as Dr. Emad Mossad, chief of cardiovascular anesthesia at Texas Children's, and Dr. Lara Shekerdemian, chief of critical care at Texas Children's. All are professors of pediatrics at Baylor College of Medicine.
Texas Children's Heart Center is committed to consistently achieving outcomes that are among the best in the nation. As part of this commitment, Texas Children's has a dedicated outcomes team devoted to tracking clinical outcomes and optimizing care within the Heart Center. The team is transparent in sharing outcomes and advocates for care where optimal results are achieved.
In addition to Texas Children's #1 ranking in cardiology and heart surgery, Texas Children's Hospital is ranked fourth among all children's hospitals nationally and one of only 10 hospitals to achieve the Honor Roll designation by U.S. News & World Report. Over the last decade, no other pediatric hospital in the state has ever achieved an overall ranking as high as Texas Children's.
About Texas Children's Hospital
Texas Children's Hospital, a not-for-profit healthcare organization, is committed to creating a healthier future for children and women throughout the global community by leading in patient care, education and research. Consistently ranked as the best children's hospital in Texas, and among the top in the nation, Texas Children's has garnered widespread recognition for its expertise and breakthroughs in pediatric and women's health. The hospital includes the Jan and Dan Duncan Neurological Research Institute; the Feigin Tower for pediatric research; Texas Children's Pavilion for Women, a comprehensive obstetrics/gynecology facility focusing on high-risk births; Texas Children's Hospital West Campus, a community hospital in suburban West Houston; and Texas Children's Hospital The Woodlands, the first hospital devoted to children's care for communities north of Houston. The organization also created Texas Children's Health Plan, the nation's first HMO for children; has the largest pediatric primary care network in the country, Texas Children's Pediatrics; Texas Children's Urgent Care clinics that specialize in after-hours care tailored specifically for children; and a global health program that's channeling care to children and women all over the world. Texas Children's Hospital is affiliated with Baylor College of Medicine.
Media Contact 
Lindsey Fox