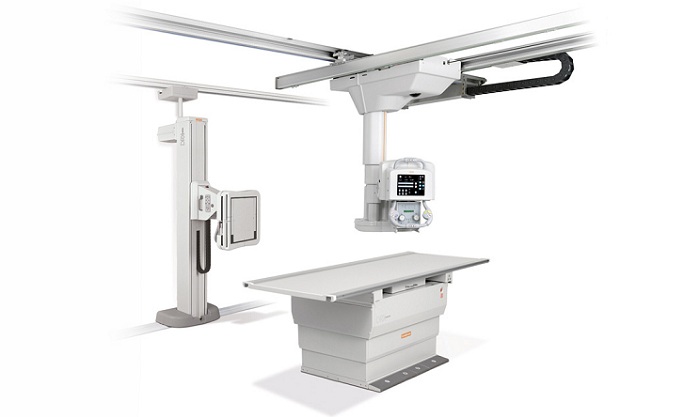 Utah Valley Hospital (Provo, Utah) has installed nine Carestream imaging systems that equip its radiology staff to deliver rapid, high-quality imaging throughout the 395-bed facility. The imaging systems include two CARESTREAM DRX-Evolution Plus digital radiography systems, six CARESTREAM DRX-Revolution Mobile X-ray Systems and on CARESTREAM DRX-Retrofit Kit to upgrade an existing portable system to DR technology. The hospital is a member of Intermountain Healthcare.
Utah Valley Hospital The DRX-Evolution Plus systems capture hundreds of inpatient, ED and outpatient imaging exams every month. "With these automated imaging systems, technologists can scan an exam order and the motorized system positions itself," said Mike McCoy, the hospital's X-ray Imaging Coordinator. "This not only saves time in a busy imaging environment, but it also reduces the risk of injuries to technologists caused by manual positioning of overhead tubes."
Each DRX-Evolution Plus system has a wall stand and table bucky. These systems capture cross-table, bone, chest, abdomen, scoliosis, knees, feet, tabletop and standing extremity exams as well as other imaging studies.
Pre-programmed procedure codes set techniques and minimize dose. Mr. McCoy said use of these new room-based systems has cut dose in half compared to previous imaging systems.
The hospital also uses Carestream Pediatric Image Optimization and Enhancement Software that sets the appropriate dose for pediatric patients based on size and weight.
Utah Valley Hospital deploys four DRX-Revolution systems for portable imaging of inpatients and two additional DRX-Revolution systems that are dedicated to the surgical department.
"The DRX-Revolution mobile systems are an important asset to our hospital," said Cameron Willardson, Imaging Manager for General Radiology, Mammography and MRI. "These systems are easy to drive and consistently deliver extremely high-quality images in a high-use environment. The systems are also user friendly, which helps boost staff productivity."
Service and support are excellent, Mr. Willardson added. "Carestream offers exceptional service and their support staff works with our team to promptly resolve issues. Their team is committed to working with us to achieve excellent image quality that can equip our staff members to deliver better patient care."
About Utah Valley Hospital
Utah Valley Hospital (formerly Utah Valley Regional Medical Center) is a designated Level II Trauma Center in Provo, Utah. Our expert physicians, nurses and care teams are specially trained to treat a wide range of patients, from those with the most severe injuries or illnesses to those undergoing a routine surgery or delivering a baby. The hospital has 395 licensed beds, a Level II Trauma Center and is a designated Stroke Center of Excellence.