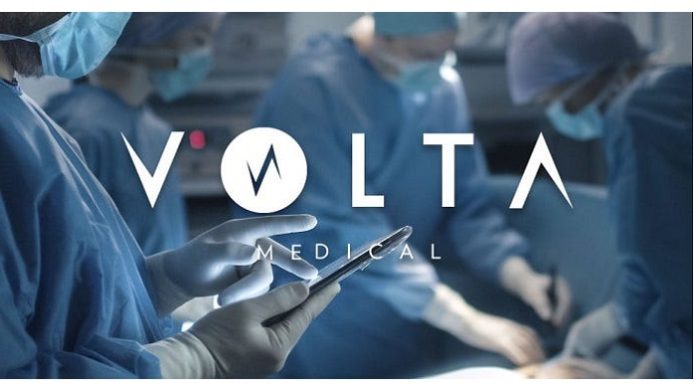 Volta Medical, a pioneering health technology company developing AI solutions to assist electrophysiologists in treating complex cardiac arrhythmias such as atrial fibrillation (AF), today announced that the U.S. FDA has cleared Volta AF-Xplorer™, an AI companion designed for the assessment of complex AF and atrial tachycardia (AT) procedures. The company will showcase the latest solution at the 44th annual Heart Rhythm 2023, in New Orleans, LA, and virtually, from May 19-21.
"There is a critical need for new ways to quickly and accurately identify abnormal electrograms (EGMs) for cardiac electrophysiologists to optimize their ablation strategy. Volta AF-Xplorer offers a tailored and intuitive workflow while allowing physicians to use their preferred mapping system and catheter," said Theophile Mohr-Durdez, Volta Medical CEO and co-founder. "Volta AF-Xplorer assists physicians in the treatment of complex AF cases by providing real-time access to expert electrophysiologist techniques for detecting dispersed EGMs, suspected drivers of AF."
Volta AF-Xplorer uses a machine and deep learning-based algorithm trained on a large database of EGMs, annotated by expert electrophysiologists. This approach enables a real-time, standardized approach to targeting dispersed EGMs. The software upgrade features an enhanced integration with Abbott Laboratories' EnSite X mapping system, providing improved workflow due to automated Volta "regions of interest" tagging capabilities. In addition, the software provides compatibility with Biosense Webster's popular Octaray multi-polar mapping catheter.
In a previously published multi-center clinical study, Volta's solution has demonstrated the ability to standardize the use of dispersed EGMs to guide ablation and achieve clinical outcome measures, including freedom from arrhythmia after 12 months that meaningfully exceed conventional outcomes. Recently, Volta completed enrollment of TAILORED-AF, a global multicenter randomized controlled trial, comparing conventional pulmonary vein isolation to pulmonary vein isolation plus Volta's guided ablation in 374 patients with persistent and long-standing persistent AF.
At HRS, the Volta Medical Heart Rhythm Theater presentation, "Could Targeting AI Driven Dispersion EGMs Be the Missing Link for Better Persistent AF Outcomes?", will take place on Saturday, May 20, from 9:15-10:15am CT, including a review of Volta cases, current and future clinical evidence, and AI considerations. It will be moderated by Dr John Hummel, Ohio State University, with presentations from Drs. Devi Nair, St Bernard's Jonesboro, Jose Osorio, HCA Miami, Benjamin D'Souza, Penn Presbyterian, and Prof. Isabel Deisenhofer, Munich Heart Center.
In addition, the company will present the poster: "Biatrial Characterization of AI Identified Spatiotemporal Dispersion in Persistent Atrial Fibrillation (poster presentation)" from 1:30-3:30pm CT, on Saturday, May 20, which highlights the uniqueness of patterns of dispersion EGMs to each patient in the analysis done within the previously published, Ev-AIFib study.