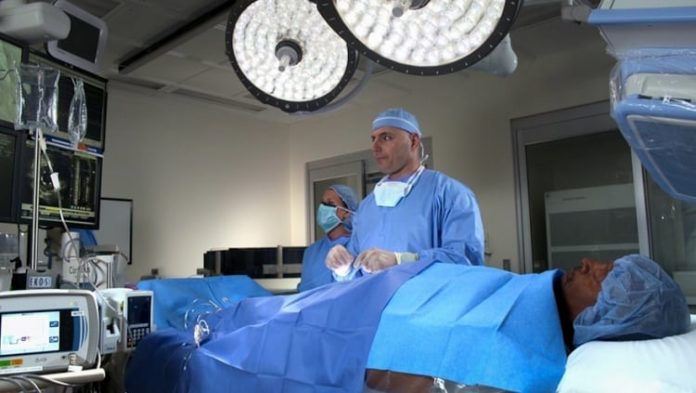 Thousands of people have died over the years from what originally was believed to be a heart attack when the actual cause was a massive pulmonary embolism, said Mahir Elder, M.D., a top interventional cardiologist at Detroit Medical Center's Cardiovascular Institute who has developed a new diagnostic check for these serious kinds of emergency cases.
In the nation's largest study of its kind, Elder and his Pulmonary Embolism Response Team (PERT) — also called the Clotbusters — have treated more than 250 patients the past two years for massive pulmonary embolisms with a lifesaving rate greater than 90 percent, far higher than the 42 percent save rate documented in other studies where patients received the blood-thinning drugs tPA or heparin.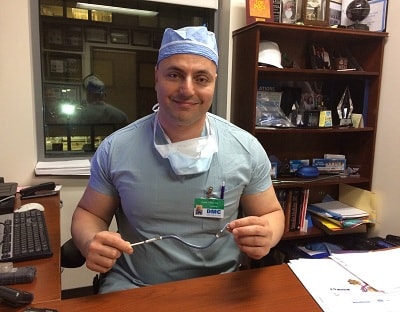 "It started when I noticed a few cases in the (Detroit Receiving Hospital) ER back in 2012," said Elder, who also is assistant director of the Wayne State University School of Medicine's interventional cardiology fellowship program.
"PE can often be masked as MI (myocardial infarction, or heart attack)," said Elder.
"It is often misdiagnosed, which can result in an unfortunate mortality. It is completely preventable if discovered promptly."
Many ER physicians and other specialists don't immediately diagnose the blood clot in the lung that is causing the emergency.
"A patient presents to the ED with difficulty breathing, short of breath and sharp chest pain, requiring oxygen therapy with low blood pressure (80/40 or less)," said Elder, a former Crain's Health Care Hero.
"This requires quick action. Before, there was no standard way to treat it. No research, no procedure."
Elder said reviews of national registries of unexplained deaths have shown that thousands of deaths were caused by massive pulmonary embolisms. This most usually happens when a blood clot dislodges from the leg and travels up into the lungs, blocking blood flow. This progresses to cardiac arrest, or a heart attack.Each year, pulmonary embolisms kill at least 600,000 Americans, many of whom had no or little symptoms. It is one of the leading causes of sudden death.
In 2014, Elder received institutional review board approval from the Wayne State medical school and the DMC. His boss, Theodore Schreiber, M.D., president of the DMC Heart Hospital, was supportive of his plan to create the PERT team and institute the special PE guidelines in DMC Receiving's emergency department. Schreiber is also on the PERT team.
"ER doctors will perform a cardiac ultrasound or CT scan of the lungs to confirm diagnosis (of PE). Once confirmed, the PERT team is activated," said Elder, adding that the patient is then transferred to DMC's catheterization lab at the Heart Hospital for an emergency procedure.
Elder, who is one of Michigan's highest-volume operators of peripheral arterial disease and amputation prevention, said the approval process for PE guidelines was not easy.
"The naysayers (initially ER physicians, pulmonologists, vascular surgeons and interventional radiologists) were concerned that it may not work and there could be other options," said Elder, who also is medical director of DMC Harper Hospital's cardiac care unit. "We won them over because we were saving lives. The ER doctors are very proud of what we did."
The first step Elder needed was to develop the massive/submassive pulmonary embolism guidelines for the ER physicians to use in screening patients. The procedure algorithm is multifaceted, but begins with an initial patient evaluation. The guidelines recommend the patient be given 15 minutes of CPR.
For example, the patient presents with chest pains and other heart attack-like symptoms. ER doctors then order an IV, cardiac monitor and EKG, appropriate blood tests, CT angiogram or echocardiogram of the chest and heparin.
If the CT scan confirms symptoms of PE, ER doctors page a PERT team member and the patient is sent to the cath lab for an immediate procedure. DMC's PERT team includes five interventional cardiologists, several fellows, nurses, cardiovascular technologists and radiology therapists.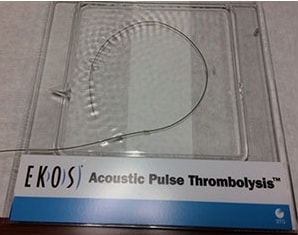 Once the patient is in the cath lab and the PERT team is ready, Elder or another team cardiologist inserts a thin plastic tube (catheter) through a large vein in the patient's groin area. The catheter tube is maneuvered through the patient's circulatory system and deep inside the pulmonary artery close to the blood clot. Once in place, cardiologists break up the coagulated blood with ultrasound and inject anticlot medications.
"The procedure takes about 30 minutes and we are done," Elder said. "It takes another four to six hours, depending on the size of the clot, to dissolve it."
Technologies used for the procedure, known in the medical field as catheter-directed thrombolysis, were developed for other heart- and artery-related procedures. Elder's team uses the EKOS Acoustic Pulse device.
"We use EKOS ultrasound to break up the fibrin clot, which is a web of strands that are connected together. Simultaneously, we use the anticlotting medication to dissolve it," he said. The EKOS technology allows Elder and team to use much less blood thinner, which makes the procedure safer.
Under some extreme circumstances for highly unstable patients, Elder said, a small pump, the Abiomed Impella RP, is used to keep the heart going. "It is a temporary pump that decreases the pressure on the heart and offers circulatory support," he said. "It is removed once the patient is stable."
At first, Elder's PERT team received referrals from DMC's ER physicians and from the co-located Karmanos Cancer Institute.
"Now, pulmonologists, oncologists and surgeons with patients who develop PEs are seeing the benefit in our program" 24/7, Elder said.
Elder said DMC now has received referrals from several hospitals in Michigan, including patients who are airlifted from around the state.
Soon after Elder began researching options with PE, he discovered cardiologists at Massachusetts General Hospital were starting a similar program, and he called them to discuss options. He found they did not have a standard procedure. Since then, Massachusetts General has formed a national PERT consortium, which DMC has joined, to help spread the word at hospitals and with doctors.
To be successful, Elder said PERT teams must be inclusive and collaborative. They also must be able to quickly respond to PE cases. Mortality rates rise quickly as time passes, he said.
"We are ahead of Mass General. They have a team but not as efficient as us because we are in-house and open 24 hours a day, seven days a week, 365 days a year. They have a meeting first, then call in the team. It takes too long," Elder said.
"Our hospital is the nation's highest enroller in PE clinical research. We get more patients into the cath lab than anyone because we are here 24/7" through DMC's Cardio Team One, he said.
Elder said having the PERT staff on call 24/7 is expensive, but after several years the service is now profitable. "You need at least 50 cases per year to be proficient," he said.
But Elder said the ability to save lives makes it worthwhile for his team and the hospital.
"You should see them when they come into the ER. They are in very poor condition. They can't breathe on their own and have a tremendous amount of chest pain. After the procedure, they are comfortable and they walk out of the hospital," Elder said.
The majority of patients treated at DMC understand the importance of taking care of their health, Elder said. They hydrate, exercise and make sure they don't sit too long without some form of movement, he said.
"About 90 percent of our patients make changes in their behavior, which significantly reduces the recurrence rates," Elder said.
Physicians and nurses involved in the program are proud of what DMC Heart Hospital and Cardiovascular Institute are doing to prevent unnecessary deaths, he said.
"We treat massive PE better in Detroit than anywhere in the country," Elder said. "We can say we are a world authority. We can say we are at the top in innovation and treatment for massive PE. We are proud of that."