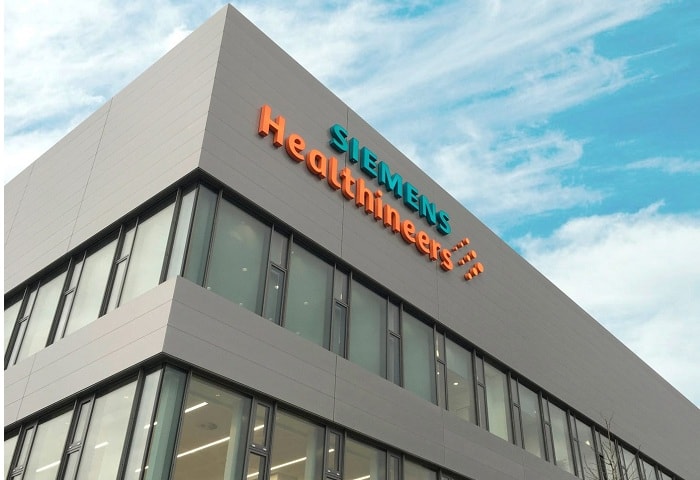 At this year's Annual Meeting of the Radiological Society of North America (RSNA) in Chicago, USA, the separately managed healthcare business of Siemens AG is presenting itself for the first time under its new brand name, Siemens Healthineers.
The new name underlines the company's pioneering spirit and its engineering expertise in the healthcare industry. With a new strategic direction, Siemens Healthineers aims to enable healthcare providers around the world to meet their current challenges and to excel in their respective environments. Through products and solutions designed to increase efficiency and to reduce costs, Siemens Healthineers is setting new trends in healthcare together with its customers – working under the motto "Engineering Success. Pioneering Healthcare. Together."
Siemens Healthineers presents at RSNA 2016 the innovative robot-supported Artis pheno angiography system. Artis pheno was developed for use in minimally invasive surgery, interventional radiology and interventional cardiology.
The zen40HDR flat panel detector and the GIGALIX X-ray tube give the Artis pheno outstanding image quality. Resolution for 2D imaging is four times higher compared to prior systems of Siemens Healthineers in all recording processes thanks to the system's new 2k recording technology.
The StructureScout feature can adapt and optimize imaging parameters to best suit the material structure of the area being X-rayed, which enables even less radiation to be used compared to prior systems of Siemens Healthineers . Artis pheno is designed to support treatment of multimorbid patients, and can be fitted with a comprehensive range of optional software applications to deal with complex cases.Thanks to the hygiene approach developed especially for Artis pheno, the system has large, sealed surfaces with fewer spaces, which helps customers with system cleaning.
Siemens Healthineers is the separately managed healthcare business of Siemens AG enabling healthcare providers worldwide to meet their current challenges and to excel in their respective environments. A leader in medical technology, Siemens Healthineers is constantly innovating its portfolio of products and services in its core areas of diagnostic and therapeutic imaging and in laboratory diagnostics and molecular medicine. Siemens Healthineers is also actively developing its digital health services and enterprise services. To help customers succeed in today's dynamic healthcare marketplace, Siemens Healthineers is championing new business models that maximize opportunity and minimize risk for healthcare providers. In fiscal 2016, which ended on September 30, 2016, Siemens Healthineers generated revenue of €13.5 billion and net income of over €2.3 billion and has about 46,000 employees worldwide. Further information is available at www.siemens.com/healthineers
Contact
Ms. Sarah Hermanns
Siemens Healthcare GmbH
Siemens AG
Henkestr. 127
91052  Erlangen
Germany
Tel: +49 (9131) 84-5337
Sarah.Hermanns@siemens.com